Two Canadian features are set to make their world premiere in the competitive Platform program of next month's Toronto International Film Festival (TIFF): Riceboy Sleeps by Vancouver's Anthony Shim and Viking by Montreal's Stéphane Lafleur.
Shim wrote, directed, produced and stars in Riceboy Sleeps (pictured above) under his Vancouver-based banner, Lonesome Heroes Productions. The English and Korean-language drama is also produced by Rebecca Steele of Vancouver's Kind Stranger Productions and Bryan Demore of A Lasting Dose Productions. Game Theory Films is the distributor.
Filmed in and around Vancouver and South Korea last year, the story sees a Korean single mother and her adolescent son struggling with their new life in Canada during the 1990s. Sphere Films International is the sales agent.
Other stars in Riceboy Sleeps include Ethan Hwang (Titans), Choi Seung-yoon (Crash Landing on You) and child actor Dohyun Noel Hwan. Riceboy Sleeps is Shim's second feature after the award-winning Daughter and received financial support from Telefilm Canada, Crave and The Harold Greenberg Fund.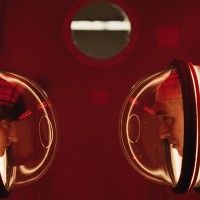 Lafleur directed and co-wrote the French and English-language Viking (pictured right), which is produced by Luc Déry and Kim McCraw of micro_scope, with Les Films Opale as the Canadian distributor. Eric K. Boulianne is the other screenwriter on the sci-fi comedy, which received support from SODEC, Telefilm Canada, provincial and federal tax credit programs and the collaboration of SRC and Super Ecran. Sphere Films International is the sales agent.
Steve Laplante, Larissa Corriveau, Marie Brassard, Hamza Haq, Denis Houle and Fabiola Aladin are among the stars of Viking, about five volunteers who embark of a mission of behavioural research on Earth as they simulate the reactions of astronauts who are on a mission to Mars. Lafleur's previous directorial feature efforts include Continental – Un film sans fusil, Familar Grounds (En terrainsconnus) and You're Sleeping, Nicole (Tu dors Nicole).
TIFF, which runs Sept. 8 to 18, revealed a total of 10 features for the 2022 Platform program on Wednesday (Aug. 3). Now into its seventh year, the program features original and bold directorial visions from directors in various stages of their career, and will open this year with Emily, the feature debut by British-Australian actor-director Frances O'Connor.
The other Platform films include: France's The Gravity (La Gravité) by Cédric Ido; Hawa by Maïmouna Doucouré, also of France; How to Blow Up a Pipeline by Daniel Goldhaber of the U.S.; Subtraction (Tafrigh) by Mani Haghighi of Iran and France; Switzerland's Thunder (Foudre) by Carmen Jaquier; and Tora's Husband by Rima Das of India.
Platform is curated by TIFF chief programming officer Anita Lee; director of festival programming, Robyn Citizen; and senior manager of festival programming, Ravi Srinivasan. The Platform winner, selected by a yet-to-be-announced in-person international jury, will receive $20,000.
Images credit: Courtesy of TIFF