BANFF '22 dispatches: Bell Media, CBC Kids, BIPOC TV & Film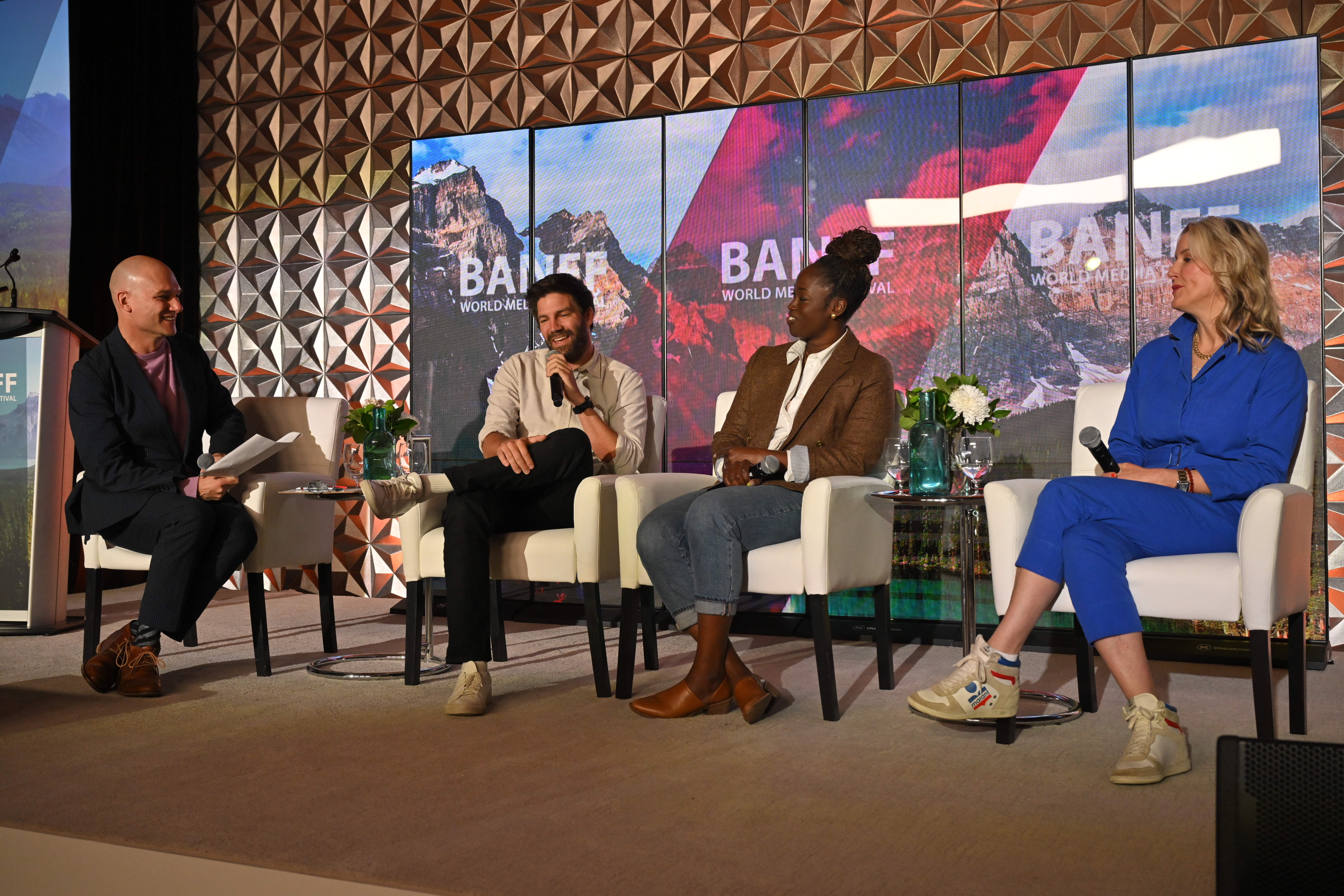 Bell Media discusses scripted partnerships, CBC Kids talks social responsibility, and BIPOC TV & Film outlines equity, inclusion and representation progress.
Bell Media has "no shortage of amazing content" coming its way but financing can be a challenge, says Carlyn Klebuc, the media giant's GM of original programming.
Appearing on a panel at the Banff World Media Festival (BANFF) about selling scripted content globally, Klebuc (pictured right) discussed the difficulties of being a buyer and being able to afford to do all the projects the company wants to do and "to support them in a big way."
"Our development team is active and meeting and setting the stage for what we're looking for, so I feel like we have all of that covered," said Klebuc.
"[The hard part is] getting the right financing partners to the table. There's got to be somebody that's first-in, but having the right voices at the table for decision-making and collaborating well is definitely a challenge for us. But we're up for it."
Klebuc said Bell Media is trying to get to a point of having key relationships and partnerships so that when they think a project is ready, they can see if there's interest in collaborating.
"For now, we're looking at each project a little bit piecemeal and in consultation with the producers and what they want to see happen and where their project would be placed," said Klebuc.
"It's something that we're trying to get more organized on and have a more clear strategy as to when to engage with third-party partners."
Kids content trends
CBC says comedy and social awareness are top of mind with its kids content.
Swin Chang, executive in charge of development and production at CBC Kids, spoke of kids content trends on a BANFF panel.
She said coming out of the pandemic, audiences are looking for optimistic, inspiring content, so the pubcaster is looking for kids content that isn't "too on-the-nose" but makes them laugh, think and feel.
"Older kids want to see representation. They want us to address issues that matter to them, like gender inequality, racial inequality, climate change, and mental health," said Chang.
Catie Asip, assistant director of content, children's programming at PBS, said the upcoming Rosie's Rules from Toronto-based 9 Story Media Group is a good example of shows that help their audiences feel represented and connect with those who have a unique perspective.
"It focuses on a Mexican American girl growing up in Texas, and they did a wonderful job of assembling a team of folks at every level who come from this specific region in Mexico that Rosie's family comes from, and even within that group, there are a lot of different experiences," said Asip.
Chang said the boom fueled by global streaming platforms and increased screen time during the pandemic has kids asking for more content. CBC Kids has increased its inventory on the pubcaster's Gem streaming service over the past couple of years, mostly with acquired content.
"That's an important platform for our audience, because it is the only free and ad-free streaming platform in Canada," said Chang. "Household budgets have been stretched, so they might have one or two pay subscriptions. It's important for us to get access to all the kids and families across Canada."
Equity and allyship needed in the industry
When it comes to equity, inclusion and representation in the Canadian film and TV industry, there has been some progress in certain positions. But the efforts need to go all the way up as well.
Such was the message from Nathalie Younglai, screenwriter and founder of Canadian grassroots organization BIPOC TV & Film, on a panel at BANFF.
"There are definitely more writing rooms that have more people of colour in it; there is more of an effort, at least, to look for directors who are BIPOC [Black, Indigenous, people of colour]; there's a little bit more effort to find crew," Younglai said on the panel Content Creation from an Anti-Racist Lens.
"What needs to happen after that is next-level. It's not just enough to have all the junior writers who are BIPOC – you need the showrunner, you need the upper-level writers, you need producers who are giving the notes, you need the network execs who are also giving the notes."
Allies have a huge part to play in improving the situation, said Younglai, who also suggested anti-racist seminars on sets.
"I always tell people, 'Go make friends with a straight white guy,' because the way that the world has opened up to straight, white men is a totally different way than how I would navigate the world, how I would navigate a meeting," she said.
"The thing that allies can do is [show us] what are all the the ways of being, the ways of navigating the industry, all of the hidden rules that we don't know about – share them with us, do them for us, show us how to do it so that we can tailor those pieces as well."
Photo by Kristian Bogner Photography