CRTC chair says 'system is broken' in C-11 discussion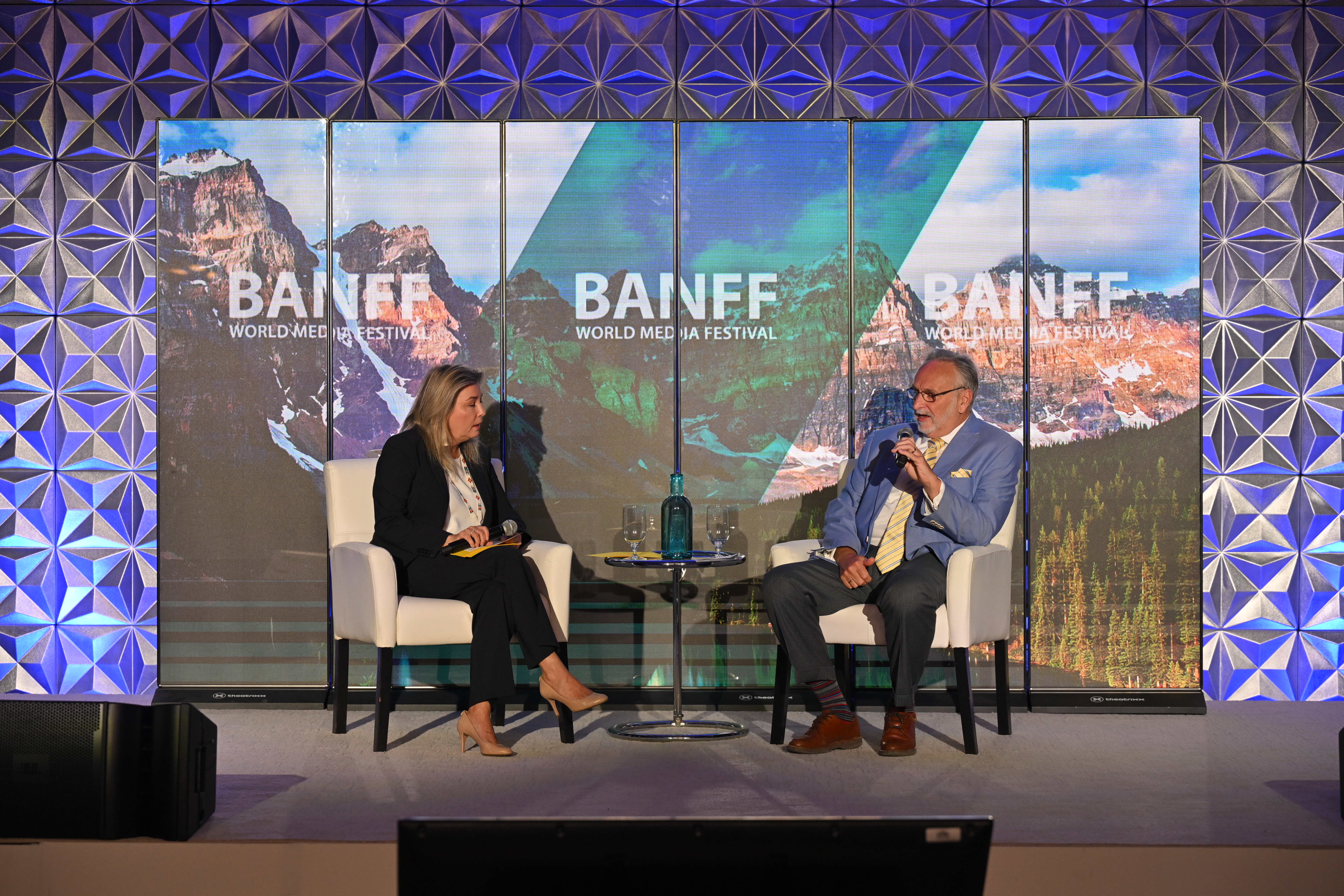 BANFF '22: Ian Scott spoke with APTN CEO Monika Ille on the need to pass the Online Streaming Act 'very quickly,' while also addressing timelines for implementation and the CRTC's ability to enforce new regulations.
CRTC chair and CEO Ian Scott called for the urgent passage of Bill C-11, declaring "the system [in Canada] is broken."
Scott (pictured right) shared his views at the Banff World Media Festival on Monday (June 13) in a conversation with APTN CEO Monika Ille (pictured left), following introductions by Canada Media Fund president and CEO Valerie Creighton and Minister of Canadian Heritage Pablo Rodriguez.
"The system over the last 50 years has been incrementally built on a walled garden. We need the ability to be flexible and adjust regulatory mechanisms, and to do that we need new legislation very quickly," said Scott, adding that C-11 offers the CRTC the ability to collect more data and enhance its enforcement abilities, which it called for in the 2018 "Harnessing Change" report.
The bill, which is currently still in review with the Standing Committee on Canadian Heritage, will bring digital giants into Canada's regulatory system once passed, and is a long-awaited update to the Broadcasting Act, which was last amended in 1991.
"The digital revolution… comes with great opportunities, but great challenges," said Rodriguez in his introductory speech. "We need to make sure our regulatory frameworks reflect the reality of our culture and society… this bill will ensure a strong place for Canadian stories and music in the digital world."
Even when the legislation eventually passes, it will take time to put into practice. Scott estimated it will take about nine months to implement the policy direction from the government, followed by a two-year transitional period for the regulatory framework to take effect.
Scott also dismissed concerns that the CRTC does not have the infrastructure to take on new regulatory responsibilities. "We've been the broadcast regulator for 50 years and we'll continue to be the broadcast regulator," he said. "It doesn't matter on what platform or what method Canadian broadcasting is delivered, we'll be there with the regulatory framework to assist and ensure that Canadian stories continue to be told, produced, distributed, and discovered by Canadians and around the world."
He added that he "accepts criticism" that the CRTC "acts more slowly than stakeholders and Canadians would like, but… there's usually a reason, and these are important policy questions."
The bill has received its share of criticism – largely around potential regulation of user-generated content on social media – but Ille raised another concern around independent broadcasters. "The way the bill is written, the CRTC can require an online distributor to carry a program service such as APTN, but it doesn't have the authority to set the terms," she said. "We just don't have the market power to negotiate at that level."
The CRTC chair also discussed a delay in creating a new Indigenous broadcasting policy with First Nations, Métis, and Inuit stakeholders, which began in 2019 with industry consultations, published in a "What You Said" report in 2021.
Scott said the pandemic disrupted plans for its second phase of in-person public consultations with Indigenous communities. "That simply wasn't feasible or appropriate with the health considerations of going into small, rural communities," said Scott, adding that the CRTC is in the "final stages" of crafting its plans for the broader consultation process.
Near the end of the session, Scott addressed the approaching end to his tenure as chair in September, and how the transitional phase will look at such a critical time for the CRTC. "It's not about the chair, it's about the institution," he said. "We have an excellent staff and it is they who will carry on and be prepared and educate and support the next chair and future members."
Photo by Kristian Bogner Photography