Corus sets primetime, specialty lineup for 2022-23 season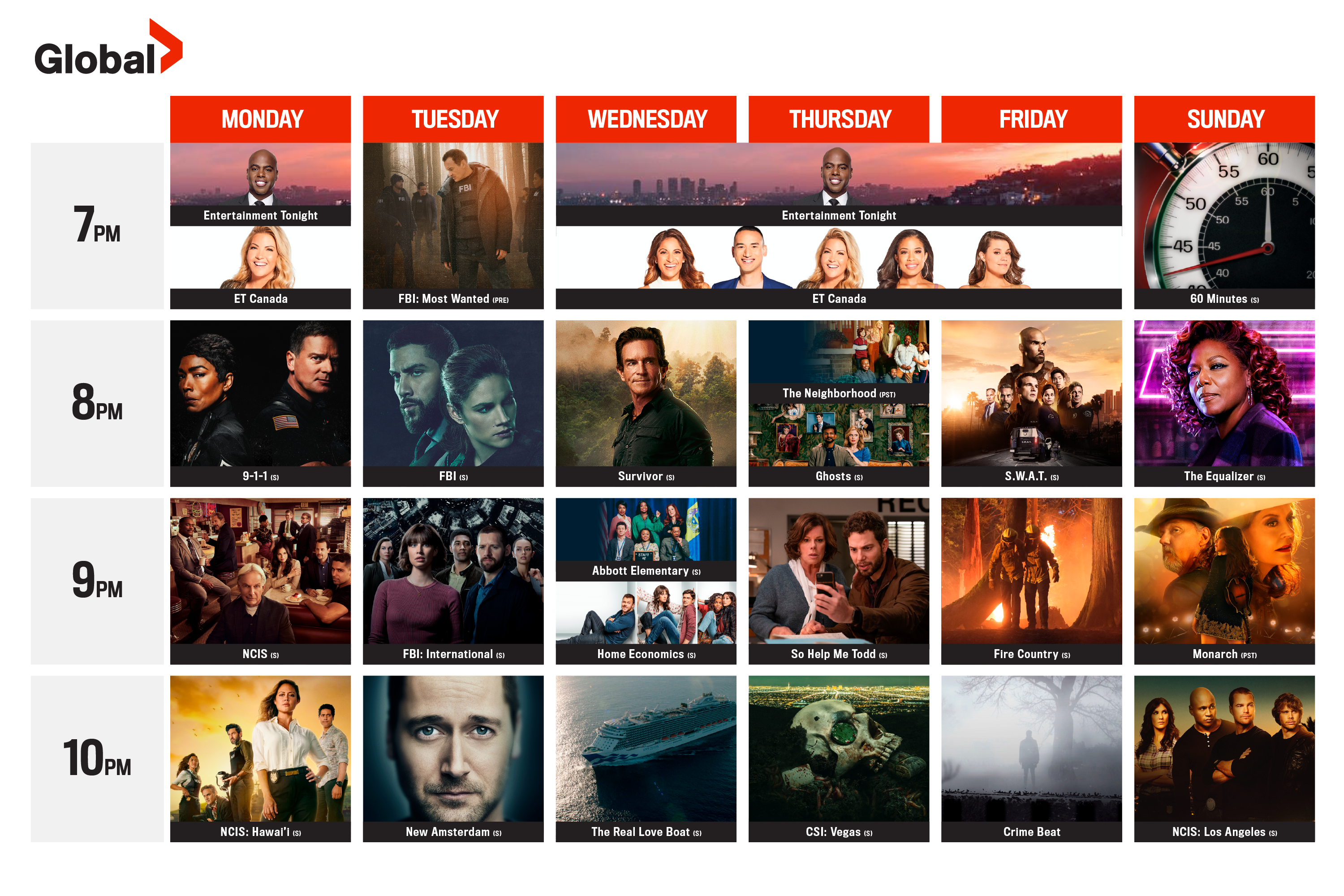 Global adds scripted dramas Monarch and So Help Me Todd to round out its slate of fan-favourite franchises FBI, NCIS and Survivor.
A fter announcing its slate of original productions last week, Corus has announced the new pick-ups and returning shows that will be airing across Global and its specialty channels for the 2022-2023 TV season.
The pick-ups and returning series were announced Wednesday (June 8) morning, ahead of the company's upfront presentation in the afternoon.
"I would never say it was stress-free, but the L.A. screenings were very comfortable because of what we [already] have," Daniel Eves, SVP of broadcast networks at Corus, tells Playback sister publication Media in Canada of how the company approached this year's pick-ups, adding that it doesn't approach it season-by-season, but as part of a three-year strategy.
"We have a great mix of different hits in different life cycles. We have those older shows that have been around forever, like Survivor and NCIS. We have a few more shows that are around four seasons in, like FBI. And then we have shows in the CSI, FBI and NCIS franchises that are all coming back for their second seasons. You have to build if you want to make a real change on a conventional network, so this fall, it was really just about what couple of hours do we need to fill and what fits with the strategy that we've had in the past."
Global's fall pick-ups are dominated by dramas, led by So Help Me Todd on Thursdays. The show stars Marcia Gay Harden as an attorney who hires her talented but aimless son Todd (Skylar Astin) as her law firm's in-house investigator. It will be followed on Thursdays by CSI: Vegas, moving into a new timeslot.
On Fridays, Max Thieriot (SEAL Team) stars in Fire Country, about a young convict who join a prison release program fighting wildfires in Northern California. The show will be sandwiched between two returning dramas, with a lead-in from S.W.A.T. and being followed by Crime Beat.
Rounding out the new dramas is Monarch, which stars Susan Sarandon and country music star Trace Adkins in a story about a musical family looking to preserve its legacy in the industry. Airing on Sundays, it will come following a new season of The Equalizer and lead into NCIS: Los Angeles.
Returning on the drama front will be the final season of New Amsterdam on Tuesdays, which will also feature the three shows in the FBI franchise. Returning shows 9-1-1, NCIS and NCIS: Hawai'i will air on Mondays.
On the comedy slate, Home Economics will be moving to Global for its third season, having previously aired on CTV. It will be airing on Wednesdays as part of a comedy hour with sleeper hit Abbott Elementary, which itself will air following the 43rd season of Survivor.
Wednesdays will also be where Global is airing a new unscripted show, The Real Love Boat, inspired by the classic series and following singles who are looking for love on a luxury cruise ship. Global's other two comedies will be starting its Thursday-night primetime lineup, with new seasons for The Neighborhood and Ghosts.
Stacked streaming slate
Corus unveiled a big lineup of new shows that will be coming to its streaming platform through its agreement with NBCUniversal's Peacock. Leading them is Pitch Perfect (working title), starring Adam Devine reprising his role from the film franchise. It will also have A Friend of the Family, a drama starring Anna Paquin, Jake Lacy and Colin Hanks, telling the true story of the Broberg family, whose daughter Jan was kidnapped multiple times by a family friend.
STACKTV will also have The Resort, a dramedy from the creators of Palm Springs and Mr. Robot; The Best Man: The Final Chapters, written and directed by Malcolm D. Lee and featuring the film's original cast; Vampire Academy, based on the young adult romance novels of the same name; and Bupkis, starring Pete Davidson in a fictionalized version of his own life alongside Edie Falco.
On the drama front, Corus also announced the Canadian debuts of crime dramas The Lazarus Project and Irreverent; an adaptation of sci-fi novel The Midwich Cuckoos; The Undeclared War, set in the world of cyber security; and Funny Woman, following a young woman finding her voice in the 1960s sitcom industry.
In some ways, the relationship with Peacock makes Corus' decisions on streaming pick-ups an easy one, but Eves says that with STACKTV being a "distillation" of streaming shows and OTT content from its linear networks, the approach is similar to that on linear, where it ensures it has the best, total offering.
"Even of STACKTV, 55% of viewers are still choosing to use the linear feeds," he says, though the number can reach as high as 70%, depending on the content genre. "We believe there's still a ton of growth there, but we view it as how we get people to stay with that product overall as the [streaming] market becomes more competitive. If you use Bel-Air and Dr. Death as examples, they were both big linear hits on Showcase, but for those people who weren't participating in that ecosystem, they came to STACKTV and that was an acquisition driver."
Scripted specialty lineup
Corus has picked up three shows from The CW to air on its specialty drama networks: Tom Swift, a mystery series based on the book series; Walker: Independence, an origin story to CW's Walker set in the Old West; and Gotham Knights, featuring DC Comics superheroes banding together.
W Network will also have the return of Nancy Drew; young-adult drama One of Us Is Lying; the sixth and final season of The Good Fight; season two of Men in Kilts: A Roadtrip with Sam and Graham; and season seven of Outlander.
On Showcase, returning series include second seasons for Bel-Air, horror series Chucky and comedy series We Are Lady Parts, as well as the return of DC series Pennyworth and drama series All American.
On Adult Swim, new animated series include Housing Complex C, which centres on a young woman facing the "horrific incidents" happening in the low-cost housing complex where she lives. Royal Crackers follows two brothers who live in their comatose father's house waiting for him to die so they can inherit his cracker company empire.
Adult Swim will also have a pair of new anime series: Uzumaki, a four-episode mini-series based on the manga of the same name, plus an anime spin-off of Rick and Morty. The main Rick and Morty series will also be returning for a new season, as will Harley Quinn, Bob's Burgers, Family Guy and The Eric Andre Show.
Unscripted and lifestyle
Two big personalities will be bringing new series to The Food Network's lineup: Bobby and Sophie On the Coast will have Bobby Flay and his daughter Sophie taking a food tour across the California coastline, while Guy Fieri's Guy's Ultimate Game Night will feature celebrities and their friends and family joining together for a night of drinks and games.
For the newly launched Magnolia Network, in addition to the return of Magnolia Table with Joanna Gaines, Joanna Gaines and Chip Gaines will have a new unscripted series, Silos Baking Competition, where home bakers compete for $25,000 and an opportunity to get their dessert on the menu at Silos Baking Co. bakery. Next year, Joanna Gaines will feature alongside her younger brother Mikey McCall in The Retro Plant Shop with Mikey & Jo as she launches a combination plant and vintage shop.
Rounding out the schedule is the return of Restoration Road with Clint Harp.
On HGTV Canada, new unscripted series Christina in the Country will follow Flip or Flop's Christina Hall expanding her design business and setting herself up at her Tennessee farm as a second home. Next year, the network will introduce Farmhouse Fabulous featuring Teen Mom 2′s Chelsea and Cole DeBoer starting a new venture launching a renovation and design business in South Dakota. Mina Starsiak will be in Good Bones spin-off Good Bones: Risky Business, where she purchases and restores a heritage home.
National Geographic will premiere Edge of the Unknown with Jimmy Chin from Academy Award-winning executive producers E. Chai Vasarhelyi and Jimmy Chin. The series takes audiences inside the minds of adventure athletes through their own stories of overcoming fear and personal loss.
Returning shows are Cesar Milan: Better Human, Better Dog and Running Wild with Bear Grylls.
New Below Deck spin-off Below Deck Adventure will have its first season on Slice, following wealthy thrill-seekers facing unexpected challenges during a mega-yacht trip in Norway. New series Real Girlfriends in Paris features six 20-something American women making a trip to Paris, which will serve as a good companion to the third season of The Real Housewives of Salt Lake City. Winter House is also returning for a new season.
This summer, the History network will feature two new series in the Alone franchise: Alone: Frozen and Alone: Skills Challenge. In the fall, new series History's Greatest Heists with Pierce Brosnan will explore the most elaborate heists in history, while History's Greatest of All-Time with Peyton Manning will countdown the greatest achievers of across a range of different categories.
More Power will feature Tim Allen, his Home Improvement co-star Richard Karn and DIY expert April Wilkerson in a competition show where builders will compete for a chance to win $5,000.
Kids
Rounding out the slate , YTV will be bringing the previously announced tween drama series The Next Step to its network for season eight, alongside a new season of Are You Afraid of the Dark?
Teletoon will be debuting Gremlins prequel series Gremlins: The Secrets of Mogwai, as well as Batwheels, a preschool-targeted animated comedy showing cars and vehicles from DC Comics. Bugs Bunny Builders follows Bugs and Lola Bunny managing the crew at ACME Construction Company.
This story originally appeared in Media in Canada