BSO and ISO delegates make Cannes debut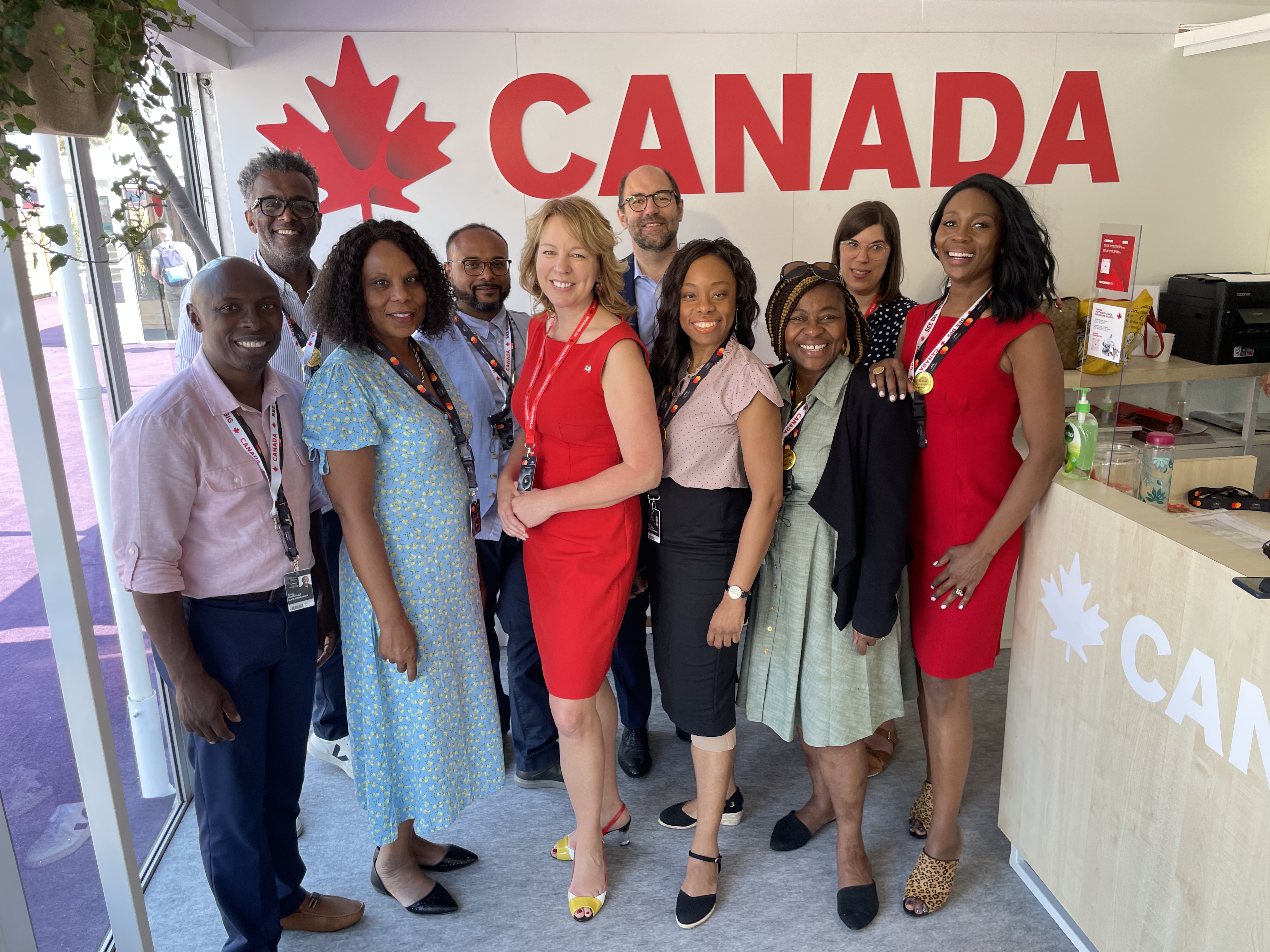 Black and Indigenous filmmakers came home with global prospects as a result of initiatives by the Black Screen Office and Indigenous Screen Office at Cannes.
A  first-ever initiative from the Black Screen Office (BSO) and the Indigenous Screen Office (ISO) has opened the door for emerging filmmakers in Canada to access the international market.
Both organizations made their first appearances at the Cannes Film Festival this year with support from Telefilm Canada, with delegates coming home with potential leads for deals, sales, and coproduction partnerships in tow.
The two organizations were recognized as a step forward for diversity and inclusion, and received positive feedback from the Cannes film market for providing a platform for Black and Indigenous creatives.
Filmmakers in attendance with the BSO included Jorge Camarotti (Kinship), a Montreal-based writer and director; David Baeta (Balade), an Ontario-based producer and co-founder of Moi & Dave; and Alberta-based writer-director Kathryn Fasegha (Two Weeks in Lagos).
Meanwhile, ISO delegates consisted of Vancouver-based Dene writer, director and producer Kelvin Redvers (The Dancing Cop); Jennifer Wickham (Yintah), who is a member of Cas Yikh in the Gidimt'en clan of the Wet'suwet'en people; and Inuk writer and director Nyla Innuksuk (Slash/Back).
"I've been to several film markets before and I know how these things work; you land there and you don't sign a deal on the spot. You go there and meet as many people as you can and make the right connections," Baeta tells Playback Daily.
Baeta has a couple of projects in the works, including Salto, a narrative feature film on fatherhood, and a kids feature film called Medium Beluga, on his slate for his production company, Moi & Dave. He says he and his team are still working on the scripts for the two projects and need coproducers, which is why he decided to go to Cannes as part of the BSO delegation.
He says he wouldn't have been able to network with potential partners without the programming created by the BSO. "We had one panel where we had three influential financiers from the U.K.; I didn't even know who they were. So, being able to meet them in person because the BSO put that in place for us was extremely impactful."
Camarotti, who is working on his first fiction narrative feature film that centres on immigrants and caring for the elderly called Edith, went to Cannes for the first time hoping to secure a coproduction partner in his homeland of Brazil, where his feature partly takes place.
"I got to meet with [representatives of] the City of San Paolo, who actually invited me to go anytime I want and help me with scouting for locations for the film. I also got to meet a few European producers [interested in coproduction] as well."
Coming back to Montreal, Camarotti says he has already been contacted by a local production company from Brazil. He also met with Brazilian director Fernando Meirelles' (City of God) team at Cannes and got the conversation rolling on possibly partnering with them. He says he wouldn't have had the access to the connections he's made thus far without the BSO.
Meanwhile, Fasegha made a strong connection at Cannes that she is unable to name as of press time, but is currently in the process of locking down the deal for her project.
"I had been to Cannes in 2019 when I premiered my other film [Two Weeks in Lagos] and I went by myself. I know how hard it was to make the contacts. The meetings organized by the BSO were targeted at our needs; they brought experienced producers who already had a lot of good contacts globally and they made those contacts available to us," she says.
Several ISO delegates won documentary awards such as Wickham's film Yintah – about Wet'suwet'en land protectors, which was co-directed and coproduced with Michael Toledano and Brenda Mitchell, along with coproducer Franklin Lopez – took the Think-Film Impact Award; and the top Docs-in-Progress award went to Twice Colonized, which was coproduced by the Inuit team of Alethea Arnaquq-Baril and Stacey Aglok MacDonald.
Redvers had just finished shooting his first feature film – a 90-minute Indigenous thriller, Cold Road – before heading to Cannes. Landing at the film market, he hoped to make a good first impression with as many of the distribution companies, sales agents and producers as possible.
"It was a huge success. I have a stack of business cards and I've been meaning to send out all the emails to these people, but then a giant media storm kind of landed on me, and so I don't have time to do that yet. I'm hoping to get to it once this all dies down," he says.
Redvers, who was turned away from a red carpet event at Cannes because he was wearing traditional moccasins, explains the ISO and Telefilm handled the incident well. The Cannes organizers apologized to Redvers and invited him to the red carpet for the world premiere of David Cronenberg's Crimes of the Future.
He says there is currently a huge appetite for diversity in the industry and the delegation with the ISO has helped amplify the projects Black and Indigenous creatives have. "The conversations following the incident and the market will now be more important than ever," he adds.
Photo by Black Screen Office; Pictured from left to right: Andy Marshall, Jorge Camarotti, Joan Jenkinson, David Baeta, Amy Baker, Stéphane Lambert, Bianca Bellange, Kathryn Fasegha, Constance Richard and Lanette Ware-Bushfield.