Headspinner picks up speed with its digital-first content strategy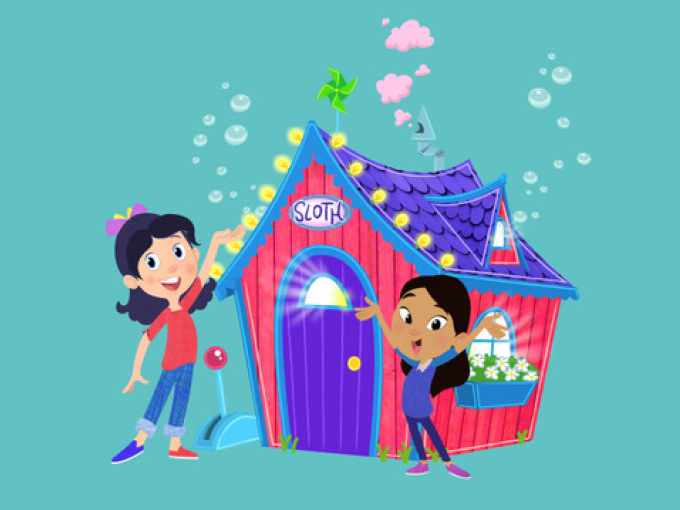 Gisele's MishMash Adventures is the Toronto prodco's third kids series in a row to head straight to production, thanks to financial support from CMF-Shaw Rocket's digital-first animation fund.
Headspinner Productions has found a formula for speedy growth and is sticking to it.
The Toronto-based company's new 2D-animated series Gisele's MishMash Adventures (pictured) is its third consecutive 10 x three-minute project to use a strategy of digital-first funding and content inspired by an existing IP or driven by a recognizable influencer with a built-in audience.
Aimed at upper preschoolers, the show is a brand new concept starring Gisele Corinthios, the original host of TVOKids' award-winning live-action variety series Gisele's Big Backyard (formerly The Nook), which aired in Canada from 1998 to 2016. Corinthios retooled her brand at the beginning of the pandemic through her YouTube channel The Gisele MishMash, and has since built it out even more on TikTok.
In Gisele's MishMash Adventures, Corinthios is featured as an animated host for the first time, playing opposite a toon version of a real kid whose imagination sparks a story that drives the rest of each episode.
Headspinner co-founder Michelle Melanson co-created the project with Corinthios. Nova Scotia-based prodco Cartoon Conrad is handling the animation, having worked with Headspinner previously on its first series Denis and Me, starring popular YouTuber Denis Kopotun.
Gisele's MishMash Adventures shored up roughly 75% of its US$400,000 (about C$513,000) budget from the Kids Digital Animated Series program—a production fund jointly launched by the Canada Media Fund (CMF) and the Shaw Rocket Fund (SRF) in 2019 to stimulate the creation of digital-first animated series, giving priority to projects with multiple-season potential.
The fund has helped Headspinner avoid "development hell" and jump straight into production with Gisele's MishMash Adventures, Denis and Me and preschool reboot Happy House of Frightenstein. According to Melanson, Gisele's MishMash Adventures only spent a month in development last December before receiving CMF-SRF funding in January. And the show is expected to launch this September.
"For small indie producers like us, the CMF-SRF program is working well because we don't have the development funds to put millions of dollars into a show like PAW Patrol and roll it out," says Melanson. "We are proving you don't need to spend years in development with a bunch of people in the mix. If we have a great idea and we combine our producing experience with a recognizable influencer's work, we can get projects out fast and still build on the brands."
Headspinner partnered with fellow Toronto prodco marblemedia on Happy House of Frightenstein, launching it on the company's CAVCO-certified marbleKids YouTube channel to qualify for federal tax credits. Distribution360 (owned by marblemedia) then sold the show to WildBrain's kidsnet Family Jr., which packaged and aired the episodes as Halloween specials on traditional TV and its YouTube channel. The series was recently shopped at MIPTV, and Headspinner has applied for more funding through media agency Ontario Creates, which would help finance additional episodes to trigger more international sales.
As for Gisele's MishMash Adventures, Headspinner has signed a deal with Toronto prodco Shaftesbury, which will premiere the series on its CAVCO-certified Shaftesbury Kids YouTube channel. Though Headspinner doesn't have a broadcast channel partner yet, CBC is set to distribute the show internationally.
Denis and Me also got tax credit support through a deal made with Bell Media's SVOD service Crave, which covered about US$31,000 (about C$40,000) of Denis and Me's first-season budget, and the same amount for both Happy House and Gisele's MishMash Adventures. 
Prior to Headspinner's Crave deal, Denis and Me originally launched on Kopotun's Denis and Me YouTube channel in December 2020. WildBrain picked up global distribution rights and sold seasons one and two to Family Channel last May. At the same time, its AVOD division WildBrain Spark took over management of the Denis and Me YouTube channel worldwide, including direct advertising sales. And last September, WildBrain ordered four new 11-minute Denis and Me specials.
"We're growing, and it's all [through] non-exclusives because we are holding out for other deals," says Melanson. "Like our first two shows, the goal is to sell Gisele's MishMash Adventures traditionally, and look at all sorts of channels and platforms worldwide."
Going forward, Headspinner is also planning to find 10 emerging female composers from underrepresented backgrounds—including those in the LGBTQ+ and the Black, Indigenous and people of colour communities—to compose music for each episode of the next next season of Gisele's MishMash Adventures. They'll work alongside a music supervisor that Headspinner hopes to hire in the coming months, and one of them will also get to compose a theme song for the show.
"There is a massive lack of opportunities for underrepresented female composers," says Melanson, adding that the studio is also offering five scriptwriting opportunities to first-time Black, Indigenous and people of colour female writers. "We'll be reaching out to racial equity nonprofit BIPOC TV and Film, as well as a number of university programs, to inquire about recent grads searching for jobs. And a callout will be issued soon."
This story originally appeared in Kidscreen