WIFT Toronto names new board chairs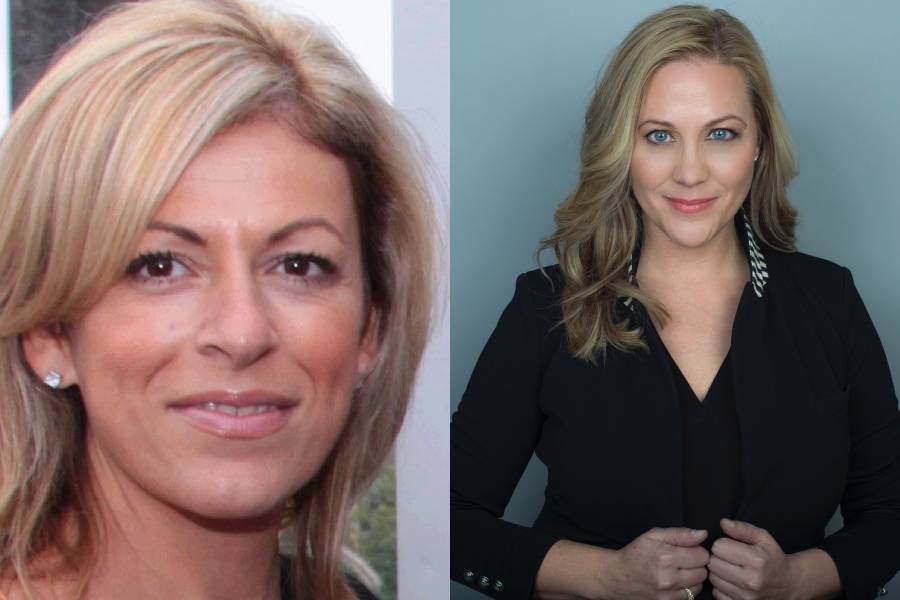 The not-for-profit elected the CFC's Argie Eliopoulos as board chair and named Jenn Kuzmyk as chair of the Foundation for WIFT Toronto, adding five new members to the board and three to the foundation.
The Canadian Film Centre's Argie Eliopoulos (pictured left) has been named chair of the Women in Film & Television Toronto (WIFT Toronto) board of directors.
The not-for-profit organization elected five new members to the board following its annual general meeting yesterday (May 3), and also named Jenn Kuzmyk (pictured right), Banff World Media Festival executive director and Playback VP and publisher, as chair of the Foundation for WIFT Toronto.
Eliopoulos, director, partnerships and events at CFC, succeeds outgoing chair Linda Stregger, while Barbara Escoto, VP, content platforms at Bell Media becomes vice-chair.
The five new board members include accountant Sundra Sefa, who was elected as treasurer; Tracy Alves, director, strategic partnerships and engagement at William F. White International; Sara Chan, associate general counsel, head of technology, legal operations and rights management at Corus Entertainment; Jennifer Chen, head of studios and VP, content at Channel Zero; and Sharon Hinds, manager of the Rogers Sports & Media initiative All In.
Re-elected board members include Terry E. Markus, a lawyer and business legal affairs consultant and the outgoing Foundation for WIFT Toronto chair, who will serve as secretary; Noora Abu Eitah, VP, product operations – Innovation Lab for Secret Location; Sarain Fox, director and host at Land Back Studios; Tanya Green, head of preschool at Mainframe Studios; Umber Hamid, CEO and partner at BoomBox Sound; Sam Linton, VP, head of original content at Blue Ant Media; Cailyn Michaan, marketing manager, media and experiential marketing (XM) at Walt Disney Studios; and Karen Walton, screenwriter and executive producer at Inkling Entertainment.
Outgoing WIFT Toronto board members include Stregger, Janet Chant, CFO at Casey House; Susan Alexander, production executive at Corus Entertainment; Dylen Postnikoff, VP, global brand strategy at Shaftesbury; and writer and director Gloria Ui Young Kim.
Chant will continue to serve on the Foundation for WIFT Toronto board as treasurer and takes on a new role as vice-chair, succeeding new chair Kuzmyk. A new secretary for the foundation will be announced in the coming weeks.
New directors of the foundation include Kimberley Ball, chief communications officer at Super Channel; Suzanne Haas, VP, digital media at Blue Ant Media; and Nellie Lindner, VP, national practice leader – film and entertainment at BFL Canada.
Re-elections to the foundation board are Carolyn Allain, account manager at the National Bank of Canada; Fennella Bruce, media consultant, producer and writer at FKB Media Solutions; Julie Kumaria, SVP, marketing and content distribution at Hollywood Suite; producer Laura Heath Potter; Lindsey Scully, head of PR, Netflix Canada; Jennifer Shin, director of development, comedy at CBC.
Outgoing directors include Markus, Eliopoulos, Sefa and Helen Argiro, writer, executive producer and director at Rebel Street Productions.
Eliopoulos thanked outgoing WIFT Toronto chair Stregger in a statement "for her leadership in steering us through these times while always maintaining our vision to be a leader in building an equitable, inclusive and accessible industry."
Kuzmyk added that WIFT Toronto "plays an integral role in supporting, championing, connecting and training women+ across the industry" through its professional development, mentorships, scholarships and peer support programs.
"We are honoured to welcome Tracy, Sara, Jennifer, Sharon and Sundra to the WIFT Toronto board; and Kimberley, Sue and Nellie to the Foundation board," said Karen Bruce, executive director, WIFT Toronto. "I look forward to working with these incredible women and the wealth of experience and knowledge they each bring from all areas of the industry. Our members and the community at large will greatly benefit and I'm excited to see where the next year takes us."