In brief: Farpoint Films appoints new finance director
Plus: CAVCO announces change to stock footage costs categorization, the CFC Media Lab reveals its new Fifth Wave cohort, a new streamer launches for undistributed Canadian cinema, and more.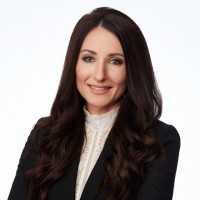 Farpoint Films appoints new finance director
Winnipeg-based prodco Farpoint Films has hired Pamela Landgraff (pictured) as its new director of finance. She replaces outgoing CFO Ross Ikeda, who has been with Farpoint since 2006 and is retiring at the end of April.
A C.P.A. who spent the past 17 years at accounting firm MNP, Landgraff will lead the accounting department for both Farpoint Films and Farpoint Distribution and report directly to president and co-founder Kyle Bornais.
Change for CAVCO stock footage costs 
The Canadian Audio-Visual Certification Office (CAVCO) has announced a change in how stock footage costs will be categorized when determining whether a production meets minimum Canadian cost requirements of the Canadian Film or Video Production Tax Credit (CPTC) program.
The modification will see the Breakdown of Costs section of the CPTC application adjusted to move "Stock Footage" from the "Services" column to the "Other" column.
The change is meant to benefit production in general but particularly documentary producers who may need to use non-Canadian stock footage on their projects, which can make it difficult for their production to meet the 75% Canadian services minimum spend to be eligible for the CPTC.
CFC Media Lab's new Fifth Wave cohort
The Canadian Film Centre's Media Lab (CFC Media Lab) has selected eight founders and companies for the fourth cohort of its Fifth Wave Labs.
The four-month business bootcamp is for women-owned or -led businesses and is part of the larger Fifth Wave Initiative.

The program is funded in part by the Government of Canada, through the Women Entrepreneurship Strategy Ecosystem Fund, delivered by the Federal Economic Development Agency for Southern Ontario.
This year's participants include: Rua Wani and Jessica Adams of Adani Pictures; Jillian Walsh of Change Creates Change; Karen Holland of Gifting Sense; Nyla Obaid of Lode Store; Cassandra Rudolph of Lucky One Projects; Bonnie Anderson of Moxie Productions; Chantele Francis of Reality Realnesss; and Rabiya Mansoor and Shreya Patel of Window Dreams Productions.
Panorama-cinéma unveils Le Panoptique
Online magazine Panorama-cinéma has launched its own streaming platform for cinephiles. Le Panoptique is now accessible and offers film programming "that falls between the cracks of the distribution system," says a news release.
The platform also finances the restoration of some titles that can't be found online and offers new bonus features with each program. It does not require a subscription, instead offering rentals for seven days at various prices, with the profits being shared between rights owners and Panorama-cinéma.
Current offerings include the Realm of the Assassin program, featuring eight short films directed by Denis Côté between 1999 and 2005.
Blue Mountain Film Festival sets creative forum speakers
Danis Goulet, Daniel Bekerman, Sheila Hockin, Jennifer Podemski and Jennifer Baichwal are among the speakers set for the Blue Mountain Film Festival's Creative Forum sessions. The festival's inaugural edition running June 1 to 5 in southern Ontario has announced the first four of six Creative Forum sessions.
The first session will be The Art of Sound with sound designer Jane Tattersall (Halo) and executive producer Hockin (The Handmaid's Tale). Night Raiders filmmaker Goulet will be in the Female Genre Mash Up session with fellow director Nyla Innuksuk (Slash/Back).
Producer Bekerman (The Witch) will lead Creative Producing in a Destabilized Industry, which includes creative producers Podemski (Moccasin Flats), Allison Black (Giant Little Ones), Shant Joshi (Porcupine Lake), and Karen Harnisch (Sleeping Giant).
The Creative Forum will conclude with Film & Eco-Activism, featuring a screening and extended Q&A with Baichwal and a yet-to-be-announced "special guest" for her new documentary Into the Weeds. Two final creative forum sessions will be announced on May 6 along with the film selection.