Sort Of, All My Puny Sorrows, Pretty Hard Cases win top prizes at WGC Screenwriting Awards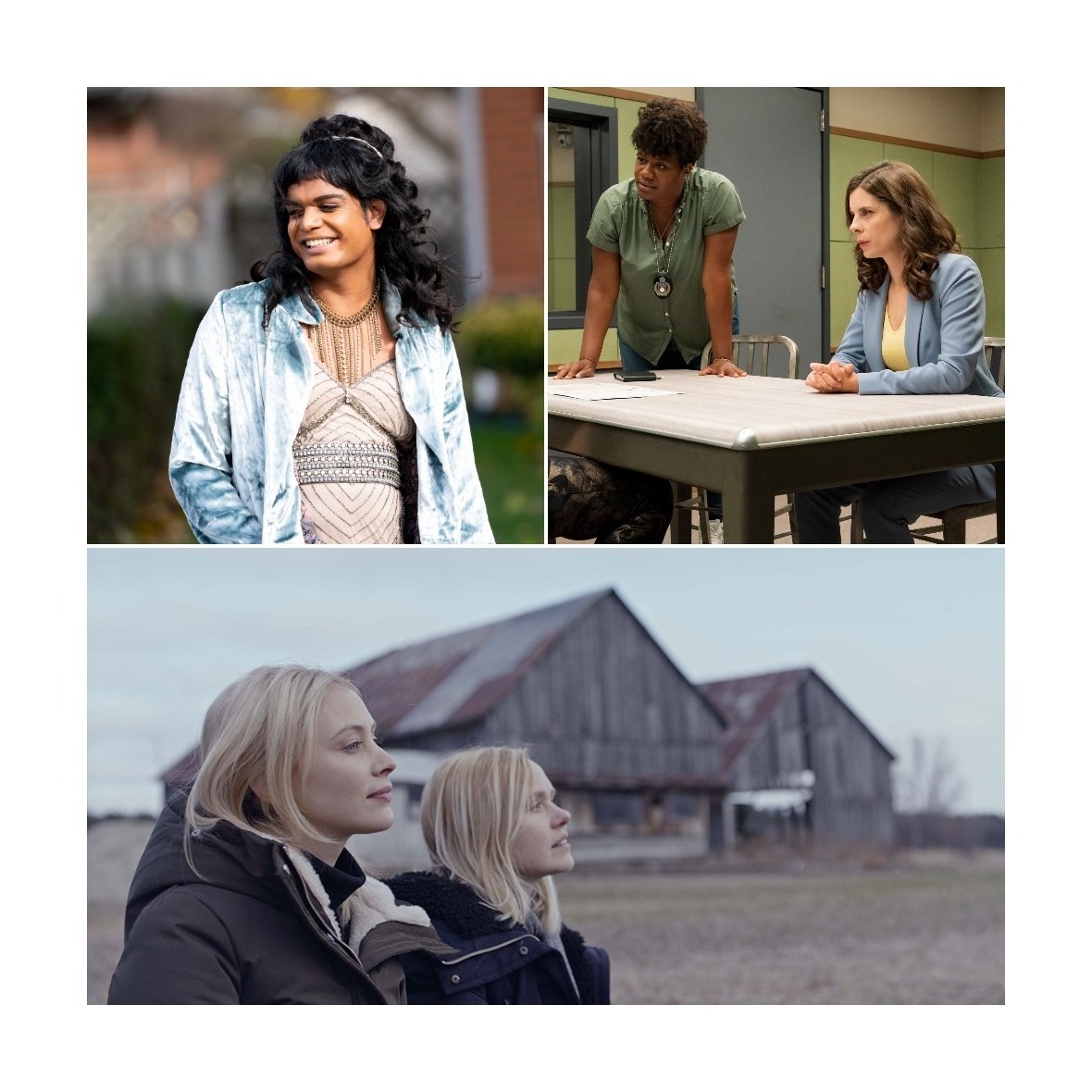 The Parker Andersons / Amelia Parker and As Gouda As It Gets were among the other winners in the Writers Guild of Canada's virtual ceremony.
Sort Of, All My Puny Sorrows and Pretty Hard Cases were among the top prize winners at the 26th annual Writers Guild of Canada Screenwriting Awards.
Bilal Baig (pictured top left) and Fab Filippo, creators, showrunners and executive producers on CBC and HBO Max's Sort Of, won the Comedy Series category for writing the show's pilot episode, "Sort of Gone." Sphere-owned Sienna Films produces the series, which has been on a hot streak of award nominations and recently got a season 2 renewal.
The Feature Film Award went to Michael McGowan, writer, director and producer on the drama All My Puny Sorrows (pictured bottom; Carousel Pictures/Mulmur Feed Co./Sugar Shack Productions), starring Alison Pill as a writer and Sarah Gadon as her sister who's going through a mental health crisis.
Pretty Hard Cases (pictured top right) co-creators and executive producers Tassie Cameron and Sherry White took the Drama Series category for writing the episode "Bananas" on the CBC series, produced by Cameron Pictures.
Other winners in Monday's (April 25) virtual ceremony hosted by Nile Séguin included Amanda Joy in the Tweens & Teens category for The Parker Andersons / Amelia Parker episode "Joy." The interconnected family sitcoms, which aired on BYUtv in the U.S. and Super Channel's Heart & Home in Canada, are produced by marblemedia in association with Beachwood Canyon Productions and commissioned by BYUtv.
Incendo's As Gouda As It Gets won the MOW & Miniseries category for writer James Phillips.
Lakna Edilima was the victor in the Children's category for the Sinking Ship Entertainment's Odd Squad Mobile Unit (TVOKids) and the episode "H2 Oh No."
PBS Kids' Elinor Wonders Why (Pipeline Studios) nabbed the Preschool category for the episode "Olive's Tree," written by Michael Foulke.
Taking the Shorts & Webseries category was My Pride: The Series for the episode "Fire," written by creator and producer Maddi Patton.
Previously announced special honourees included Carolyn Saunders with the Sondra Kelly Award and Matt Huether with the Alex Barris Mentorship Award.
Anthony Q. Farrell, creator and showrunner of Overlord and the Underwoods and The Parker Andersons / Amelia Parker, received the Showrunner Award. The Denis McGrath Award for Service to the WGC went to Michael Amo, who has served the Guild for the past 12 years as a member of council, representing the Atlantic region.