Don't call it a comeback.
Canada's independent producers set new benchmarks in production volume in 2021. They were able to adapt to an ever-changing industry and demonstrate a determination to recover from pandemic-related shutdowns and keep domestic content flowing to an increasingly demanding market.
In many ways, it was the year of the streamer in Canada, with Netflix and Prime Video hiring long-time industry execs Tara Woodbury and Brent Haynes, respectively, as domestic content heads, while Disney hired former Shopify exec Jason Badal to lead its Canadian direct-to-consumer strategy.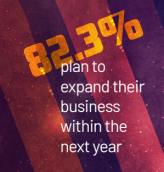 The year also had its share of disappointment, with Bill C-10 – the long-awaited amendment of the Broadcasting Act that would ensure digital giants contributed to the Cancon system – put on ice after a federal election was called in the fall. The death of the bill followed months of government debate about freedom of speech, despite a unified call from the industry to see it passed.
Since then, the re-elected Liberal minority has tabled a new bill – Bill C-11, also known as the Online Streaming Act – with hopes that the legislation will pass before the end of the year.
So, how are producers feeling about the health of the industry in 2022? Cautiously optimistic, to say the least.
Eyes on the horizon
With or without the Online Streaming Act, Canada's indie producers are pushing ahead. Of the companies that took part in the 2022 Indie List Survey, 82.3% said they plan to expand their business within the next year, either through M&A, hiring new staff or an increased and diversified production slate.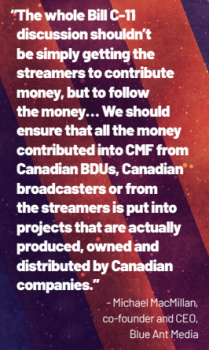 One survey respondent, who asked to remain anonymous, said the emergence of streaming platforms in Canada has "filled the gap" in the wake of reduced spending from Canadian broadcasters.
More than half of the companies polled are looking beyond their own backyard to grow their business, with 64.7% saying coproductions and coventures are some of the biggest opportunities for producers in 2022 and 52.9% looking to international partnerships.
Producers are also feeling optimistic about content ownership, with 58.8% identifying exploitation of new IP as a key business opportunity. "While it's true that old systems of financing and exhibition are declining and transforming, there is a climate of positivity and a demand for content that is greater than before," wrote another anonymous survey respondent. "Diverse voices will make a healthier and more sustainable industry; while not yet truly equitable, there are more opportunities for storytellers who have been historically underserved."
Rough waters ahead
The portrait isn't all rosy. Producers identified a number of core challenges in the year ahead, with 70.6% anticipating problems with financing and budget. The talent crunch also remains a persistent problem, with 55.8% saying hiring staff, professional development and competing for talent are challenges.
Producers are also still recovering from the impact of the COVID-19 pandemic, with 44.1% identifying it as an issue for 2022. Additionally, one-third of producers said the space for domestic programming on Canadian TV remains a challenge.
Aldo Di Felice, president, TLN Media Group said the sector has an issue of "dependency and domination," with companies relying on funding programs in the long-term, rather than becoming self-sufficient, leaving less money for emerging companies trying to access the funding pool.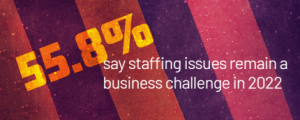 Overall, survey participants had a mixed response for the future of Canada's independent production sector. One-quarter felt opportunities for producers are worse than ever, with 41.3% saying opportunities are the same and 37.9% maintaining they're better than ever.
"Our industry is at a crossroads," observed Mark Bishop, co-CEO and executive producer, marblemedia. "We must strive to
ensure our independence is protected and our creativity is valued so that Canadian-owned content can continue to be produced by independent producers and exported around the world."


On the upswing
This year's list has revealed how prodcos across the country have hit new production highs in the aftermath of the COVID-fueled production shutdowns of 2020, including Toronto's 9 Story Media Group and Shaftesbury, Calgary's SEVEN24 Films, Winnipeg's Eagle Vision and Montreal's Sphere Media and Muse Entertainment.
Sphere's M&A strategy has paid dividends for this year's Indie List following its acquisition of Sienna Films and BGM in 2020, in addition to its existing animation studio subsidiaries. The media company's production volume jumped to more than $157 million in 2021, up from $87 million in 2019 and $92 million in 2020, and boasts projects such as CBC and HBO Max dramedy Sort Of and season two of CTV ratings hit Transplant.
Meanwhile, Shaftesbury's production slate kept it high on this year's list, including the long-running CBC detective drama Murdoch Mysteries, Citytv's Hudson & Rex, Global's Departure, the resurrected Shudder Slasher horror anthology and new children's series Ruby and the Well on Family Channel. Similarly, SEVEN24 Films kept its production train rolling with CBC drama Heartland and interprovincial coproductions Jann on CTV (Project 10 Productions) and Family Law on Global (Lark Productions).
Six companies overall spent more than $100 million for production in 2021, up from two in 2020 and four in 2019. While Thunderbird Entertainment and Boat Rocker Media spent roughly $52 to $53 million on domestic production and development in 2021, both saw service work in the $100 million mark.
Several other companies on the list saw higher production spend from pre-pandemic levels in 2019, including marblemedia, Sinking Ship Entertainment, Guru Studio, Cream Productions, Aircraft Pictures and Scythia Films, setting the stage for even bigger growth in the year ahead.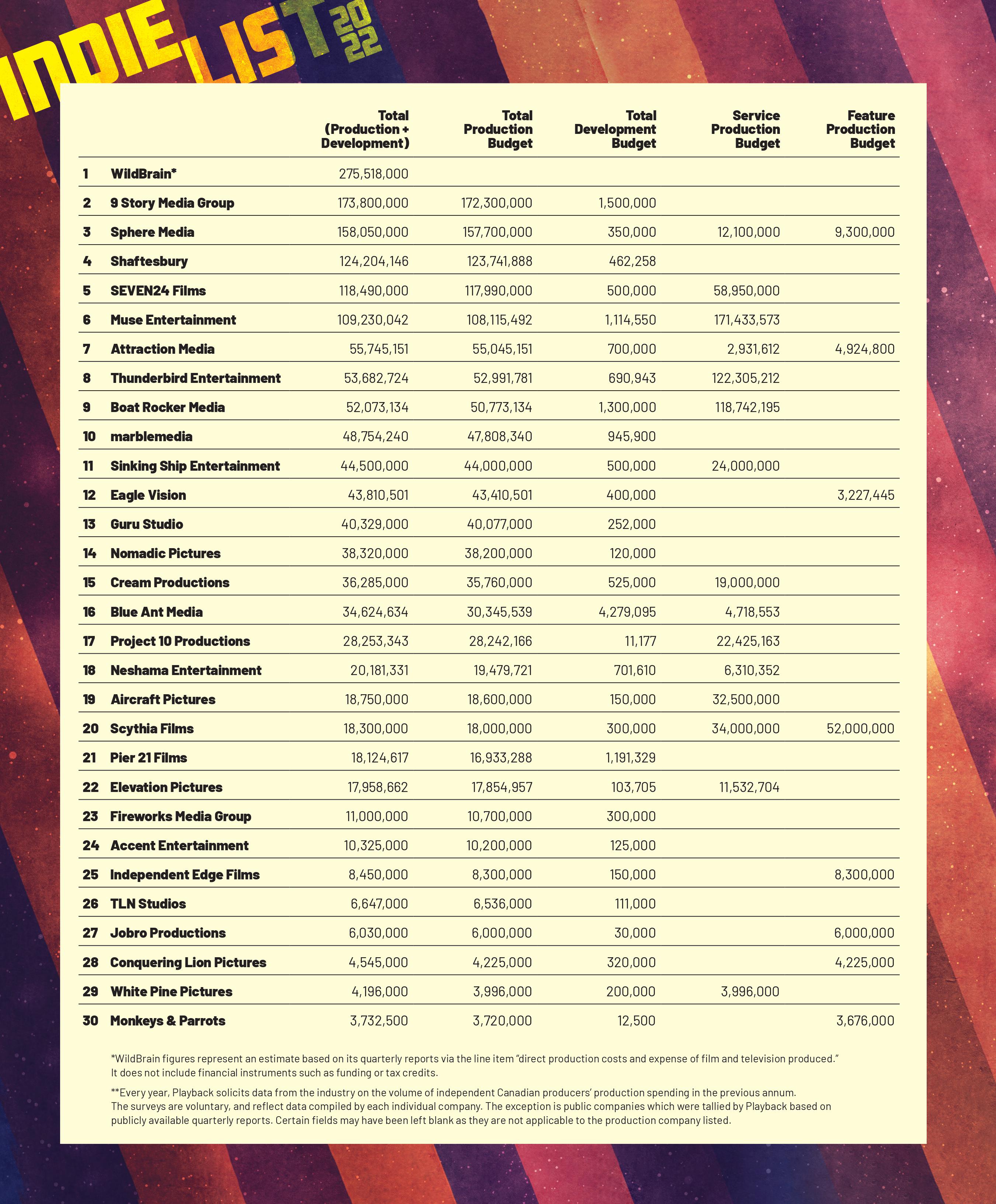 This story originally appeared in Playback's Spring/Summer 2022 issue.