David Cronenberg's Crimes of the Future to premiere at Cannes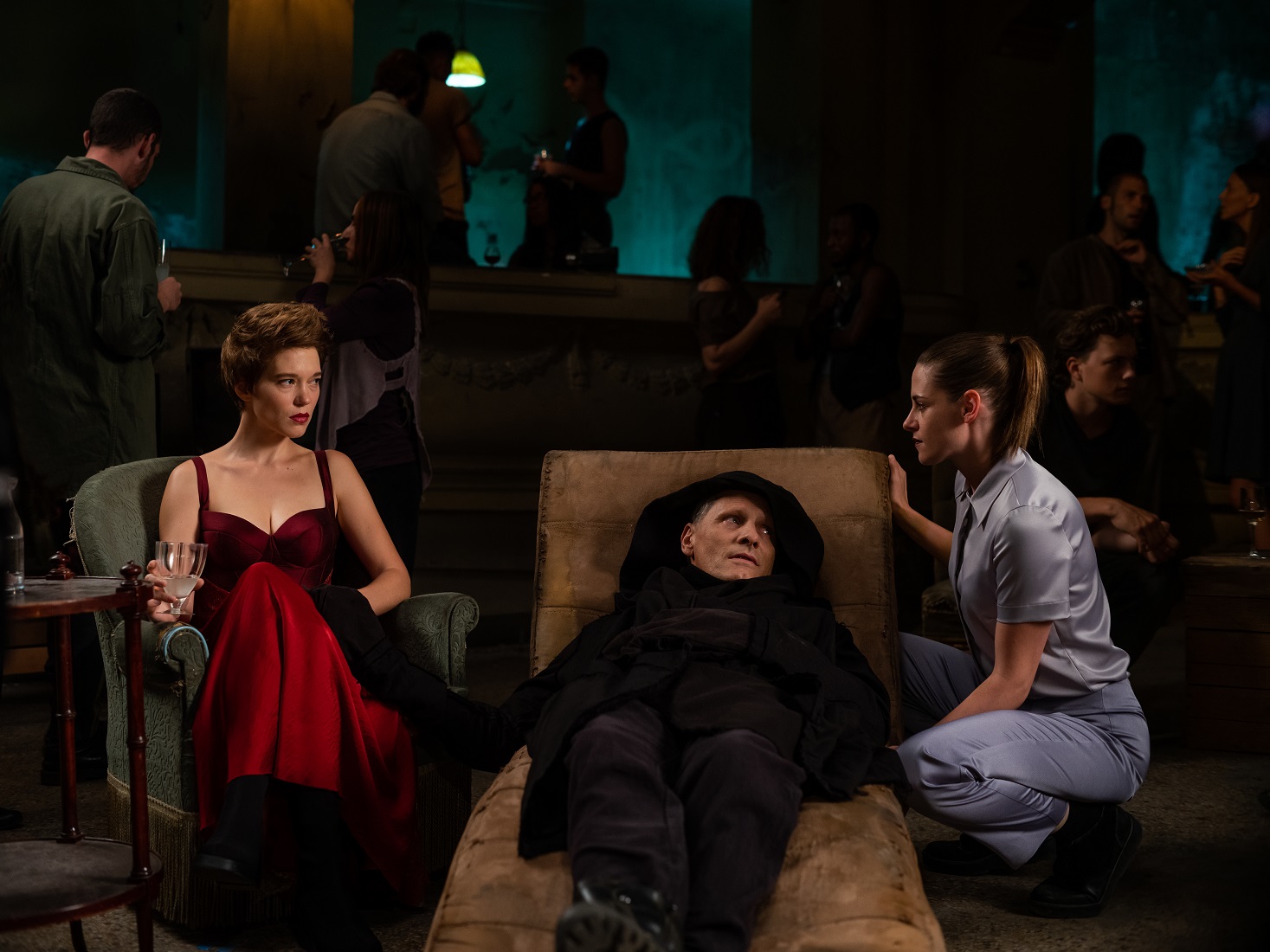 The Robert Lantos-produced thriller starring Viggo Mortensen, Léa Seydoux, and Kristen Stewart will compete at the May festival and hit theatres in June.
Toronto-based body horror auteur David Cronenberg's sci-fi thriller Crimes of the Future, his first directorial effort since 2014's Maps to the Stars, will world premiere in competition at next month's Cannes Film Festival.
The feature (pictured) is produced by Robert Lantos under his Toronto-based banner Serendipity Point Films and is a Canada/Greece copro with Athens-based Argonauts Productions. Steve Solomos and Panos Papahadzis are producers for Argonauts on the project, which is bound for theatres in June, distributed by Sphere Films (formerly MK2 | Mile End) in Canada and NEON in the U.S.
Executive producers include Charles Tremblay and Ariane Giroux-Dallaire, Joe Iacono, Thorsten Schumacher, Peter Touche, Christelle Conan, Tom Quinn, Jeff Deutchman, Christian Parkes, Aida Tannyan, Victor Loewy, and Victor Hadida. Laura Lanktree is a coproducer and Bonnie Do is an associate producer.
Crimes of the Future is produced in association with Telefilm Canada, Ingenious Media, Bell Media, CBC, the Hellenic Broadcasting Corporation ERT, the Greek Film Centre, Ontario Creates, France's Coficiné, and the Harold Greenberg Fund, with the support of Greece's EKOME.
Shot in Athens in last summer, Crimes of the Future stars frequent Cronenberg film lead Viggo Mortensen (A History of Violence, Eastern Promises) as well as Léa Seydoux (No Time to Die, The French Dispatch), Kristen Stewart (Spencer, Clouds of Sils Maria), and Canadian actor Scott Speedman (Citizen Gangster, Barney's Version). Canadian actors Don McKellar, Tanaya Beatty, and Nadia Litz are also in the cast, alongside Welket Bungué, and Lihi Kornowski.
The story depicts a not-so-distant future in which the human species has adapted to a synthetic environment through bodily transformations and mutations. Mortensen plays a celebrity performance artist who publicly showcases the metamorphosis of his organs. Seydoux plays his partner while Stewart plays an investigator from the National Organ Registry who tracks their movements.
This is the sixth time a Cronenberg film has been selected to compete in Cannes, which runs May 17 to 28 and will open with Z (comme z) by French director Michel Hazanavicius. Cronenberg's previous films at the festival in France include 1996's Crash, which won a Special Jury Prize, and 2014's Maps to the Stars, which won an acting honour and a soundtrack award at the festival.
Cronenberg directed and wrote Crimes of the Future, his first screenplay since 1999's eXistenZ. This is the fourth collaboration between him and Lantos, with previous titles including Eastern Promises and Crash.
​This is the 10th time a film produced by Lantos is in the Official Cannes Selection, after titles including The Sweet Hereafter and Crash.
"Crash was the last time David and I were in competition together in Cannes. That film electrified the Croisette, causing shockwaves around the world, and 25 years later, has become a cult classic. I look forward to an encore," said Lantos in a statement.
Cronenberg said the film "grapples with universal questions, concerns, and fears about our bodies, evolution, and what some would deem the threat that technology poses to our humanity."
"I believe this is a film of our times and I look forward to its unveiling in one of the most prestigious theatres in the world," he added.