CineFAM opens networking database for women of colour creators
The Women of Colour Content Creator Database was launched by CaribbeanTales Media Group's Frances-Anne Solomon to offer more visibility and resources for women of colour in the screen industry.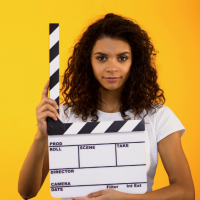 Canadian not-for-profit organization CineFAM has launched a new database to increase the visibility of women of colour within the screen industry.
The Women of Colour Content Creator Database is live on the CineFAM website as of Tuesday (March 1) and includes profiles of more than 40 creators, including director and producer Jennifer Holness (Subjects of Desire; BLK: An Origin Story) and Emmy-winning TV personality Patricia Jaggernauth (The Patricia J Show). It is supported by a grant from the Canada Council for the Arts.
The database is currently accepting applications for women working as directors, producers, writers, actors, animators, VFX talent and more. Its purpose is to create more avenues for women of colour to grow their network and find professional opportunities and resources within the screen sector.
CineFAM was founded by filmmaker and CaribbeanTales Media Group head Frances-Anne Solomon in 2016. The organization runs the annual CineFAM Film Festival, which promotes the work of women of colour creators in Canada and internationally.
"This database is a step forward for women of colour filmmakers' voices to be heard and their work to be seen," said Solomon in a statement. "CineFAM's mission is to promote and broaden the visibility of women of colour in the film industry and provide paths to a larger network. We look forward to welcoming as many new filmmakers as possible."
Similar talent and networking databases have already launched in Canada, including Jennifer Podemski's The Shine Network, for Indigenous women creators. Other talent resource sites launched within Canada over the last few years include Access Reelworld, HireBIPOC, Out on Set and, most recently, ARRAY Crew.