Playback Hall of Fame inductee: Ivan Reitman has kept the faith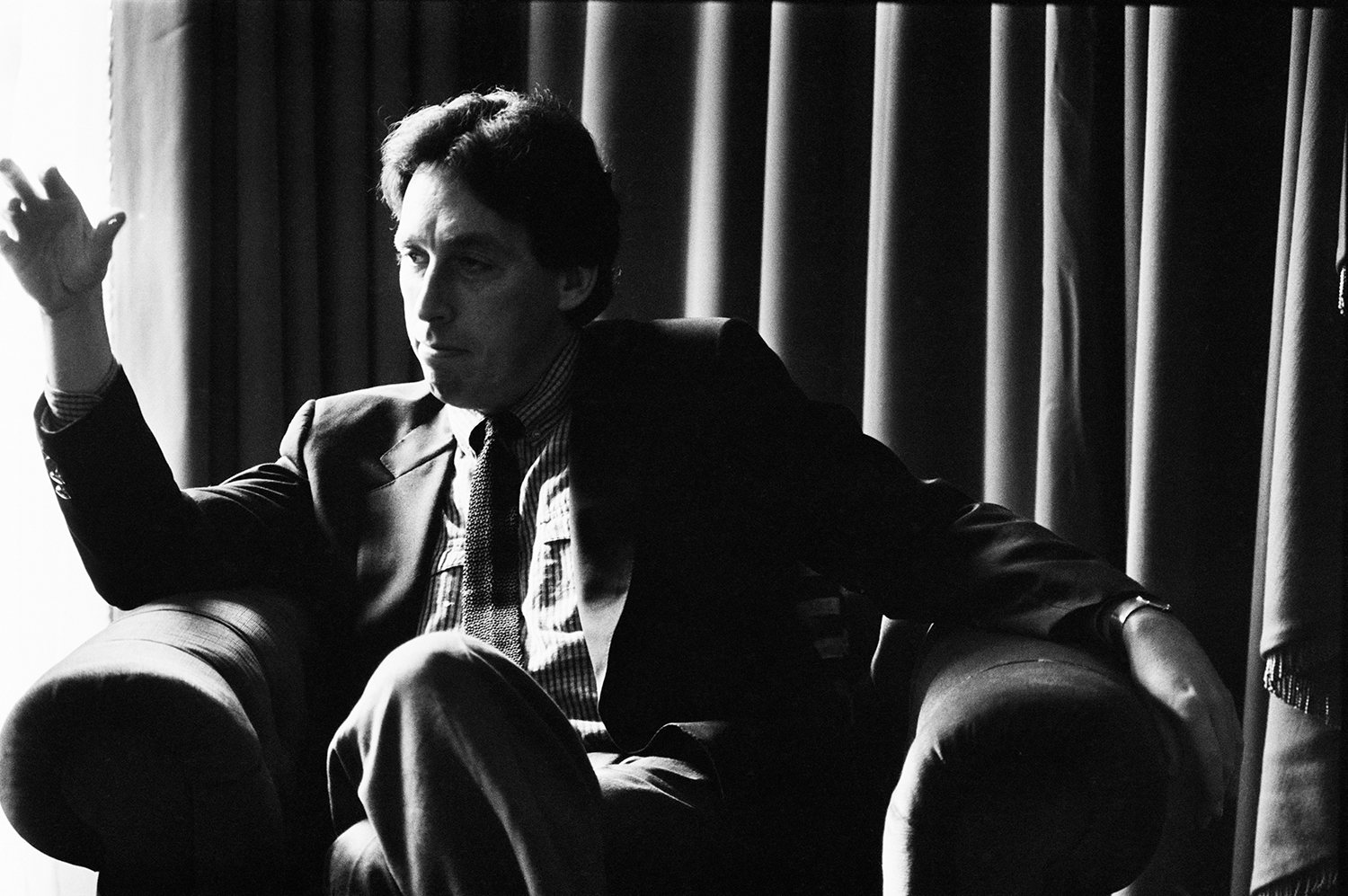 Critics be damned, the filmmaker's convictions have sustained a 50-year career marked by record-breaking box office.
Ivan Reitman's successes have secured him a rarefied spot in the filmmaking universe.
A child refugee from Czechoslovakia, he grew up in Toronto and launched his career making features through Montreal's Cinépix Film Properties. His breakthrough came producing David Cronenberg's Shivers (1975), followed by Hollywood comedy classic National Lampoon's Animal House (1978). He came back to direct Meatballs (1979), which set a record as the most successful Canadian film of all time.
After that it was back to Hollywood, where subsequent directorial smashes include Stripes (1981), Twins (1988) and Kindergarten Cop (1990). His producer credits include Space Jam (1996) and Private Parts (1997), and he wore both hats on Ghostbusters (which raked in record returns for a comedy) and Ghostbusters II. Most recently the Montecito, Calif., resident — who is among the latest Playback Canadian Film and Television Hall of Fame inductees — produced Ghostbusters: Afterlife, directed by his son Jason.
Playback: Congratulations on Ghostbusters: Afterlife opening in the top spot at the box office. A proper sequel to the first two films had been in the works for a long time. How did it finally come together?
Ivan Reitman: I was developing one with Columbia when [co-star and co-writer] Harold Ramis got sick and passed away, and I decided that without Harold I didn't want to direct a version of this film for which all of us had been responsible. And then the studio was solicited by Paul Feig about doing a female reboot and I agreed to [produce] it. After that my son Jason called and said, "I've got an idea for a continuation of the story you began in 1984." And he pitched it to our whole Ghostbusters group and everybody was moved by it. We went to the studio and they financed it immediately.
PB: You shot it in Alberta, which was obviously a business decision and a creative decision, but is there a little extra happiness for you in bringing a production of this scale up to Canada?
IR: I loved it. Ghostbusters was practically a Canadian movie because of Aykroyd and myself and Harold Ramis, who, because of SCTV [on which he was original head writer and a performer] is an honorary Canadian. And of course Rick Moranis is Canadian. So it seemed perfectly wonderful to make the film in Alberta.
PB: Was it difficult handing over the directorial reins to Jason, and how did that collaboration work?
IR: We did it once before with Up in the Air [2009], which I produced and he directed and co-wrote. I think it was a very good experience for both of us and we learned a lot from it. It brought us even closer and the movie worked out well. It was nominated for [six] Academy Awards — the first time I got nominated, thanks to him. So when it was time for Ghostbusters: Afterlife, it seemed very natural.
PB: How important are reviews to you?
IR: On Ghostbusters: Afterlife, which audiences are loving, we ran into a group of negative reviews, mostly in America. Bad reviews always sting. Nobody likes to have crappy things said about their work. But I reminded Jason that reviews for the 1984 movie were pretty crappy in the beginning. Every few years it's notched up another star. It started as a two-star movie and now it's a five-star movie. That's also happened with Stripes [1981] and Meatballs [1979]. You have to keep focused on a belief in what you're doing. What's been helpful is I've made films that were successful, which continued my opportunity to make them.
PB: Jason has had a great career, and your daughter Catherine also is a hero in these parts for her CBC show Workin' Moms. What kind of influence did you have on their career paths?
IR: I hope I gave them some decent advice. The biggest influence is that there was an example right in their family of someone making a living in entertainment. When I started there was little confirmation of that possibility, particularly growing up in Toronto as a refugee from Czechoslovakia. I ended up taking music at McMaster University because it was the closest course in a creative field I was interested in. There were no film courses at the beginning of my college days in 1965. I got into making films by accident because of the film club at McMaster.
PB: What sparked your interest in movies?
IR: When I was five, my aunt and cousin took me to the Alhambra Theatre on Toronto's Bloor Street to see a matinée of The Adventures of Robin Hood [1938] starring Errol Flynn, and I loved it. I couldn't believe the experience and was swept up by the energy of it. Growing up I would go to matinées almost every Saturday. I'd mostly look at horror movies and I had a scrapbook and all that kind of stuff.
PB: You directed Cannibal Girls and produced Shivers and Death Weekend [1976]. Do you think horror is a particularly fertile genre for young filmmakers looking to make a mark?
IR: It seems to be the way to get started, especially when you're dealing with tiny budgets. I had the great fortune of knowing David Cronenberg. We were in Toronto at the same time and became friends and there was a meeting of minds. I wanted to direct, but I was focusing on my producorial strengths. He was dealing with John Dunning and André Link at Cinépix in Montreal at the same time I was, and because he was a friend I pushed through Shivers, which was originally called Invasion of the Blood Parasites. Working with him was a wonderful experience.
PB: You went on to both produce and direct highly popular films. Those roles require very different skill sets. Which do you enjoy more?
IR: Certainly it's to be the director. The films I directed I produced as well. Producing is the work part of it and directing is more of a creative joy. Focusing on how to make things better is what I learned in the process, in terms of deciding what story to tell, how to tell that story and who to add to it to make it more saleable and have it play in theatres all over the world. I remember David and I reading a review of Shivers that criticized us for making an "un-Canadian" movie, whatever that might be. It was an important lesson for me that I couldn't let these cultural-political conversations get in the way of trying to be a good storyteller, which is what I've always tried to be.
PB: Meatballs and Stripes forged the big-screen persona of Bill Murray, who today is a comedy legend.
IR: Certainly his being in them was remarkably important. I did a show on Broadway called The Magic Show [1974-78] with Doug Henning, whom I met at McMaster, and I used that to introduce myself to National Lampoon magazine, which I was a fan of. I ended up producing its stage show, which had Gilda Radner, John Belushi, Bill Murray and his brother Brian, and Harold Ramis. I had this early acquaintance with some of the funniest people in the world. I knew how funny Bill was and I was a big fan.
PB: Did you want to direct Animal House?
IR: I was hoping to, but having directed only Foxy Lady [1971] and Cannibal Girls [1973], which had a budget of around $12,000, the studio said no. So we found John Landis, and he inherited this extraordinary screenplay that spoke the new language of the college kids I had been in school with.
Toronto was a centre for that because of Second City and then SCTV and comedy troupes coming out of University of Toronto and McMaster, where I also became friends with Eugene Levy, Marty Short and Dave Thomas. U of T also had Lorne Michaels and Cronenberg. It was a potent period. I paid attention to that group and wanted to work with them and got placed in this remarkable position because of The National Lampoon Show. It put me in a front-row seat to the growing talents of that era.
PB: What inspired the ingenious ideas of, firstly, putting action star Arnold Schwarzenegger in comedies, and pairing him with Danny DeVito in Twins?
IR: It's about putting diverse things together in an unusual way. And for me, it's about paying attention. Twins came out of meeting Danny DeVito and Schwarzenegger within a few months of each other and not forgetting that and thinking, "It would be funny to put those two guys together in some contemporary comedy."
PB: What's next for you?
IR: Actually, I'm thinking of doing a sequel to Twins called Triplets and we're looking at Vancouver as a place to make it.
PB: Keep bringing them up north!
IR: Well, I love Canada and I am lucky to have grown up there. I love the people and feel very fortunate that my family and I were able to immigrate to Toronto.
This is an edited and abridged version of a conversation between Reitman and Playback contributor Mark Dillon. A version of this interview appears in Playback's winter 2021 issue.
Playback's Canadian Film and Television Hall of Fame was founded in 2007 to recognize extraordinary achievements in the Canadian entertainment industry. Inductees are selected by a jury of their peers.
Photo credit: Slovak-Canadian film producer and director Ivan Reitman poses while on a press tour for the original Ghostbusters in the U.K. in December 1984. (Photo by Hilaria McCarthy/Daily Express/Hulton Archive/Getty Images)