Deals: eOne, Super Channel, Enderby Entertainment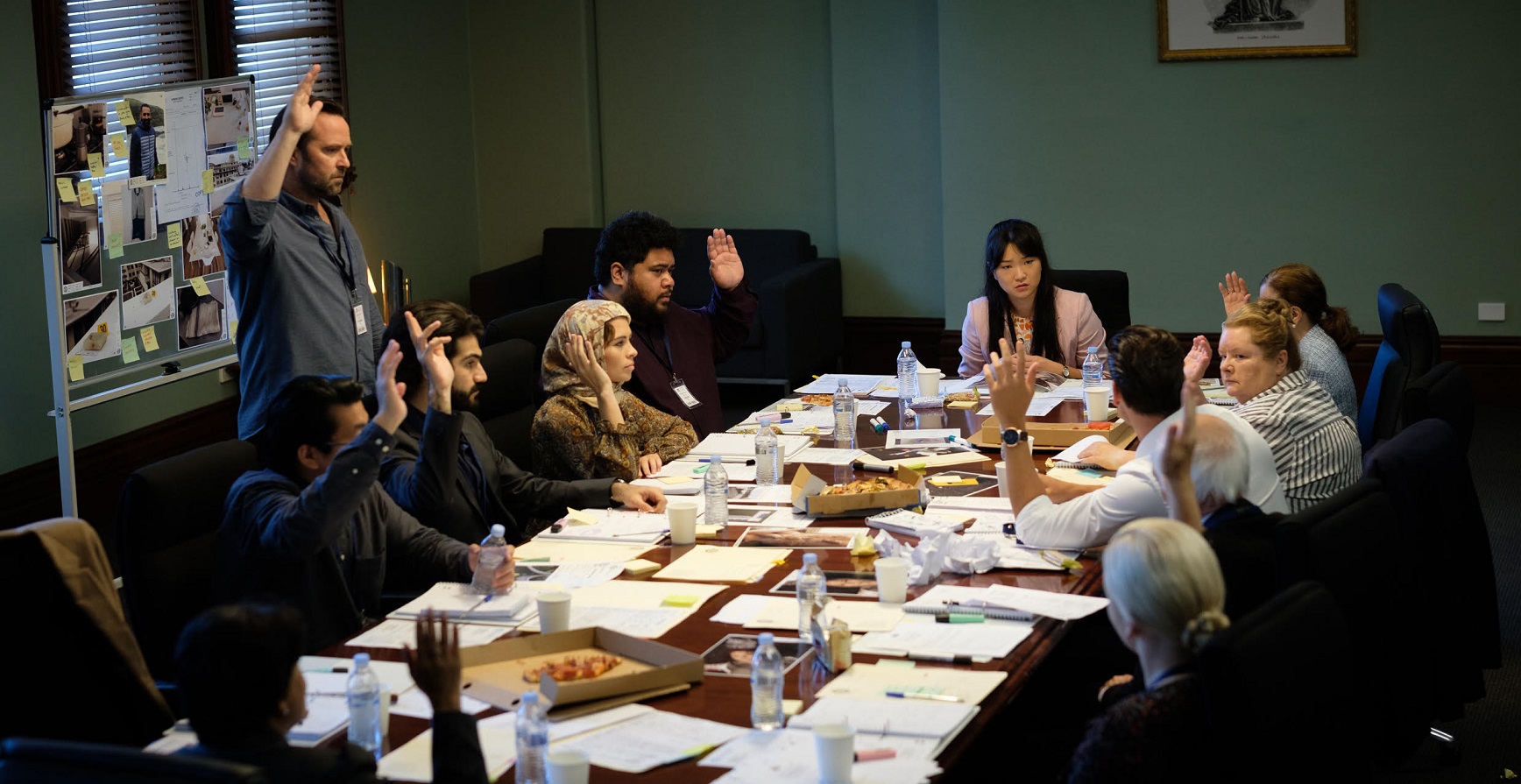 Entertainment One partners with Subtext on After the Verdict, Super Channel acquires Canadian minority copro for its latest original drama, plus more.
Entertainment One
Entertainment One (eOne) has partnered with Australian indie proco Subtext Pictures to handle international sales for the upcoming TV drama After the Verdict (pictured). Subtext Pictures' Ellie Beaumont and Drew Proffitt created, wrote and executive produced the six-part series, which has started production in Sydney and will premiere on the 9Network in Australia.
After the Verdict sees four jury members from a high-profile murder case start to question their decision after the trial is over. The creative team also includes Jo Rooney as producer and executive producers Greg Sitch and 9Network head of drama, Andy Ryan. Cast members include Michelle Lim Davidson, Tess Haubrich, Sullivan Stapleton, Magda Szubanski and Lincoln Younes.
Super Channel
Super Channel has acquired Ireland/Belgium/Canada copro Hidden Assets. The six-episode crime drama will have its Canadian premiere as a Super Channel Fuse original series on Feb. 13. Angeline Ball stars as an Irish detective whose investigation into a drug dealer leads to a larger case involving a series of bombings in Belgium, where she works with the local police commissioner to unravel a political conspiracy.
Hidden Assets is produced by Ireland's Saffron Moon, Belgium's Potemkino and Quebec prodco Facet 4 and was commissioned by RTÉ and Acorn TV in association with Screen Ireland and Screen Flanders. The series is written by Peter McKenna and Morna Regan. Producers include Siobhán Bourke, Kathryn Lennon and Anna-Sue Greenberg with Stephen Greenberg and James Mitchell as executive producers and Peter De Maegd and Tom Hameeuw as co-producers.
Enderby Entertainment
Lionsgate-owned distributor Grindstone Entertainment Group has acquired the U.S. rights to Enderby Entertainment's Zero Contact, the company's first NFT feature film for its VUELE platform. The cast includes Academy Award winner Anthony Hopkins, Adrian Holmes and Rukiya Bernard. The plot follows five individuals located around the world who must work together to stop their mentor's (Hopkins) invention, which could either save the world or end it.
The deal was brokered by Grindstone president and CEO Barry Brooker and Enderby CEO Rick Dugdale, who also produced and directed the film. Zero Contact was written by Cam Cannon, who also served as co-producer. Peter Toumasis produced alongside Dugdale while Daniel Petrie, Jr., Dan Fellman and Hakan Karlsson served as executive producers.
Enderby went into production on back-to-back sequels in December, including a shoot in Antarctica, which the company says is the "first Hollywood film ever to shoot on the continent." The films will be shot in 13 countries overall, including Bolivia, Peru, Sweden, Turkey, Egypt, Malaysia and France.
East Side Games Group 
Vancouver-headquartered East Side Games Group (ESGG), a free-to-play mobile game studio, has entered into a multi-year partnership with BBC Studios for a Doctor Who title. ESGG says the deal involves the worldwide release of the narrative-driven game inspired by the long-running franchise, with release set for sometime this year on both iOS and Android. The game will be developed with the company's Game Kit technology and published by East Side Games (ESG).
Quebecor
Quebecor has partnered with La Fondation Lionel-Groulx to promote Nos Géants, a series of 45 educational vignettes. The series is developed by the foundation in collaboration with the government of Quebec, produced by Montreal's Qolab and written by historian Laurent Turcot. It features a number of the province's historical figures, including Samuel de Champlain, Gabrielle Roy and Calixa Lavallée.
Quebecor subsidiary TVA launched a weekly promotion run to air the vignettes during its Salut Bonjour morning show on Jan. 17, which will run for three seasons, with 15 episodes per season. Quebecor will also promote Nos Géants across its media outlets and platforms.
With files from Victoria Ahearn