Ira Levy launches new Toronto-based production banner
The Breakthrough Entertainment co-founder and veteran producer will develop and produce both scripted and unscripted titles under Spike & Sadie Media.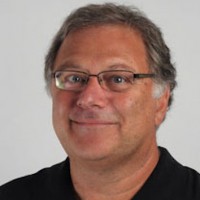 Veteran producer Ira Levy (pictured, right) has launched a boutique film and television production company, Spike & Sadie Media.
The Toronto-based company will develop and produce both scripted and unscripted titles "with Canadian and international creatives who bring a distinct and clear voice to their storytelling," according to a news release.
Levy will continue to work as a consultant and executive producer with Breakthrough Entertainment, the Toronto-based production and distribution company he co-founded with Peter Williamson in 1985. Levy sold his majority stake in the company in a management buyout in 2018, with Williamson exiting and CFO Michael McGuigan and then-head of distribution Nat Abraham taking control of the company. Breakthrough's kids and family catalogue sold to 9 Story Media the same year.
Content produced under the Breakthrough Entertainment banner includes OMNI drama Blood and Water, HBO Canada comedy Less Than Kind and Showcase soap Paradise Falls; unscripted series Kenny vs. Spenny and History channel's Greatest Tank Battles; animated Teletoon series Crash Canyon and Rocket Monkeys; children's series The Adventures of Dudley the Dragon, Nickelodeon's Max and Shred and TVOkids' Science Max: Experiments at Large; and films Anne of Green Gables (the 2016 version), The Oak Room and Vicious Fun.
Levy was nominated for a Daytime Emmy for his producing work on Universal Kids' The Big Fun Crafty Show and has won several Canadian Screen Awards, including Best Children's or Youth Non-Fiction Program or Series for Science Max: Experiments at Large between 2017 to 2019 and Best Comedy Program or Series in 2013 for Less Than Kind.
"Launching Spike & Sadie Media after 40 years of working in the Canadian film and TV industry is a tremendously exciting moment for me in my professional career," said Levy in a statement. "I have had the good fortune of working with some of our industry's best and I look forward to bringing my energy and relationships into this new creative hub and showcasing the next generation of storytellers."