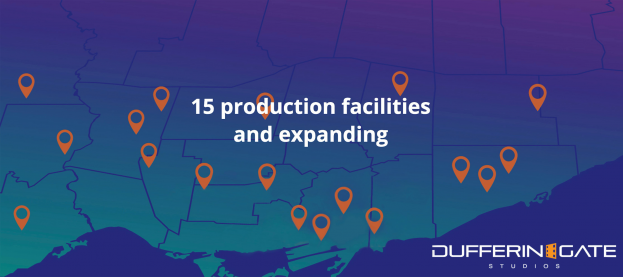 At Toronto-based Dufferin Gate Studios, space matters – because they have plenty of it.
"Since 2018, Dufferin Gate Studios has expanded its original 80,000 sq.ft. footprint to over 700,000 sq.ft. over the past four years," states Noël Phillips, the facility's General Manager who's been with the company since 2016. "We pride ourselves on being client-focused and finding options for productions that match their requirements and expectations. Our team is available at all times to address any and all issues."
The downtown core has been hobbled by construction – and Dufferin Gate offers a viable solution.
"Dufferin Gate has a West End focus which allows for improved logistical considerations," says Phillips. "Especially compared with facilities that are in the south eastern part of the city which is undergoing rapid transformation with the attendant construction problems."
Boasting a 30-year history, Dufferin Gate has hosted a number of domestic and international TV and film productions ranging from large to small-scale features, series, commercials and music videos.
"We're proud to have accommodated over 200,000 sq.ft. of studio and support space for the new Reacher series, creating thousands of jobs within the industry in 2021," says Phillips. "Other notable projects include securing a home for the renowned AR wall platform, currently being used for Star Trek series: Strange New Worlds."
Phillips says that the facility has partnered with West End facilities "to utilize over 150,000 sq.ft. of  'dead space' in their facility throughout unfortunate times during the pandemic to provide industry support."
Dufferin Gate also offers line of sight on potential regulatory shifts and close monitoring of the production landscape. This is in addition to its wide array of industry, studio and support spaces, as well as maximum assistance throughout the production term – ideal for foreign productions looking to navigate in Toronto.
"No inquiry is too small or too large," says Phillips. "Dufferin Gate has 15 production facilities and upwards of 700,000 sq. ft.  Heading into 2022, we're hoping to remain a top choice for all budgets, sizes and durations. We will never turn away anyone looking for space."
Phillips says Dufferin Gate Studios continues to thrive due to its stellar reputation for its strong commitment to service at the highest level.
"We adapt, learn and address," she states. "It's our dedication to being a solutions provider which we are incredibly proud of:  Dufferin Gate has longstanding relationships with many content and production companies – many of whom have been utilizing our facilities as repeat clientele for decades. It's an important task of ours to find spaces that fit perfectly with what the producers have in mind. It's in our best interest to make our clients feel comfortable and we are always receptive to feedback."