Tribute: The marble universe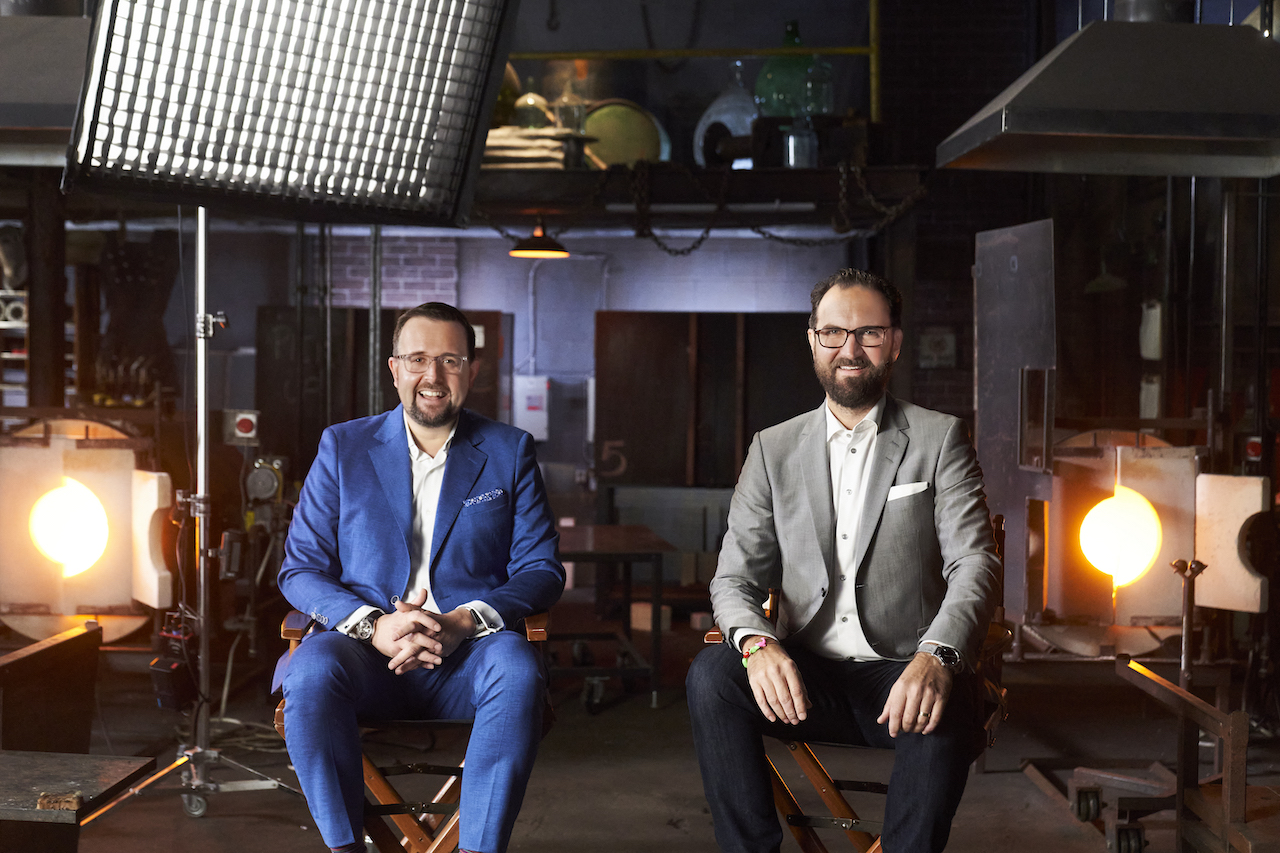 Forged from the comradeship and combined ambition of Matt Hornburg and Mark Bishop, marblemedia commemorates 20 years of growth.
Canada's media industry has changed radically in the past 20 years since two recent Ryerson grads, Matt Hornburg and Mark Bishop, launched marblemedia as a company which quickly became recognized for "transmedia" work. Though they were happy to get awards and nominations for such early pieces as Deafplanet and Toothpaste, the co-CEOs wanted to be identified as a major prodco, not just a niche producer.
That they've succeeded is easily seen by listing some of their accolades in two decades: five Canadian Screen Awards and 18 nominations, six Gemini Awards and 20 nominations, five Golden Sheaf awards and six nominations and eight Youth Media Award (YMA) wins. That doesn't include such international acknowledgments as France's Prix Jeunesse (two awards, two noms), the NHK Japan Peace Prize (finalists eight times) and two International Emmy nominations.
Quite a list and it would be shocking if marblemedia's expanding slate of both scripted and unscripted shows, and their multiple media adaptations, doesn't garner them many more well before their silver anniversary in five years.
The success of marblemedia begins with its two creators. Two small town boys, Hornburg and Bishop (pictured, above), met at Pitman Hall, a Ryerson University residence in the '90s, and became fast friends in their third year when, according to Bishop, "Matt was directing a sketch comedy show [for his year-end project] and had these big ideas. He wanted to have screens that synchronized together, lights moving and multiple projectors. I just loved it because I have a technical mind and love thinking about how to bring these things to life." The show was such a big success that they were given the TARA awards show, Ryerson's annual celebration of the work of radio and television students, to produce the following year. Bishop recalls, "We wanted to have the show broadcast on two networks, which we did; we wanted to have a big live event; we wanted to have a mobile truck; we wanted celebrities and raise a bunch of money. And we did."
Flushed with success from Ryerson, the duo vowed to start a company together once they had some cash and industry expertise. Both cheerfully acknowledge their comradeship, which has only grown over the years. Says Hornburg, "Mark is my best friend. Our relationship is symbiotic. It's really one plus one equals three." Bishop chimes in: "He was the best man at my wedding and I at his." At marblemedia's offices in Liberty Village, Toronto, they even share an office, certainly unusual for co-CEOs.
What marked marblemedia's creators as unique in the early days was not only their willingness to pursue the latest in technology but also a capacity to have what Bishop terms a "360-degree way of thinking." Since the beginning, Hornburg and Bishop haven't created platforms willy-nilly. They're done for a purpose and only if an audience can be attracted. Economics along with creativity drives them.
"Our first series, Deafplanet.com, was actually a website, which was pitched to a broadcaster for deaf children in sign language," recalls Bishop. Having a platform be developed into a television show was unique. But marblemedia was able to create Deafplanet, which emphasized "the importance of diversity and inclusion on screen," for those who are hearing impaired — and their families and friends. Since then, Bishop adds, "we continue to celebrate bringing people together at a meeting place," in whatever platform that might be.
Deafplanet established the fledgling company in children's programming, with a niche audience which would embrace new media applications and innovative shows. Successes followed over the next few years including two interactive programs, This Is Daniel Cook featuring a sweet-tempered young boy learning grown-up skills and Splatalot, a funny obstacle race show with tweens in and around a medieval castle. "For the first 10 years, a lot of people thought of us as a multi-platform service that occasionally made shows," says Hornburg. "Now we're thought of as producers."
It's in the company's DNA, and those of its creators, to be ambitious. They didn't want to settle for being new media innovators or even kids' producers. "Matt and I made a pact to meet a lot of international people on day one. We acknowledged that the Canadian industry is great, but we would need to broaden our circle. So we started going to MIPCOM in our second year of business. We had very little in the suitcase but we wanted to meet people in the international marketplace and that has served us really well." Shows such as This Is Daniel Cook and This Is Emily Yeung sold in over 75 territories including Chile, Egypt, Venezuela and Tunisia 15 years ago, proving Bishop's point.
It led to the creation of Distribution360, their distribution service. Again, the idea had been brewing for years. "We realized we didn't want to work for our own titles with third-party distributors and wanted to control our own destiny," says Bishop. "So we said, 'OK, how do we start to build this catalogue?'" They approached industry friends, who were "frustrated with not having accountability from distributors, getting reports like 'we forgot to send the cheque,'" continues Bishop. "We thought, 'why can't we make a distribution company that's fair and honest, that only takes what we need?'" Third party producers have been part of D360′s mix since then.
Seven years ago, marblemedia brought in industry veteran Diane Rankin (previously at DRG and Cineflix) to effectively run D360. "My background is heavily in unscripted," she says, "but very much looking at how we drive the business overall, and that's in production and distribution through monetizing rights, and looking at market intelligence, and global buyer network — what the trends are — and bringing it back into the development side of the business. It's intrinsically linked to both sides of the business."
Rankin, who is D360′s executive producer, continues: "The same level of attention we give to a marble project we want to be able to give to our third parties. We never want anyone to feel that marble gets preferential treatment. We'll look at a lot of different projects and if it makes sense to join — to bring them in and join our ranks of partners we absolutely will."
D360 works closely with Partners in Motion, which led to a significant development in their IP. One of the distributor's strengths is in selling older shows that are evergreen. D360 sold 76 episodes of Crime Stories to Amazon Prime, which led to a new idea: why not turn that show and another, Disasters of the Century, into podcasts? "It's a completely D360-driven initiative on a production project," says Rankin. "We worked with them and two outside podcast production companies to set up Murder Time [based on Crime Stories] and Deadly Disasters, which is what Disasters of the Century became." It's been launched on Google and Spotify and, says Rankin, "everywhere in the podcast world. And we're managing with our monetizing partner to bring ad insertions and getting into a whole different business than we've been in. So that's a great way to extend IP."
Another area in which marblemedia and D360 has expanded is with YouTube channels. Since changes started occurring several years ago in CAVCO requirements, the channel is now certified, which means the company and their distribution partners can apply for federal tax credits and private funding. Rankin points to Headspinner's Happy House of Frightenstein, a reboot of the '70s kids classic, as an example of how D360, which is selling the series internationally, can utilize Youtube for themselves and the producers.
"On the unscripted side," continues Rankin, "we can certainly drive from trends in the world. Best in Miniature is a good example of that, where Kelsey Espensen, our development producer came up with the project. She was following #miniature on TikTok and Instagram because it was something she was interested in and she saw an explosion of — hundreds of millions I think — for posts tags of miniatures. Seeing how many people were into tiny things and showing how they were doing that and posting it on these platforms and that was a global phenomenon." Espensen and Rankin have a biweekly development call at marblemedia where "we come to the table with ideas and hammer them out together."
At MIPCOM, Rankin says, "It's been amazing that we've got multiple offers on the table for Race Against the Tide. With Best in Miniature, we don't even have an episode. It's not broadcast until 2022 and we have offers for it because the development work is so strong. That's a marble project, but for our third-party projects, we work in the early stages with their producers… [telling them to] make sure you think about formats because we can take that out to market internationally."
On the scripted side, marblemedia's VP and executive producer Carrie Paupst Shaughnessy is excited by "a robust entertaining slate that goes across primetime — one-hour/half-hour table-style dramedies — but also family primetime as well as kids. We hired last year a VP of kids working out of L.A., A.J. Trauth. And we've grown our own team.
"We tend to focus on shows that have a core of optimism to them. We're targeting shows for a global audience, but we're always looking for things that have some sort of positive impact. That doesn't mean it's Pollyanna. We can go into some more mature places, but we're always looking for projects that have a lens that elevates them."
Shaughnessy points to current shows Overlord and the Underwoods, and The Parker Andersons/Amelia Parker as well as programs in development like Holding Still as Long as Possible and The Other Boy as "projects that we think are going to contribute meaningfully to audiences' experience of the world." In a world that is embracing the values of LGBTQ+ and BIPOC communities, she may be right.
Bishop recalls what writer and hotelier Isadore Sharp told Hornburg and him when they received Ryerson's Alumni Achievement Award. "He said, 'be fair but firm.' If you're fair to people and stick firmly to your expectations, people will respect you."
Photo credit David Leyes
This article originally appeared in Playback's Winter 2021 issue.