Newsmaker of the Year: Amazon Prime Video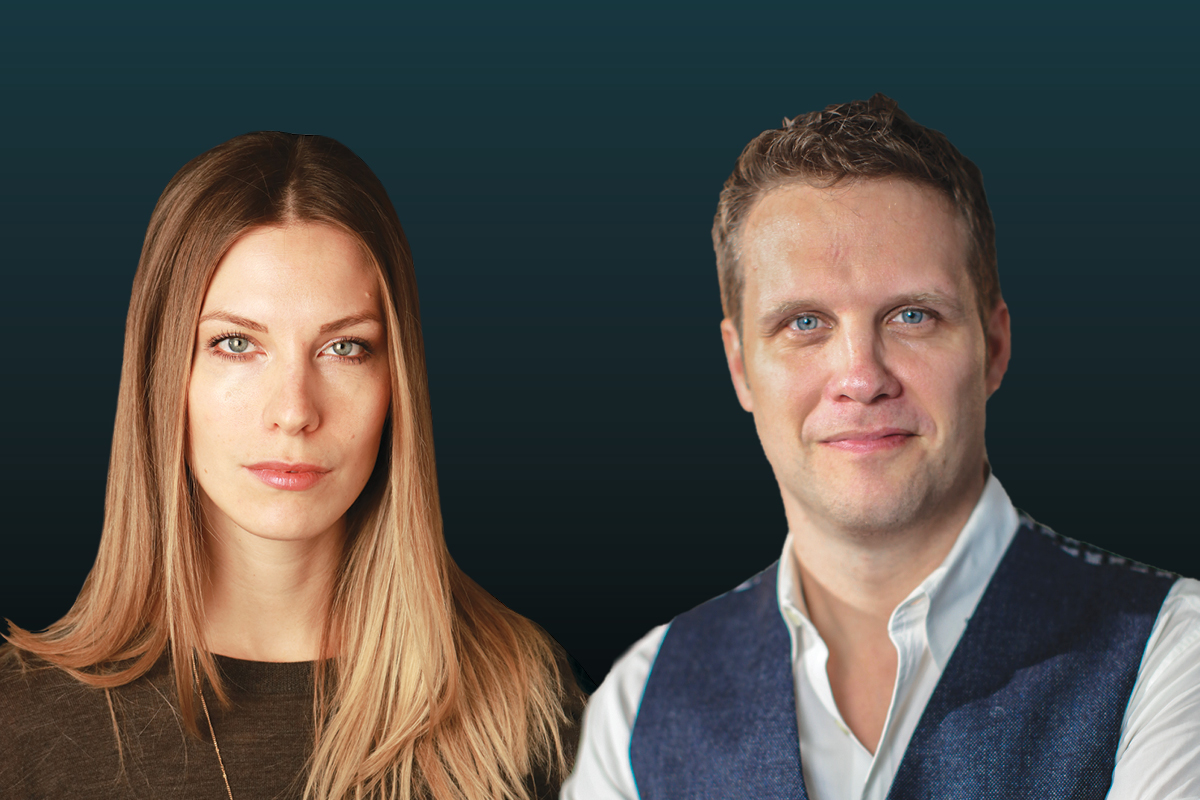 The global streamer made headlines throughout 2021 as it unveiled its Canadian strategy and hired its first domestic content executive – and they're just getting started.
It's safe to say that 2021 was the year of the streamer in Canada's screen sector and Amazon Prime Video in Canada had no small part to play in it.
The global streaming service burst onto the scene at the start of the year when they posted a job listing for a Canadian content executive to develop its Canadian scripted originals slate. The position eventually went to Brent Haynes (pictured, above right), a former executive at The Comedy Network (now CTV Comedy Channel), who serves as head of scripted, Canada, reporting to Christina Wayne, head of Canadian originals.
In that time the streamer has launched six Canadian originals in Canada, both in scripted and unscripted.
"When you come to town ready to make a bunch of shows, you're going to receive an unsurprisingly warm welcome," Haynes tells Playback. "I will say it's still been incredibly overwhelming to have this much excitement and anticipation in the market because it certainly has been larger than I expected."
(Netflix has since followed suit, hiring Tara Woodbury as its first Canadian content executive, based out of its newly established Toronto headquarters.)
Head of Prime Video Canada Magda Grace (pictured, above left) says the streamer is "committed to building an infrastructure in Canada." The company has posted listings for two key roles in Canada, an economic development policy manager and unscripted production executive in Toronto to oversee its unscripted strategy. Neither role has been filled as of press time.
The economic development policy manager position will allow Amazon to have a Canadian-based executive to advocate on their behalf on policy and new legislation and deepen its partnerships in Canada toward infrastructure and workforce development.
It's a move previously seen when Netflix hired former Canada Media Fund exec Stéphane Cardin as its director of public policy in Canada. It comes as Pablo Rodriguez, the recently reinstated minister of Canadian Heritage, is expected to table legislation to modernize the Broadcasting Act and bring streaming services such as Amazon Prime Video into Canada's regulatory framework.
Haynes says there are no current plans to expand Prime Video Canada's scripted team, but his role involves meeting with producers and possible partners to help find the right way for Amazon Prime Video to grow its Canadian content strategy. "You'll see the growth, but we want to do it in a way that not only serves us internally, but also is the best front-facing way to address the industry's needs."
The streamer greenlit its first Canadian original in early 2020 with a remake of The Kids in the Hall (Project 10), which went into production this summer. In 2021, Amazon Prime Video announced two more scripted originals: the comedy The Lake, produced by Toronto's Amaze, and the drama Three Pines, produced by U.K. prodco Left Bank, the company behind Netflix's Emmy-winning hit The Crown.
Michael Souther, Amaze co-owner and executive producer, says the initial concept for The Lake, a series built around Canadian cottage culture, was sold to Amazon Prime Video in 2019 at the Banff World Media Festival. They later brought on Julian Doucet to develop the series for two years, delivering a bible and a pilot script, before it went into production this summer.
"We had a lot of interest from a bunch of different broadcasters, but we were really intrigued by Amazon wanting to get involved in Canadian originals, and their passion for [the project]," says Souther. "Right from the get-go they were pitching to us on how they would market it and why they felt it would connect with a Canadian audience."
Souther says as Wayne and Haynes boarded the team, enthusiasm for the series only grew, which doesn't always happen with new executives. In fact, Souther said it became a "full circle moment" for Amaze, who had worked with Haynes roughly 20 years earlier on their first series, Patti, at The Comedy Network.
On the unscripted side, the series All or Nothing: Toronto Maple Leafs (Cream Films) announced on Prime Video on Oct. 1 as the first Canadian original to launch on the service. They also have LOL: Last One Laughing Canada (Insight Productions), hosted by Jay Baruchel, expected to release in 2022.
When asked how Amazon Prime Video defines a Canadian original, Haynes says the label is more reflective of the content than anything else.
While Three Pines is produced by Left Bank, the series is based on a novel set in Quebec's Eastern Townships and written by Toronto author Louise Penny. Haynes says that while there isn't a domestic prodco as a lead producer (Montreal's Muse Entertainment is the service producer), it is shot in Montreal with a largely Canadian cast and crew.
"When you subscribe to Prime and you turn on a show and you realize, as a Canadian, 'that show was made for me,'" he says. "That's our goal, that's our metric of success."
He adds that the resources available through Amazon means that the team isn't limited when it comes to the number of projects they can board. "If a good show shows up on my desk we're not going to say, 'oh, we don't have room for this amazing Canadian show,'" he says. "We want the best, we're going to make the best, and when we get it, we're going to put it into development."
One of the series on their development slate came from a $100,000 pitch program Prime Video Canada held through the Indigenous Screen Office (ISO). The streamer also donated $1.25 million to the Solidarity Fund and Development Grant, administered by the ISO in partnership with the Racial Equity in Media Collective (REMC) and BIPOC TV & Film.
"I don't think our end game out of that was, 'we need a show,' but rather to break down some barriers to communication and access," says Grace.
Grace says that diversity, equity and inclusion are a key focus for Amazon Prime Video's content teams globally. Amazon Studios developed an inclusion policy for its productions that the Canadian teams adhere to. The policy includes ensuring a minimum of 30% of above-the-line roles are women and members of an underrepresented racial group, with plans to extend it to 50% by 2024.
"It's a big problem and we can't solve it just one way." says Grace. "We're trying to make strides, continue to iterate on what's working and improve over time."
Efforts have been made locally as well. The Prime Video team in Canada developed its own philanthropic initiative with the Watch to Give Back program, which Grace says Amazon Prime Video plans to expand to additional markets. The program sees proceeds from film purchases and rentals donated to charitable organizations such as Black Lives Matter Canada, the Canadian Centre for Gender and Sexual Diversity and Spirit North. The next organization to benefit from the initiative is the Canadian Mental Health Association, with Prime Video donating proceeds between Dec. 1 to Feb. 26, 2022.
Haynes isn't ready to unveil Prime Video Canada's full development slate quite yet, but says the projects reflect a wide range of Canadian stories, taking place in Vancouver, Winnipeg and specific communities within Toronto to highlight the city's cultural mosaic.
The scripted exec says their Canadian originals strategy will remain largely unchanged heading into 2022, with the streamer looking for half-hour comedies or dramedies. "We really feel that it's not only a good lane for Canada, but it's also a good lane for the entire global service. Canada is having a moment in that space, so carrying that momentum forward is really important."
This article originally appeared in Playback's Winter 2021 issue.