Showrunner of the Year: Anthony Q. Farrell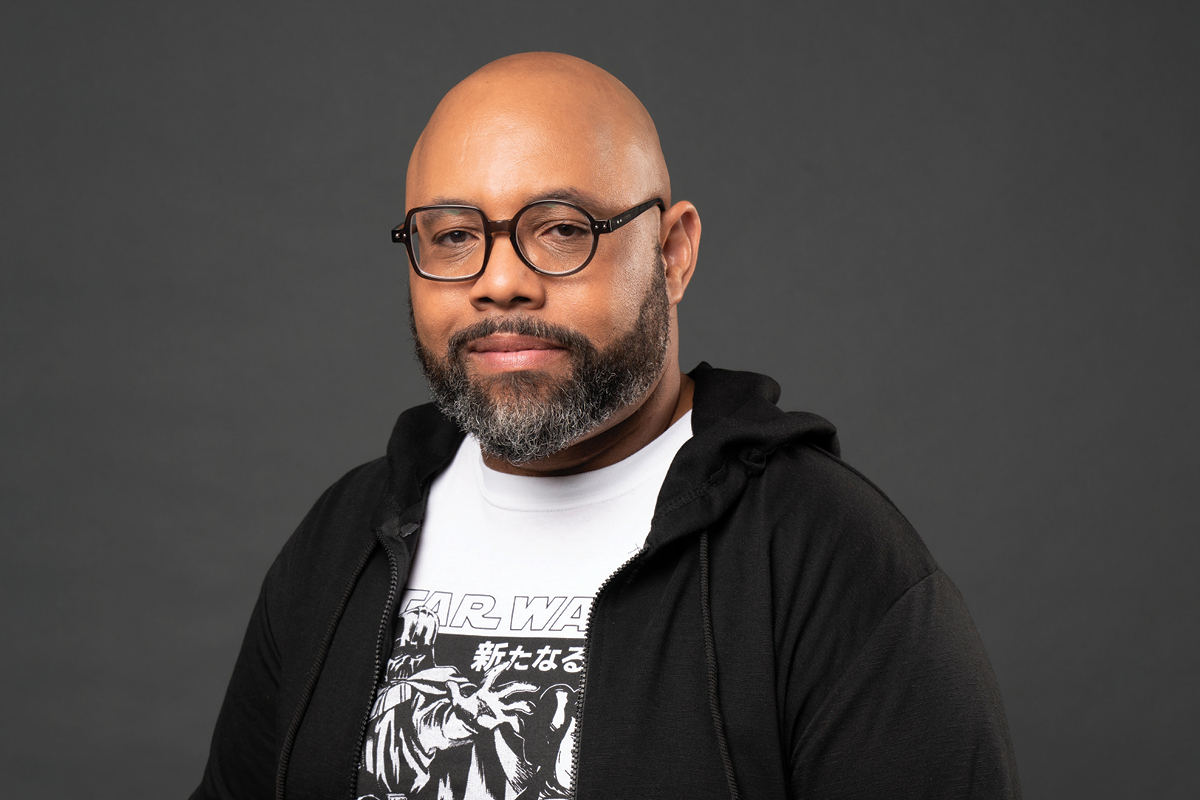 The showrunner of the year is unafraid to voice and act on inequities in the screen industry while creating a positive, fun and safe environment for writers.
A s 2021 comes to a close, we're rolling out our Best of the Year winners. First up are two leaders who are breaking down stereotypes – from two vastly different perspectives. 
Few Canadian showrunners have earned the mantle of industry champion the way Anthony Q. Farrell has.
While serving as the showrunner on two separate projects, Overlord and the Underwoods and The Parker Andersons and Amelia Parker, Farrell spent his own time and money to co-develop a showrunner bootcamp for diverse mid-level writers in Canada with Jinder Oujla-Chalmers, organized through BIPOC TV & Film.
"[Showrunning is] about managing people and managing relationships, and you don't get that training as a writer," Farrell tells Playback.
He's also been an outspoken advocate for diverse writers, unafraid to voice inequalities in the screen industry, something he says he resolved to do when he returned to Canada in 2017.
Farrell is a former Canadian screen expat, working on U.S. series such as The Office and creating CBBC series The Secret Life of Boys in the U.K. before he made the decision to move back to Toronto from Los Angeles.
It was during that transitional period that Farrell took a meeting with marblemedia's VP, scripted Carrie Paupst Shaughnessy. At the time, marblemedia had been in development on the concept for Overlord and the Underwoods, about an intergalactic fugitive hiding on Earth with his very distant relatives, which was created by Cloudco Entertainment's Ryan Wiesbrock.
As it turned out, Farrell was on Cloudco's radar as well, and the two prodcos both pitched him as their frontrunner to showrun the series.
After creating the pilot script and the second episode, they shopped the series to various broadcasters, leading to a co-commission involving CBC, Nickelodeon International, ITV and BYUtv.
"He is tremendously funny, he's great with character – and he really just got this show," says Paupst Shaughnessy. "He did a beautiful job of bringing Overlord's voice to life and turning him into a three-dimensional, rich, engaging character."
"So much of the mad genius comes from [Anthony], the fun and playfulness and mischievousness," adds co-CEO Mark Bishop, noting that Farrell first embodied the voice of Overlord during the initial table reads, including the maniacal laugh. "It's infectious when you're with him on set."
Second Jen co-creator Amanda Joy, who worked with Farrell on both Overlord and the Underwoods and the interconnected sitcoms The Parker Andersons and Amelia Parker, says the showrunner is deft at creating a positive, fun and safe environment for writers. "Everybody feels free to pitch and everybody feels they can make a mistake," she says. "He's great at assembling people whose personalities fit together."
Among the high points of working on Overlord and the Underwoods, which premiered on CBC Gem on Oct. 29, was the chance to collaborate with Roger Christian. The veteran character designer, who worked with George Lucas to create R2-D2 and C-3P0 and invented the lightsaber design for Star Wars, boarded the series to design the look of Overlord and other intergalactic characters.
"He would tell stories that would melt my face and it would be hard to get back to work because I'd have so many more questions about what happened on Star Wars," says Farrell.
At the same time he was working on what would become an early iteration of the showrunners bootcamp.
After struggling to find senior-level writers of colour when building the writing staff for Overlord and the Underwoods – which saw Farrell read roughly 100 scripts from various writers – he selected about 25 writers who identified as Black, Indigenous or a person of colour to audit the writer's room. Farrell also held a separate session with mid-level writers to give them a rundown on the work involved as a showrunner. "It was very clear that two hours was not enough," he says.
Farrell was eventually able to run a full bootcamp with 53 participants between October and November after Oujla-Chalmers approached him about co-developing a program, with BIPOC TV & Film on board to organize and handle administration.
The bootcamp ran for four weeks and included guest showrunners Marsha Greene (Mary Kills People, The Porter), Floyd Kane (Diggstown) and Vera Santamaria (PEN15, How to be Indie), as well as producer Jim Corston and actor Dave Huband.
When Farrell was on a break from Overlord and the Underwoods, following a production delay to spring 2021, marblemedia approached him about reworking scripts for their interconnected sitcoms The Parker Andersons and Amelia Parker, produced in association with Beachwood Canyon Productions and commissioned by BYUtv. The series, which depicts an interracial blended family, had been heavily criticized by directors for its handling of racial issues.
Farrell says his reasoning for taking on such a mammoth task was two-fold. "I really felt like if these scripts went out into the world the way that they were, it would have been a bad look for a lot of different people," he says. "More importantly, I felt like the characters deserved more. There was an interesting world underneath and something that deserved to be done properly."
Farrell and a team of writers, which included Joy, co-executive producer Jay Vaidya, Murry Peeters, Ian Steaman and Sadiya Durrani, rewrote the entire series in a matter of five weeks. Joy says they were working at a brutal pace to meet their deadline, breaking two episodes per day.
The series was later the subject of controversy over broadcaster BYUtv. Farrell revealed in an interview with NOW Magazine ahead of its April premiere that the broadcaster censored the inclusion of explicitly queer characters in the first season. BYUtv is owned by Brigham Young University, the Utah-based private college sponsored by the Church of Jesus Christ of Latter-day Saints, a Mormon church that bans same-sex marriage.
Farrell says BYUtv did not oppose any inclusion of queer or racially diverse characters or storylines as a co-commissioner on Overlord and the Underwoods, so it had surprised him when the broadcaster did not want to include discussions about race, gender or sexual identity on The Parker Andersons and Amelia Parker. "I'll be honest, the amount of fighting I did for proper racial representation, it wore me down," he says, adding that the writers did leave room in the script to open doors for other representation in future seasons.
He says he felt there was an obligation for the series to address topics on race due to its novel concept, which features a Black man and a white woman getting married and forming an interracial family with their children from previous marriages. "There aren't a lot of shows like that, so I felt like you had to have those conversations," he says.
"Anthony was really good about standing up for us and defending the voice of the series," says Joy. "He also looked after our mental health, because it's not easy writing about these experiences and facing that kind of pushback."
While additional seasons for The Parker Andersons and Amelia Parker haven't been greenlit yet, Farrell says he was only ever set to work on the first seasons due to commitments to other projects. He says he's currently in development on several comedy projects with various broadcasters, some in live action and others in animation.
He's also hoping to run another round of the showrunners bootcamp in 2022. He says the program received 124 applicants total and his goal is to ensure all mid-level writers have the chance to participate.
"One of the main things I've been preaching during the bootcamp is, 'pass this information on.' These aren't secrets," he says. "I'm hopefully creating 53 mentors and showrunners who are going to pass these skills to others, who will then pass it down and so forth."
Farrell says any backlash he's received due to his outspoken comments about the industry has been far outweighed by the positive response from across the industry. "I've had a lot of support from production companies and broadcasters who feel like my candid nature is helping things," he says. "They can point to the things I say and say [to their bosses], "See? This is what Anthony's saying. We should do something about it. We should listen.'"
Photo: Ian Watson
This article originally appeared in Playback's Winter 2021 issue.