Playback is pleased to introduce the ninth of our 10 to Watch recipients, presented by CBC. The 2021 cohort were selected from 150 submissions and represent a wide array of talent as producers, writers, directors, executives and agents. Stay tuned as we reveal all 10 during November and December.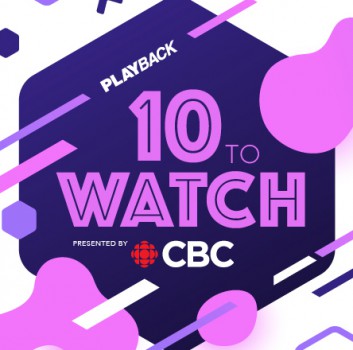 By Sadaf Ahsan
Working in the creative field was always the plan for Kent Donguines.
It wasn't until he immigrated to Canada from the Philippines and attended Vancouver Film School that he discovered exactly how.
"That's when I became 100% sure that my career was going to be in film and producing," Donguines tells Playback Daily. "I always loved the idea of creating stories. Two years into my time at school, I realized a much bigger purpose as I noticed there are only a few Filipino-Canadian filmmakers. In terms of content, too, there's a lack of Filipino representation both in front and behind the camera. I decided I needed to become that bridge for my people within the community so that their stories can be heard."
Donguines says stories centring around immigration – its hardships and its rewards – are closest to his heart. He explored this in Kalinga, a Telus Storyhive documentary short that he wrote, directed and produced, and which tells of the sacrifices Filipina nannies and caregivers make to work in Canada. That experience was a personal one for Donguines, as it helped him understand why his mother moved abroad when he was six years old to become a nanny to provide for him and their family.
But it didn't just leave an impression on him. "I saw the impact it had on the community, how it almost served as a therapy for the participants as well as myself, how it became a healing process for us," he says. "That's when I realized that, with film, you can help people."
It's exciting to be able to meet someone at the very start of their career, to know instantly that they have it in them to be a great filmmaker. Jayme Pfahl, Vancouver Film School
The moment – his proudest, he says – led not only to Donguines growing confident as a filmmaker, but to Kalinga being the centre of a Story to Action impact campaign he's putting together as a tool to create change in Canada's care industry, which often suffers from low wages and discriminatory work practices.
It's a project that is one of several highlights of Donguines' career so far. One of his earliest being on Netflix's Filipino film First Love in 2018, filmed entirely in Vancouver. Donguines' team were able to service produce the film from beginning to end, thanks to Makati, Philippines-based production company Ten17p, who were willing to take a chance on a green team. "The experience allowed me to grow in a high-pressure environment and it also opened doors for us to work with renowned filmmakers in the Philippines," says Donguines.
In 2019, he produced the award-winning CBC short documentary This Ink Runs Deep, which premiered at the Toronto International Film Festival that same year and won Best Documentary in Calgary. He was also a participant in the 2020 Hot Docs Doc Accelerator Program, and the Canadian Film Centre's 2020/2021 Producers Lab, along with this year's Netflix-Banff Diversity of Voices Program.
Jayme Pfahl, a senior instructor at Vancouver Film School, has been Donguines' mentor since he was a student, and has never once doubted the young filmmaker's skills.
"It's exciting to be able to meet someone at the very start of their career, to know instantly that they have it in them to be a great filmmaker and then be privileged enough to see them grow, prosper and become great," says Pfahl. "His gut instinct is why his voice is so strong. He believes in people and the good in humanity and this shines through in all his projects. They are often centred around outsiders – the underdogs, the misunderstood, the fringes of humanity – and at their core, all these stories have an authentic beating heart. I believe audiences are looking for that authenticity in storytelling, and I feel this is what Kent brings to the table."
It's an approach and sentiment Donguines isn't interested in keeping to himself, and is now sharing with students of his own, having come full-circle as an instructor at Vancouver Film School himself as of 2019.
"I'm teaching a curriculum and class [on short film distribution and the festival circuit] that I didn't have when I went there," he says. "I proposed it and said I felt this was something that should be taught in school. They said yes, and asked if I'd teach the class and use my own experiences as a case study. It's been a really nice experience, it's great to see so many emerging filmmakers who are keen to be in the industry, but also to get to be a part of their journey."
Donguines has also launched his production banner Aimer Films with business partner, writer and director Maxime Beauchamp, which develops, produces, post-produces and digitally distributes content. Through Aimer, Donguines has produced the music video "Iridescence," and short films Catwalk, Small Fish, This Ink Runs Deep, and more. The pair have also made it an imperative to work with up-and-coming talent in Vancouver and the Philippines.
For Beauchamp, there is no better partner. "Kent's passion for finding the next opportunity has pushed me to create more stories and that is why, today, as a company, we have a large, diverse, and strong slate of projects," he says. "At the start of my directing career, it was Kent's drive and support that helped push me to be better and aim for bigger projects. Now we have projects together and projects independently, and I am happy to have his constant support."
The two are currently working away on a feature called Cross-Country Baby, which Donguines is producing and Beauchamp is directing. It is, they both share, a culmination of all they've learned and hope to do more of.
"The goal for us is to be able to make authentic films and to pursue longer format [features]," says Donguines. "We're at the point in our careers where we've found our purpose and we know why we're here. We're hoping to showcase that purpose through the stories we are going to tell – the stories that nobody else is telling."