Playback's 10 to Watch 2021: Jadiel Dowlin
PRESENTED BY CBC: The 22-year-old Emmy-nominated actor is already making a name as a screenwriter with a project in development with Sinking Ship and Nelvana.
Playback is pleased to introduce the eighth of our 10 to Watch recipients, presented by CBC. The 2021 cohort were selected from 150 submissions and represent a wide array of talent as producers, writers, directors, executives and agents. Stay tuned as we reveal all 10 during November and December.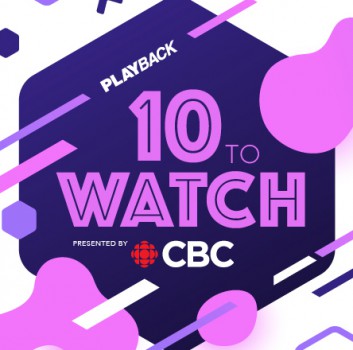 Jadiel Dowlin isn't your average screenwriter.
At 22, he's already an Emmy-nominated actor, a Youth Media Alliance Board member and one of the youngest members of the Writer's Guild of Canada.
The Thornhill, Ont. native started his journey in the industry as a teen actor playing a lead role in the TV series Annedroids (Sinking Ship Entertainment) before he found his sweet spot behind the scenes.
After starring on Nickelodeon and YTV's Star Falls (Breakthrough Entertainment), and guest starring on the action-drama Northern Rescue (DCTV), Dowlin started participating in writing rooms for Sinking Ship Entertainment, Cartoon Network, and a few other production companies. He's now in development on Zombra: Ghoul Detective, a mystery/sci-fi series for teens with Sinking Ship Entertainment and Nelvana for YTV. "I learned showrunning, writing, acting, and producing all on the job," Dowlin tells Playback Daily.
Zombra: Ghoul Detective follows a Black-Latina teen girl who uses her special investigative talents to solve otherworldly mysteries. Dowlin says the series, if greenlit, will give young girls of colour the chance to see someone who looks like them accomplish great things.
J.J. Johnson, writer, director, and founder of Sinking Ship Entertainment, says he isn't surprised by Dowlin's transition to writing, recalling how he always had a curiosity that extended beyond acting.
"As we moved on to other shows, like Dino Dana, he asked to pitch and his stories were great," says Johnson. "So we eventually hired him as one of the writers on Dino Dana."
Johnson adds that Dowlin "doesn't believe that anything is impossible," something he says is integral to being a creator in the screen industry.
Working together on Zombra: Ghoul Detective, Johnson says part of what makes Dowlin a powerful storyteller is that he doesn't allow barriers to hold him back.
As an Afro-Latino with Panamanian heritage, Dowlin says the industry lacks opportunities for Black actors and hopes that working as a television creator, writer, and showrunner, he could create more diverse roles. He's also developing content as a producer under his banner Istmo Productions.
"Due to the limited positive acting roles for young Afro-Latino and diverse people, and the lack of authentic storytelling illustrating the African diaspora… I felt it was imperative to create the stories that I knew existed and others wanted to see," he says.
Dowlin has faced his share of challenges on his path to becoming a screenwriter. At 18, he pitched a blockbuster film idea to a major U.S. studio based on a BIPOC character within their existing IP. Eventually a movie that centred on the character was greenlit, but the studio ultimately chose to bring on a different writer to work with.
"I adapted and decided that if I was going to create and champion BIPOC stories, they would be ones I fully owned," he says.
Dowlin has now written several episodes for the Emmy-winning series Dino Dana, Cartoon Network's TotalDramaRama and participated in the Endlings writing room for the show's second season. He also has written for Shaftesbury and Epic Story Media, with multiple shorts for KalKaden Productions: Pendulum, Gameplan, Shattered, Living A Lie, and Lovesick.
In 2016, he was nominated for a Daytime Emmy in the category for Outstanding Performer in a Children's or Pre-school Children's Series, for his role in Annedroids. Although Dowlin didn't win the award, a year later he was awarded the prestigious Ryerson University President Entrance Scholarship, graduating with a double major in Philosophy and Film Studies.
Dowlin also received the 2019 Youth Media Alliance Andra Sheffer Scholarship for up-and-coming creators, which took him to the Banff World Media Festival that year.
Dowlin says that his time studying philosophy in university has influenced his writing by giving his characters nuance, and adding thought-provoking themes on the human condition. He wants to tell stories that are based on Marian Wright Edelman's philosophy, "You can't be what you can't see."
With a hunger for making a difference in this industry, he says that everything he does "contributes to creating and championing BIPOC stories."