Playback is pleased to introduce the seventh of our 10 to Watch recipients, presented by CBC. The 2021 cohort were selected from 150 submissions and represent a wide array of talent as producers, writers, directors, executives and agents. Stay tuned as we reveal all 10 during November and December.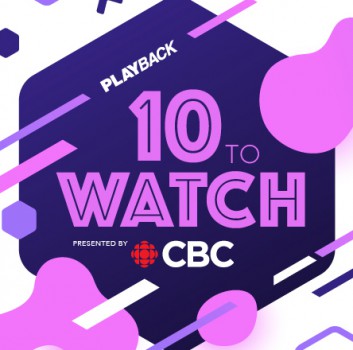 JJ Neepin is ready to bring a new kind of Indigenous story to the forefront.
In the last few years, the filmmaker from the Fox Lake Cree Nation in Manitoba has become a full-time writer, director and producer, with several projects in development.
Filmmaking may have always been her calling. As children she and her sister and creative partner Justina Neepin spent their free time making music videos and filming family outings on her dad's old camera. "That's how we learned how to edit stuff, just fooling around with our favourite songs and Windows Movie Maker," Neepin tells Playback Daily.
She originally wanted to be an actor, but when a teacher told her that as an Indigenous woman she would always be relegated to the role of "the best friend," Neepin switched her major at the University of Winnipeg from theatre to film.
Post-university, Neepin hit the ground running with an Indigenous film placement program through Film Training Manitoba. She worked her way up on shows like APTN's Cashing In, going from a locations person to a camera department trainee. By 2016, the now 37-year-old DGC director was able to quit her day job and focus on full-time contract work.
It was just a short year later that Neepin released the deeply personal short Headdress, a documentary in which Neepin recreated a portrait of her great-grandfather wearing a headdress. The film played at festivals and was lauded for sparking conversations around cultural appropriation and tradition, and it kickstarted the next chapter in Neepin's career — including the launch of JJNeepinFilms with her sister.
It was just so lovely to be in a room full of fellow Indigenous faces and women, all striving for the same thing. – JJ Neepin, writer, director and producer
Since then Neepin has expanded her reach through directing gigs on documentaries like the true crime series Taken, and as an associate producer on the CBC series Trickster. When Neepin was hired on the latter show it was in a learning position in which she could shadow the project's lead creatives.
"It was the first time I was really immersed in TV production. I contributed a few comments here and there that actually made it into the show," Neepin says. "I was also the person who did the behind-the-scenes production videos, so I was a writer, director, producer, all that behind-the-scenes stuff. That was my first time doing an EPK of any kind, so that was quite a learning curve."
As Neepin was accumulating on-the-job experience, she also shifted her focus to several prestigious programs. In addition to participating in the Canadian Academy Directors Program for Women, and the 2021 Berlinale Film Festival Talent Lab, she was also named one of the Five in Focus: Indigenous Women in View participants. There, she learned under mentors such as Alethea Arnaquq-Baril, Tracey Deer, Danis Goulet, Tina Keeper and Elle-Máijá Tailfeathers.
"It was just so lovely to be in a room full of fellow Indigenous faces and women, all striving for the same thing," Neepin says, noting it was also through the program that she was able to pitch a project to a production company that she's now informally developing the idea with. "I'm really grateful for that program," she adds. "I'm grateful for all these programs, really, because they put me in the spotlight for a window of time and I try my best to take advantage of that."
"JJ is a thoughtful and passionate filmmaker who is committed to telling stories with authenticity, innovation and depth," says Deer.
"She has a unique voice and has continued to push her career forward," adds director Deanne Foley, who first met Neepin at the 2018 Whistler Film Festival through Women in the Director's Chair. This year, Foley also mentored Neepin as she shadowed her on an episode of Citytv's Hudson & Rex as part of the newly launched Level Up program.
"She was keen to be part of the entire process, through prep and production," Foley adds. "She asked smart questions and took advantage of every learning opportunity."
Looking ahead, Neepin is balancing several projects, including the web series The Last Storyteller with Mary Galloway (Querencia), and Michif Country, a lighter documentary about the local Metis living in and around Winnipeg and Southern Manitoba. However, she's especially excited to continue working on her scripted feature film Luminous, a script that won the WIDC/CBC Films Talent Award in 2019.
The supernatural crime thriller is currently in development (Neepin is in talks with a production company but there are no official announcements just yet) and speaks to the filmmaker's love of true crime and dark dramas. The story centres on a young Indigenous woman named Aura who has the ability to see and find missing people. It is also the filmmaker's hopeful response to some of the heavier subject matter she dealt with during her time on Taken, a series which revolved around real-life missing Indigenous women.
"Telling those darker stories is very important and I'd like to think that I contributed in helping spread some of those stories and getting the spotlight on them as much as I could," Neepin reflects. "But like with all things, you need to take a break from that because it is hard, heavy work."
The creative says this is one of the next steps in moving onto her next goal: directing more primetime procedural shows. "I'd like to move into more lighthearted, more fun, or more mysterious, supernatural, Indigenous stories," she says. "It doesn't always have to be stories about our trauma. Even though Luminous is about climate trauma, ultimately, it's something I made up and I know the ending — and it's a happy ending."