Deals: Bron, Creepy Bits, WildBrain, Sinking Ship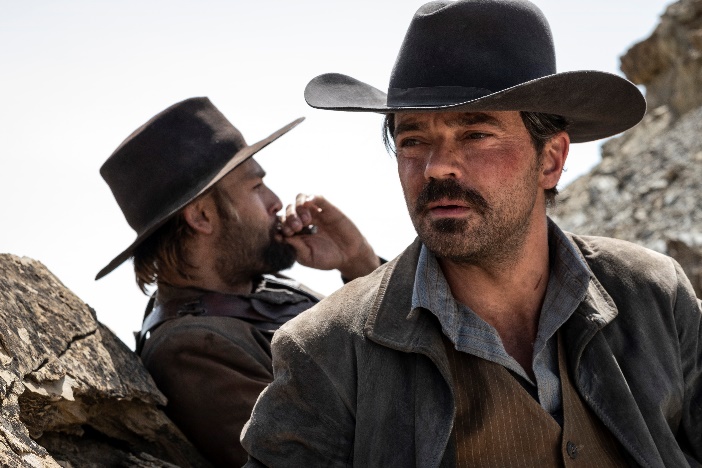 AMC+ acquires That Dirty Black Bag while Bloody Disgusting TV gets Creepy Bits, plus more.
This week's deals include:
Bron
U.S. streamer AMC+ has picked up the spaghetti Western series That Dirty Black Bag from Vancouver-based Bron Studios and Mediawan-owned Italian prodco Palomar.
The eight-part English-language show — filmed in Italy, Spain and Morocco — is set to make its U.S., Canadian and Australian premieres on AMC Networks' premium streaming bundle in March/April 2022.
Rising Italian filmmaker Mauro Aragoni created and co-wrote the project. He also co-directs with Brian O'Malley. Other writers include Silvia Ebreul, Marcello Izzo and Fabio Paladini.
The story features an eight-day clash between a troubled sheriff, played by Dominic Cooper (Preacher), and a bounty hunter, played by Douglas Booth (The Dirt). Co-stars include Niv Sultan (Tehran), Guido Caprino (The Miracle), Christian Cooke (The Promise), Travis Fimmel (Vikings) and Aidan Gillen (Game of Thrones).
Bron and Palomar are co-producing the eight-part drama, with Bron's David Davoli, Aaron L. Gilbert, Steven Thibault and Samantha Thomas, alongside Palomar's Carlo Degli Esposti, Nicola Serra and Patrizia Massa as executive producers. Three seasons are already planned, with Bron Releasing and Palomar Mediawan handling international sales. Mediawan has the French rights.
Creepy Bits
Creepy Bits, the six-part web short series from creator David J. Fernandes, shot in Hamilton, ON during the peak of the pandemic in summer 2020, has been picked up by U.S. horror streaming service Bloody Disgusting TV.
Funded on "pocket lint and fumes" and shot over six days, Fernandes tells Playback Daily that he wrote the scripts for all three-minute shorts and tapped his connections in Steeltown to create a calling card for his "big goal" of ultimately directing and showrunning.
"I'd love to be directing episodic TV, so part of me making this is also me building up my experience," says Fernandes. "And in this case, I got to be a showrunner which would be much more of a stretch for me and a really big budget."
The anthology – about surveillance parenting, missing people, abandoned tunnels, creepy clowns, empty schools and a gruesome murder – will air on BDTV's Bloody Bites, which showcases horror shorts. Recently, the series picked up a Best Horror/SciFi Series win from the London International Web & Short Film Festival.
Creepy Bits is produced by Simon Winterson (Adele), with Gregory P. Bennett (Nightalk) as director of photography.
The cast includes: Madison Claringbold (Within the Deep), Malaika Hennie-Hamadi (Age of the Living Dead), Daniela Rendon (Haunted Hospitals), Andrew Ravindran (To No Man's Land), Casey Fleming (Paranormal 911), Elina Miyake Jackson (Age of Samurai: Battle for Japan) and five-year-old Emily Mitchell (Women Talking).
WildBrain
WildBrain has appointed JAKKS Pacific as the first global master toy partner for its 2D-animated preschool series Chip and Potato. The L.A.-based toyco is readying a consumer products program that will include plush, figures, playsets and role play items when it hits shelves in North America, the U.K. and Australia starting in fall 2022.
The deal was brokered by the North American team of WildBrain's London-based licensing agency WildBrain CPLG, led by Jasen Wright. The former Beanstalk executive joined the agency in June as its first VP and North American lead.
Netflix has snapped up a third season (20 x 11 minutes) of the popular show, as well as a trio of 22-minute seasonal specials. The original series premiered in 2018 on WildBrain's Family Jr. preschool channel in Canada, before landing exclusively on Netflix in 2019. The first two seasons (10 x 22 minutes each) are also available on the Netflix Junior YouTube channel.
Produced by WildBrain and U.K. indie Darrall Macqueen (Topsy and Tim), Chip and Potato tags along with five-year-old pug Chip and her best friend Potato — a little mouse who lives in Chip's pocket — as they navigate life at Kindergarten, go on playdates and have sleepovers without grownups.
Sinking Ship Entertainment
WarnerMedia's streamer has picked up the first two seasons (75 x 22 minutes) of Sinking Ship Entertainment's Odd Squad to air in Latin America next year.
Fred Rogers Productions and Sinking Ship co-produce the STEM-focused comedy live-actioner for PBS KIDS and TVOKids. It's in its third season since debuting in 2014, and centres around a group of kid agents solving unusual problems with science and math.
With files from Kidscreen
Photo courtesy of AMC Networks