Playback is pleased to introduce the fifth of our 10 to Watch recipients, presented by CBC. The 2021 cohort were selected from 150 submissions and represent a wide array of talent as producers, writers, directors, executives and agents. Stay tuned as we reveal all 10 during November and December.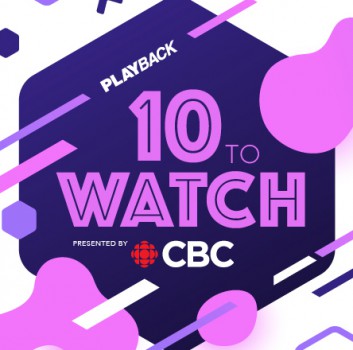 By Sadaf Ahsan
It's impossible to name a single aspect of the filmmaking process that producer Malachi Ellis isn't a fan of. Writing? Check. Development? Check. Distribution? Check.
As a former student of Ryerson University's Media Production Program, finding a role that would encompass all of that and more became the goal as he found his footing in the industry.
"Ryerson is great, because the program really starts you from the beginning and shows you everything that you can do in relation to media," Ellis tells Playback Daily. "I realized producing was what I loved and needed to be doing because it entailed all of that."
Ellis got his start as a production assistant on several projects at the Canadian Film Centre projects, where he also directed, produced and co-wrote his thesis film, The Hero's Artist. Soon after, he became a participant of the OYA Emerging Filmmakers Program, where he earned Producer of the Year for co-producing the 2020 short film Confessions, and was also a participant in Kidscreen's The Next Wave: Diverse Voices Program, where he was mentored by producer Cort Lane, Marvel's former SVP of animation and family entertainment.
In the last two years, he has produced several short films and teaser projects, including Tyler Evans' I Live Here, and 10 to Watch alum Christopher Yip's Streams Flow From A River. He's now putting all that he's learned into practice as a full-time production coordinator at Entertainment One.
Ellis says he has never felt more centred and focused than at eOne, where he has been able to be hands-on with numerous projects. He's also been able to combine many of his passions into Project Blackout, an animated series currently in development with Long Walk Productions, which follows three Black teenagers who gain superpowers after being infected by a virus designed to kill their entire race, leading them on a journey to eradicate it before it's too late.
Through all of these projects, Ellis's goal has always been the same: to deliver diverse storytelling with authentic representation.
"Telling stories from a diverse perspective is so important to me," he says. "At first, I didn't realize that was the kind of storytelling I wanted to be a part of until I participated in mentorship programs that were specifically catered toward diverse individuals. For example, when I joined the OYA Emerging Filmmakers Program [a kickstarter for Black youth building careers in media] in my final year of university, we learned a lot about how to get connected with Black creatives, how we can network and get started in the industry. It gave me the confidence to call myself a producer and fostered my strength."
Ellis says OYA Media Group co-founders Alison Duke and Ngardy Conteh George were "incredible mentors" who have remained key inspirations as his career has taken shape.
"I do not doubt that Malachi is on his way to becoming a prominent producer and leader in our industry," Duke says. "He uses an authentic approach towards collaboration. It has been marvelous to witness his development and rise in our sector. He has already accomplished so much in such a short time."
Not that he's interested in taking any of the credit for himself. Ellis is keen to note not only his many mentors, but the filmmakers he's collaborated with in recent years and who have helped shape his own vision.
"I think something that you only learn through doing is how important collaborating is," he says. "You learn from watching and asking as many questions as possible. I have a real fondness for watching production coordinators, production managers and other producers do what they do, because everyone has a different way of tackling things. It's an education."
One of his most recent collaborators is Lindsay Blair Goeldner, producer and director of production at Toronto's Fae Pictures. The pair first joined forces on I Live Here (which will enter the festival circuit next year), which follows the singular experience of a Black man living in Toronto. She and Evans wanted a lead producer who identified with the story to join their team and Ellis was "a perfect fit." Since then, they've collaborated on Streams Flow From a River, and Ellis has become a Fae regular.
"Malachi cares deeply about stories we have not seen on screen before," says Goeldner. "He has his focus on stories that centre on the experiences of folks who identify as Black, Indigenous and people of colour, and also films that highlight LGBTQ+ voices. He also has a singular vision in the world of superhero narratives and I believe his ideas will make a big splash in the largely popular superhero genre across mediums. I know [Marvel] will be knocking on his door soon."
In fact, although he's got plenty he'd like to tackle next, Marvel Studios is very much at the top of the list. Along with having Lane as a mentor, with Marvel having recently hired independent directors of colour such as Chloe Zhao (Eternals) and Bassam Tariq (Blade), Ellis's dream has never seemed more possible.
"I love stories that are about identity, and that's every superhero story at its core," he says. "It's what compels me to really think about my own circumstances and those of others."
Photo by Kyle Jarencio