BIPOC-focused Black Market Releasing ready to launch
Led by Frances Anne Solomon, the company will focus on serving the Canadian theatrical market by elevating diverse voices and stories through film.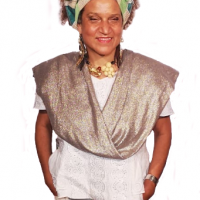 Filmmaker Frances-Anne Solomon (pictured) has launched Black Market Releasing, a distribution company focused on serving the Canadian theatrical market by elevating diverse voices and telling BIPOC stories through film.
The new company aims to acquire finished projects from BIPOC creators with a commitment to putting those stories before theatrical audiences.
"Traditionally distribution has been exclusively white-owned and run, and their offerings have often reflected that optic and narrow understanding of who audiences are, and what they want to see," Solomon tells Playback Daily.
Solomon is the founder and executive director of the CaribbeanTales Media Group, the parent company of Black Market Releasing. The organization runs the CaribbeanTales International Film Festival, a film distribution entity linked to the festival, and VOD streaming service, as well as production arm. The organization"has been bringing BIPOC content to screens for over 20 years," according to a release.
Registered as a charity in 2014, the organization also runs two development programs, Creator of Colour Incubator and CineFAM Women of Colour Creators.
Solomon is a Caribbean British-Canadian filmmaker, as well as a member of the Academy of Motion Picture Arts and Sciences, whose directing credits include What My Mother Told Me, Hero, Peggy Su and A Winter Tale.
First on the slate for Black Market Releasing is the documentary Studio 17: The Lost Reggae Tapes, from director Mark James (A Bipolar Expedition, Dance, Dance, Dance).
The film tells the story of the Chins, the Chinese-Jamaican family behind a recording studio that became one of the focal points of the music revolution in Jamaica following its independence from Britain in 1962. The feature doc features previously unreleased music and original interviews with Jimmy Cliff, Dennis Brown, UB40, Maxi Priest, Lee "Scratch" Perry and more.
Black Market is now accepting content submissions. The company's first theatrical release is expected in February 2022 to commemorate Black History Month.
With files from Realscreen