Playback is pleased to introduce the third of our 10 to Watch recipients, presented by CBC. The 2021 cohort were selected from 150 submissions and represent a wide array of talent as producers, writers, directors, executives and agents. Stay tuned as we reveal all 10 during November and December.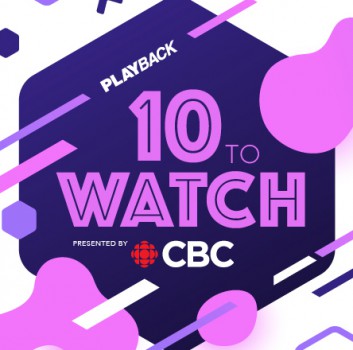 Martha Hagos has the weight of the world on her shoulders, not that she'd ever let you see it.
The executive director of B.L.A.C.K. (Building A Legacy in Acting, Cinema and Knowledge) Canada and the Black Academy, founded in 2016 by Canadian actors and brothers Shamier Anderson (Invasion) and Stephan James (If Beale Street Could Talk), rose within the ranks within a few short years at the organization and is now overseeing the creation of Canada's first broadcast award show dedicated to Black artists.
"Martha is literally on the front lines of the culture," James tells Playback Daily. "She's on calls with corporate Canada, government branches, at the grassroots level, she really does it all. She works feverishly in her pursuit of uplifting Black excellence."
Hagos is a first generation Ethiopian-Canadian from Windsor, ON. As a young adult she spent her time working at the local Cineplex theatre and taking trips to L.A. to tour film sets.
"I knew I wanted to be in the film industry one way or the other," says Hagos. "I went into publicity because I felt that I didn't have the artistic talent to be in front of the camera, but I knew I had the talent to be behind the camera in some way."
She took Humber College's postgraduate public relations program, which led her to an internship with Corus Entertainment in their kids and drama publicity team and a later position as an event coordinator at Toronto's Soho House.
At the same time, Hagos was making connections within the industry to build up her network, which led to a fateful meeting with Anderson and James through mutual friends at a concert for The Weeknd.
"The moment I met Martha I knew she was a natural born leader," says Anderson. "She was poised, articulate and extremely present."
They initially hired her in 2018 to help coordinate the B.L.A.C.K. Ball, held annually at the Toronto International Film Festival, but she quickly moved up the ranks to become director of operations. In 2020, the not-for-profit created a new division, the Black Academy, to run year-long educational programming to mentor emerging Black talent and create a new awards program.
Within less than a year the organization had inked a three-year deal with CBC to broadcast a live awards show, beginning in 2022, produced with Boat Rocker's Insight Productions. At the same time Hagos was promoted to executive director.
Lindsay Cox, SVP and executive producer at Insight Productions, says she was impressed by Hagos' skills as both a leader and a collaborator during their many Zoom calls in the planning of the awards show. "She is a person who steps back and listens and then comes in with that summary statement that everyone's searching for," says Cox.
"I want the world to know the achievements of Black Canadians." Martha Hagos, executive director, B.L.A.C.K. Canada and the Black Academy
Hagos says her day-to-day work requires her to be the ultimate project manager, securing sponsorships for their events and year-long initiatives, overseeing the development of the academy's educational programming and working with CBC and Insight to create an entire awards ceremony.
"A lot of people believe in it and there's so much excitement around it, which helps fuel me every single day," she says. "[Since the announcement] the BIPOC community has been reaching out to ask, 'how can I submit my work?' There's so much work that's just sitting there that people want to have a platform to show it. That's been one of the great things in doing this award show, giving them that space to showcase their work."
Among her recent successes is a partnership with former employer Cineplex. The national exhibitor was working on a Black History Month initiative for their Cineplex Store, to make a collection of films that portrayed Black stories and talent. Anderson connected Hagos with Cineplex to expand on the initiative so $1 of all sales would be donated to the Black Academy. "These were classic Black films that you can't really find anywhere, like [Rick Famuyiwa's] The Wood, so for Cineplex to have that platform for the month was amazing," she says.
It hasn't all been smooth sailing, however. Hagos says it's been a challenge to secure consistent funding to sustain their year-long programming.
"When it comes to the Black community, there's 'hashtag moments.' There's some sort of trauma going on in the media and then people want to reach out to you to see how they can support," she says. "As soon as that 'hashtag moment' is done, it's the ebb and flow, that interest to support goes away. I always say, 'I'm a Black woman today, I'm a Black woman tomorrow, I'm a Black woman 365 days a year.' Our experiences are always happening."
Her long-term ambition for B.L.A.C.K. Canada and the Black Academy is to expand its reach within the country, and she's already in discussions with organizations such as Creative BC to make it happen. "I want to see us from the east coast to the west," she says. "When it comes to Canadian talent, I think a lot of it is focused on Toronto, but there's Canadian Black talent all over the country. The Black experience is different in Halifax than it is [in] Vancouver or Toronto… and I want the world to know the achievements of Black Canadians."
"She has taken on an enormous opportunity, but also an enormous challenge," says Cox. "There's a really strong, emotional attachment to creating this show and building out the academy and she has taken that on with such confidence… there's such growth potential with her skillset and her abilities that, in a year from now, her star will just be shining so much brighter."
Photo by Mark Williams