Canadian producers call for forward-thinking action from funding agencies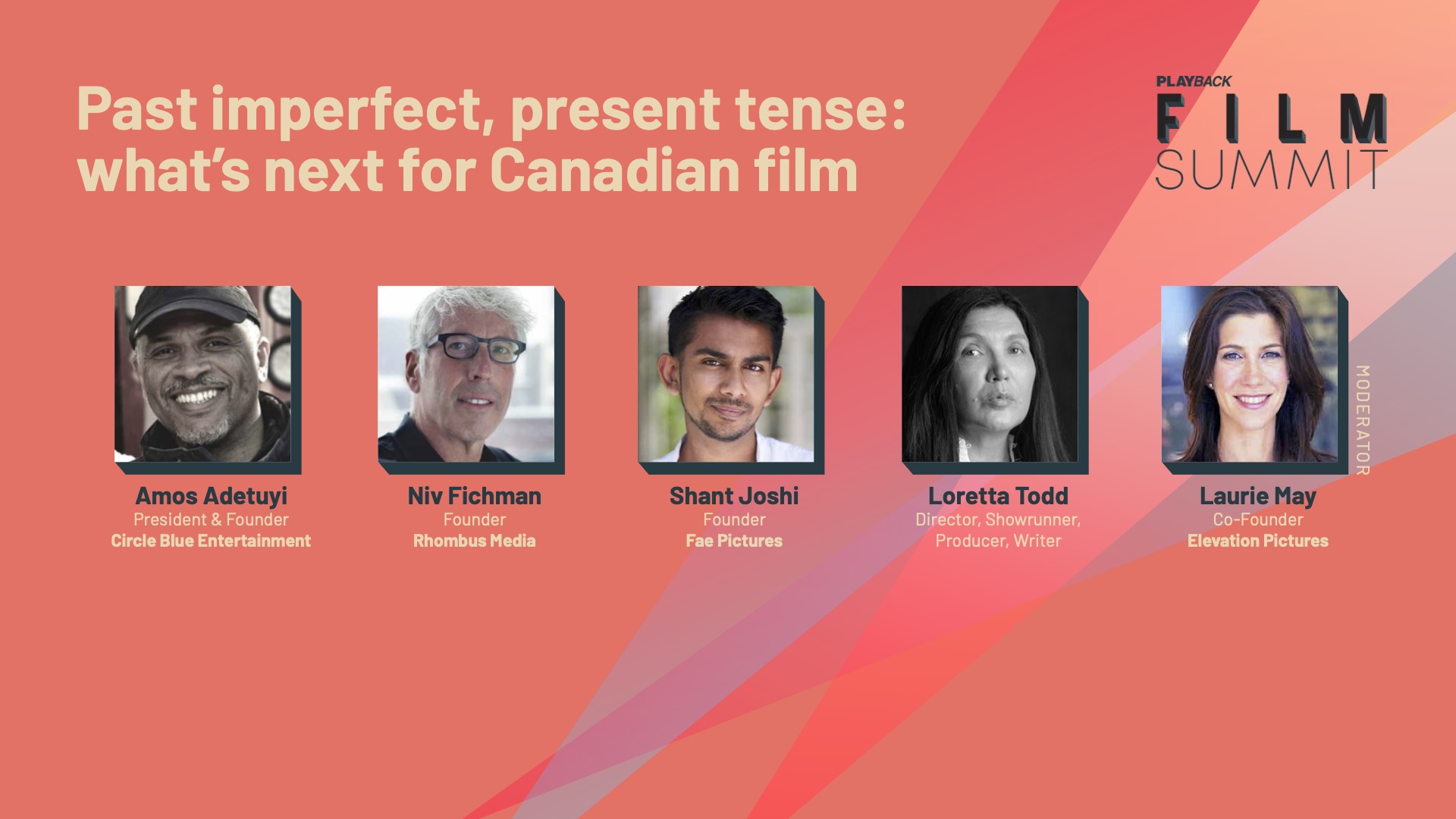 Playback Film Summit '21: The summit's first panel tackled how changes at Telefilm must be more proactive than reactive to make Canadian film more competitive in the ever-shifting market.
Canada's film financing system needs an overhaul, said domestic producers on day one of the Playback Film Summit.
The summit's first panel, titled "Past imperfect, present tense: what's next for Canadian film" and moderated by Laurie May, founder and co-president of Elevation Pictures, tackled strategic visions for how Canada's film industry can move forward.
Producers argued that federal film funder Telefilm must become more proactive than reactive to keep up with changing tides in the global market and that a merged Telefilm and Canada Media Fund (CMF) would better suit the industry.
Shant Joshi, president of Fae Pictures, said the current system has made it "unsustainable to be a film producer," and that Telefilm hasn't shown strong enough thought leadership to create a forward-thinking model. "I think they're crippled by a lack of holistic understanding of the industry… and a complete shift in consumer culture towards a digital model," he said.
The panel pointed to a number of positive changes at Telefilm recently, including the eligibility of diverse language films within its production program and removing the requirement for films with a budget between $2.5 to $3.5 million to require a theatrical distributor. However, Niv Fichman, president and founder of Rhombus Media, said "the pendulum may have swung too far."
Fichman argued that the elimination of the fast track program, which gave eligible production companies automatic funding, has dismantled the previous system, creating a new model that "is not inclusive to non-emerging films."
Both Monkey Beach filmmaker and producer Loretta Todd and Amos Adetuyi, CEO and executive producer of Circle Blue Entertainment, countered that Telefilm is too industrial and focused on the bottom line.
Adetuyi argued that the funder could support a higher volume of Canadian films if it were focused on a cultural mandate, rather than investing dollars into multi-million budget films. Todd said the previous model created a system where only a few companies could grow, pushing that an economic model that supports a wider range of smaller, entrepreneurial companies could better serve the industry.
Todd also said Telefilm should re-examine its model for financing Indigenous-owned films to allow for interim financing, which has led to relationships where a non-Indigenous producing partner may come in to own 49% of the project. "It forces us into these relationships with companies that may not get us and our filmmaking, and that has consequences on the marketplace because we know how best to meet our audience," says Todd, adding that oftentimes Indigenous producers must make pre-sales to Canadian broadcasters to complete financing, which hurts their ability to attract film distributors.
The panelists were in agreement that a Telefilm/CMF superagency could place Canada's screen industry in a much more competitive place in the global market. Fichman said there was past hesitancy to merge the organizations out of fear that the board of the directors at the time, which was largely composed of leaders in private broadcasting, would edge out feature films. "I really feel the time has come for those agencies to merge and for us to speak about it seriously," he said.
The panelists also pointed to Bill C-10 as an opportunity to bring more wealth into the system by regulating streaming giants such as Netflix, Disney and Amazon. While the amendment to the Broadcasting Act died on the Senate floor earlier this year, the Liberal party has promised a new bill will be tabled within the first 100 days in office as a re-elected minority government.
Todd called for a wider distribution of wealth to better serve small or midsize companies. Joshi said the government needs to ensure Canadian producers are in a position to own and monetize their IP, rather than streamers taking global rights, while Fichman pointed out that Telefilm doesn't currently have any policies about working with streaming services, which must be considered.
The Playback Film Summit runs until tomorrow (Nov. 10). The programming continues with keynote conversations with Telefilm CEO and executive director Christa Dickenson and Bron Media chairman and CEO Aaron L. Gilbert.