Playback is pleased to introduce the first of our 10 to Watch recipients, presented by CBC. The 2021 cohort were selected from 150 submissions and represent a wide array of talent as producers, writers, directors, executives and agents. Stay tuned as we reveal all 10 during November and December.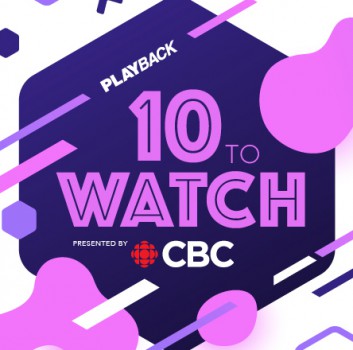 There's no question Tamar Bird is a self-made producer.
The producing force behind director Kelly Fyffe-Marshall's award-winning short film Black Bodies has built a career through instinct, determination and the drive to champion stories that matter. It's a work ethic that's brought micro-budget shorts to the likes of the Toronto International Film Festival, SXSW and Sundance, all while balancing her personal life as a mother of two.
"[The films I produce] have to resonate with me because when I'm presenting them to these big markets, they're the projects that I need to see out in the world," Bird tells Playback Daily.
Bird grew up in Ajax, ON, and started out in the industry as an actor, working in community theatre and local television productions.
She made the leap to filmmaking in 2014 with her short film The Night Session. The short was created as part of the City Life Film Program, held in partnership between Temple Street (now folded into Boat Rocker Studios, Scripted), The Remix Project and producer Calum De Hartog.
The program facilitators at the time included Tara Woodbury, who has since gone on to hold development roles at Amaze (formerly Amaze Film + Television) and Sphere Media and was recently named Netflix's first Canadian content executive, and director and 5 to Watch alum R.T. Thorne.
"I've never seen anyone move as quickly as she has since that time," says Thorne.
Woodbury says developing The Night Session with Bird demonstrated how she was "an incredible creative force." Bird says Woodbury helped push her to pursue producing when she noted how much Bird's scripts were written from a producer's perspective and she's since continued to serve as a mentor.
"[Tamar] really thrives in the social aspect of our industry in the way that the best producers do," says Thorne. "You need a network of amazingly talented artists and you need to cultivate that atmosphere, and she loves that part."
It was only a few months later that Bird met Fyffe-Marshall. The two both volunteered as production assistants on the 2015 indie film Scratch. "It's a good testament to look to your peers, because that same person who's in the gutter with you can turn out to be not only your best friend, but the best business choice for your future," says Bird.
Their first project was the short film Haven, written and directed by Fyffe-Marshall, which depicts a young girl confessing a terrible secret to her mother while in a safe space. Bird says they shot the film with "no money," using the skills they'd picked up as production assistants on sets, along with the help of cinematographer Jordan Oran (Spiral), who would later serve as the cinematographer for Marathon and Black Bodies. The short's post-production process took place at Bird's home, using the editing software on Oran's laptop.
Bird says the strength of the story gave Haven its momentum from there, leading to its North American premiere at SXSW and sales to CBC, U.S. channel Aspire and the U.K.'s Channel 4.
"She is a trailblazer, and that pushes me to be a better storyteller." Kelly Fyffe-Marshall, director, Black Bodies
"They saw something there that I feel has now resonated with a lot of other people and they really helped propel us," says Bird. "[It taught us that] when you give us something small, we'll make something big out of it."
They took that lesson into the creation of Black Bodies and the companion short Marathon. Bird produced both shorts in partnership with Sasha Leigh Henry, who she's currently in development with on a series for Bell Media.
Black Bodies, which gives a raw depiction of a Black man coming to grips with the reality of being Black in the 21st century, had its world premiere at TIFF. It went on to be selected for the Sundance Film Festival and win Best Live Action Short Drama at the 2021 Canadian Screen Awards.
The short made headlines after Fyffe-Marshall lamented the lack of Canadian media attention during its Sundance run, landing it on the radar of Oscar-nominated director Ava DuVernay.
"We were such an anomaly in Canada and we weren't getting the attention we deserved," she says, referring to the film's crew, which largely consisted of Black women. "We were doing what a lot of people can't do."
Black Bodies has Canadian distribution through levelFILM, serving as the preceding piece to Charles Officer's feature Akilla's Escape, and Bird is continuing to push for international distribution to build on what they accomplished with Haven. Bird and Fyffe-Marshall also co-wrote the horror short Omi for 20th Digital Studio and Hulu, a project they're now developing into a feature.
In the midst of her producing work, Bird continued to work on various productions in Canada, including Frankie Drake Mysteries, Coroner, The Strain, The Shape of Water, The Umbrella Academy and Locke & Key.
"The union work helped me prepare for how I want to treat my crew and how I want my sets to run," she says, adding that she personally experienced moments of feeling unsafe on set, both in terms of diversity and labour issues. "They didn't really want to hear me when I spoke up… now I have a say to make sure that my sets are [safe]."
They also prepared her for the logistical responsibilities of a producer. "I was able to get into good positions with accounting, with production managers and producers, where they were able to take me through [the process]."
Now Bird is a full-time producer. She is currently in pre-production on Fyffe-Marshall's first feature-length film When Morning Comes, which is partially financed through Telefilm's Talent to Watch and the Canadian Arts Council, with production set to start in March 2022 in Jamaica and Canada. The film is a coming-of-age story about a little boy on the verge of moving to Canada from Jamaica.
When Morning Comes doesn't have a distributor, which Bird says is intentional on her part so the team can maintain creative control of the project throughout the production, with a sales push planned to coincide with a festival circuit run. She also notes that they've started the work on creating their own marketing campaign due to the lack of concrete data on how to promote films to Black communities in Canada.
"She is a trailblazer, and that pushes me to be a better storyteller," says Fyffe-Marshall.