WIFT Report calls for national industry childcare, family support programs
The report calls for changes to counter 'working conditions hostile to establishing a work-life balance' by 2024 for caregivers and families due to COVID-19 effects revealed in cross-Canada survey.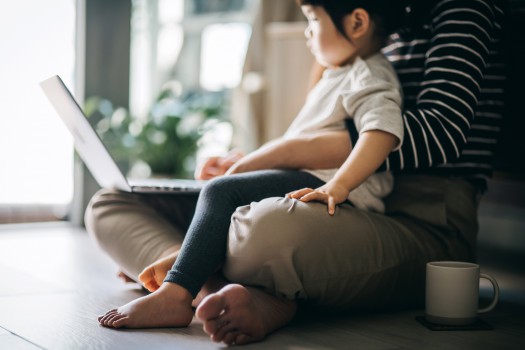 Installing child care as a production line budget item and establishing a national industry childcare and family support program are two recommendations coming from a study that calls out the Canadian film and TV industry for woefully inadequate support for female parents and caregivers.
The Family Care Report, written by Susan Brinton for the Women In Film and Television Canada Coalition (WIFT), finds that over 100,000 women have left the Canadian workforce due to the pandemic. Women and caregivers in Canadian film and TV production are facing similar choices given urgent problems finding adequate care and for their children, aging and special-needs family members due to COVID-19. It was funded by the Government of Canada's Emergency Support Fund as distributed by the Canadian Media Fund.
WIFT Canada – in conjunction with Reel Families for Change Canada – instigated the Family Care Project through a cross-Canada industry survey in early 2021, with 322 people polled from the film and TV production industry, and supplemental information provided by the project team's researching childcare and industry work practices domestically and globally.
One of the findings: that the film and television industry's approach to child and family care is reinforced by the unpaid labour of caring, especially in light of the fact that women already contribute 1.5 more hours of unpaid work daily than men. The Canadian screen industry was described by respondents as "unwelcoming" to parents and guardians, with "working conditions hostile to establishing a work-life balance."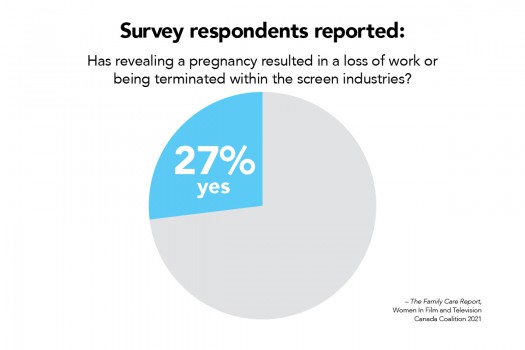 The pandemic exacerbated the situation in early 2020, when schools converted to online studies forcing children to stay home and daycares were closed. Many women were forced to stop working in order to care for their families and extend their roles to incorporate teaching and nursing in addition to their extensive caregiving and household duties.
Of the 93% of the women who responded to the survey, 86% worked in unionized production, and 27% of those in unionized production reported losing work or being fired for a pregnancy, with many masking the fact they were a parent to their employer. Under Canadian law, termination related to pregnancy is prohibited.
Given the long, irregular hours of most industry positions, 64% of women outside Québec said they had lost work due to a lack of available and flexible childcare. High costs also played a factor.
Within Québec, where subsidized daycare program has been implemented since the mid-'90s, the work loss numbers were significantly lower – only 24% respondents reported childcare availability issues.
The Québec system isn't infallible: their child program is based on regular Monday-Friday working hours and does not allow coverage for the film and TV production industry's irregular hours. But the program has worked in resulting in increased participation of women in the workforce and in cost efficiency, demonstrating how childcare is a key factor for the retention of female parents in the film and TV production industry, especially during the industry's current labour shortage.
The three core issues identified by The Family Report include:
1. Limited funding and availability of childcare or family care, including culturally appropriate child and family care throughout the larger community. The work-life balance of the film and TV industry is imbalanced with long hours, compulsory overtime and working conditions that limit or eliminate opportunities for those with family obligations. Currently, there are no requirements for unions and industry to address family and child care.
2. Canada's film and TV issue must change workplace structures and conditions. Discriminatory labour practices of discouragement and exclusion against female parents and others with family responsibilities must be solved by a united government, union, employer and caregiver effort, resulting in the development, financing and implementation of high quality, flexible and culturally appropriate on-set and on-demand child and family care.
3. In order to support and retain Canadian talent, caregiving responsibilities and work-life balance must be addressed.
Aside from the recommendations at the top of this article, the revision of childcare licensing and zoning requirements at the municipal, provincial and federal levels to allow for the establishment of on-set and on-demand childcare access across various Canadian production centres is also strongly proposed.
In fact, The Family Report states that a national industry childcare and family support program should be established with "clear targets and timelines," and should also include childcare as an allowable production budget line item, funded either by government labour-based tax credits or government agencies.
The report also recommends government, employers and unions should collaborate to establish healthier working conditions, suggesting a 10-hour maximum workday and 50-hour work weeks and calls for the feds to immediately  assemble an industry roundtable of unions and employers to revise the federal labour tax credit policy to support childcare and family care.
The target date  for implementing these recommended industry-wide action plans is 2024.
The report states that the Canadian film and TV industry's ability to pivot for healthier and safer productions during the pandemic "demonstrates that redesigning the industry to become more supportive of women and families is entirely possible."
Added Brinton: "We have initiated and hope to continue to discuss further research and initiatives in support of the recommendations in the report with government, unions and the industry on this crucial and complex issue."