How virtual production became a reality for indie prodcos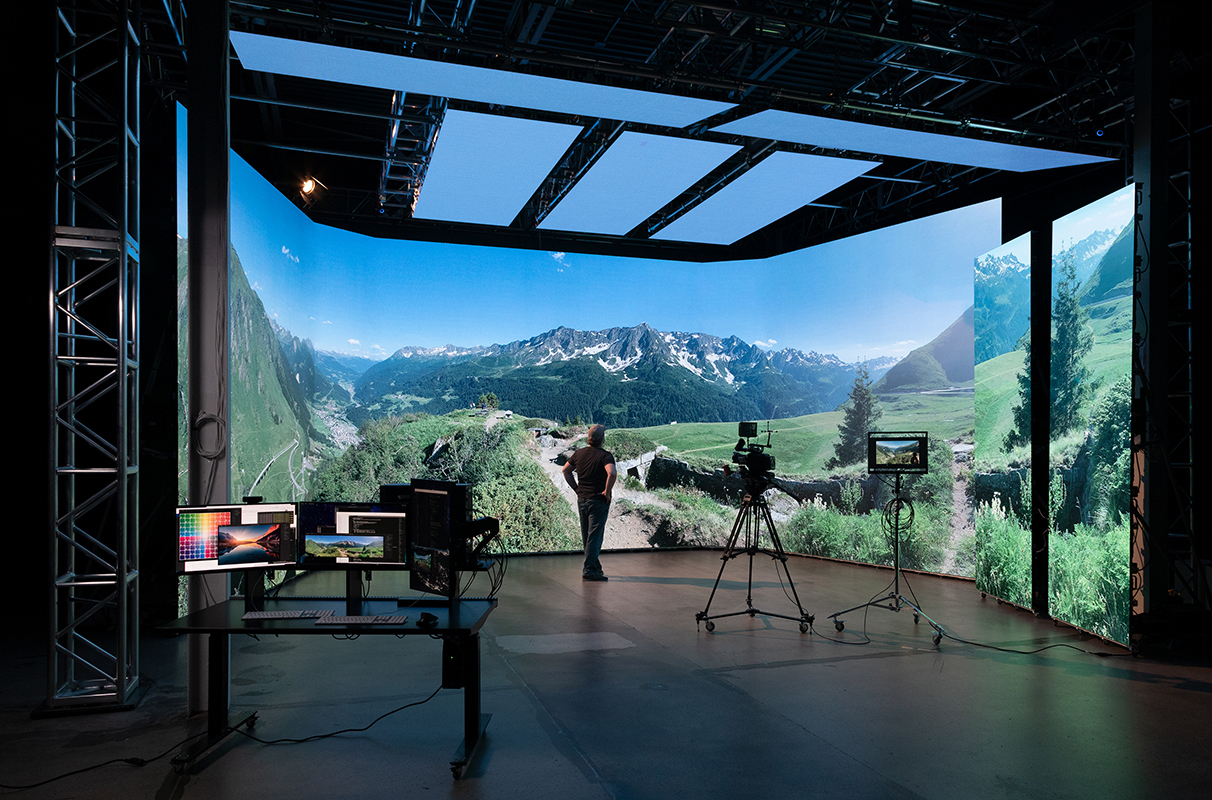 Canadian companies are offering cost-effective solutions for indie filmmakers so they can afford the latest filmmaking tech tools Hollywood already embraces.
The world of virtual production has arrived in Canada.
The technology, best known for the dazzling effects of it renders real-time digital environments – from an exotic alien planet to a bustling street – on LED screens as a backdrop rather than a green screen.
While it seems like the kind of cutting-edge technology reserved for Hollywood blockbusters, Canadian companies are already providing cost effective solutions to make virtual production accessible for mid- and low-budget projects. Toronto-based studio Immersion Room (pictured) and William F. White International's (WFW) recently opened Stage 6 locations are among them.
Immersion Room, which opens in Q4 2021, was founded by VFX veteran Mike Boers to "democratize" the technology necessary for virtual production. Matthew Nayman, head of studio operations, tells Playback that the company has found cost-effective solutions for some of the most expensive aspects, such as sourcing LED panels directly from Chinese manufacturers, making the cost of leasing Immersion Room on par with green-screen virtual production stages in Toronto.
The company also has an in-house VFX team that has spent the last two years developing their own software engine, which is purpose-built for filmmakers and VFX artists. The majority of digital environments are rendered using Epic Games' Unreal Engine, initially designed for video games and re-purposed for film, which Nayman says can still be used at their location.
WFW's Stage 6, meanwhile, benefits from the company's $30 million partnership with VFX company Pixomondo (PXO). Rick Perotto, VP, business development, says WFW provides the bulk of the hardware required while PXO supplies the technicians and the software, with other partners including Brompton Technology, Epic Games, Lenovo, NVIDIA and ROE Visual.
PXO is also spearheading education around virtual production technology, led by head of studio Mahmoud Rahnama. The companies are bringing directors, producers, cinematographers, set designers and art directors who need to get up to speed for upcoming productions, as well as future technicians who'll run the virtual production stage, according to Edward Hanrahan, director of virtual production at WFW.
"There's no time for them to be testing on a shoot day," he says. "We really want to get them confident with all these moving pieces so that they can get back to making films.
Located at Toronto's Port Lands in the Studio City development, Stage 6 is designated for short-term rentals. Since it opened this summer, WFW has received interest from commercial productions and TV series for days or weeks-long rentals, according to Perotto.
Hanrahan says one cost barrier that is "plummeting" are the digital environments themselves. Every day new 3D renderings of global environments are made publicly available, he says, from downtown Los Angeles to Mount Everest. Even in cases where a filmmaker will need to pay a licensing fee, it's likely cheaper than the travel cost for a week-long location shoot. For indie producers, it offers access to locations they may not be able to afford otherwise.
Nayman adds that the technology can even substitute for locations with costly permits, such as museums or public transit locations. "If a filmmaker needs to shoot on a subway and can't afford [the cost], we have pre-built photorealistic subway car models that we can pull up that you can shoot on, which cost much, much less than building one from scratch," he says.
This story originally appeared in Playback's fall 2021 issue