NSI, TikTok open applications for new skills-based training program
Eligibility is open to First Nation, Métis or Inuit candidates aged 18 or over who are currently active on the short-form video platform and want to pick up relevant job skills to catalyze digital career opportunities.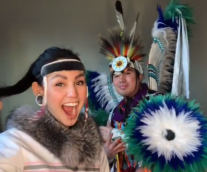 The National Screen Institute – Canada and TikTok Canada are launching a part-time, online training program that will see up to 30 Indigenous content creators grow their TikTok presence and develop skills to successfully catalyze global careers beyond the short-form video sharing platform.
The TikTok Accelerator for Indigenous Creators will deliver free customized skills-based training and hands-on exercises with industry experts, members of the TikTok Canada team and other TikTok creators. Both traditional and spiritual elements are baked into the six-week curriculum. The call for applications opens today; the deadline is Friday, Oct. 1 at 5 p.m. EDT.
Eligibility is open to First Nation, Métis or Inuit candidates aged 18 or over who are currently active on the platform, with a minimum of four public posts in the last 30 days irregardless of the number of views or followers. A jury of both Indigenous TikTok creators and screen industry professionals will review all applications and select participants.
The program was developed NSI and TikTok Canada with guidance from Winnipeg's Ojibway Anishinabe Tiktok creator Sherry Mckay, Cree filmmaker Justina Neepin and Indigenous writer/director Roger Boyer (The Wolf). Mckay and Neepin are program advisors, while the program will be co-managed by Sarah Simpson-Yellowquill and Cheyenne Bruneau.
There is no fee to apply, and participants will receive a production tool kit to help them create and deliver their TikTok content.
Each week, two to three 90-minute training sessions will focus on increasing competency. For example, technical training will include essential filmmaking techniques, lighting, editing and effects. Career building will focus on personal branding, collaborations with brands/other creators and discovering your niche. The social responsibility session will include community management, safety and how to handle negativity.
Upon completion of the program, participants will have developed a marketing plan and produced a series of videos for their portfolios.
"Audiences in Canada and around the world need to hear and better understand the lived experiences of Indigenous storytellers now more than ever," said Joy Loewen, CEO of NSI, in a statement. "By partnering with TikTok Canada to deliver this accelerator program, we hope to empower Indigenous creators with today's tools to tell their stories and reach global audiences."
"We're committed to supporting and uplifting Indigenous voices each and every day by providing a safe and inclusive platform for creators to tell their stories, launch their careers, and share their cultural heritage," said Lindsay Lynch, Creator Partnerships & Community lead, TikTok Canada, in a statement. "We're hoping to amplify that work as part of TikTok's continued dedication to celebrating and elevating Indigenous creators and communities."
 TikTok – which features videos under 15 seconds long – has been downloaded over three billion times. About 3.2 million Canadians are on the platform, and 60% are women, according to Vividata. Users are more active online than the average Canadian, up to 27 hours per week (four hours above the national average), and more engaged on social media, up to 11 hours each week (three hours above the national average).
Hashtags featuring the words "native" and "Indigenous" are extremely popular: #IndigenousDay has over 1.4 billion views gobally, while #NativeTikTok has over 3 billions.
The NSI, a Winnipeg-based non-profit, supports creators through training and mentorship in film, TV and digital media.
 Photo: Two top Indigenous TikTok creators – @shinanova and @notoriouscree.