Learn to Swim director on hitting the right notes for jazz romance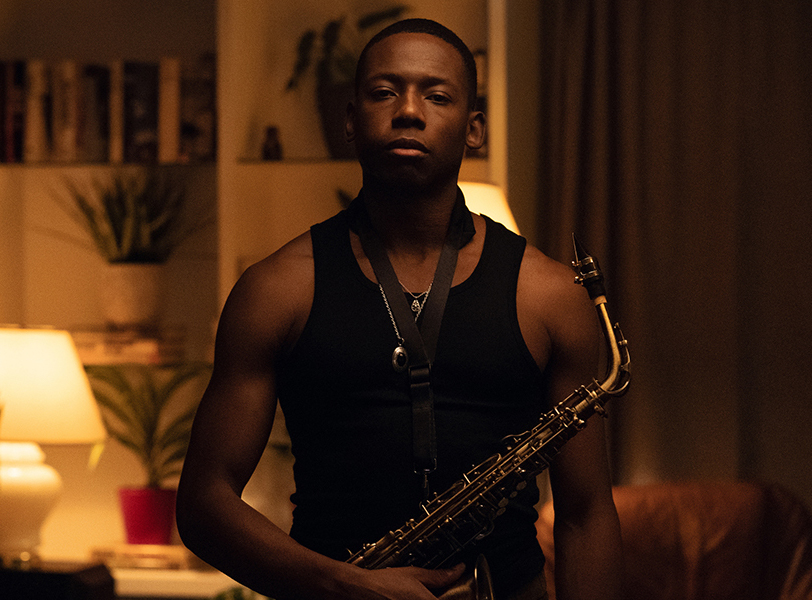 TIFF '21: Thyrone Tommy shares notes on his debut feature film's musical path from the director's program at the Canadian Film Centre, all the way to its world premiere.
Few films write and record their soundtrack before they begin shooting, so in that sense Learn to Swim did a backstroke.
Toronto-based director Thyrone Tommy really wanted the performers in his 2021 Toronto International Film Festival (TIFF) entry to be able to absorb the music as they stepped into their roles and live within the space of the world he had created; however looking back, he admits it was a "bold" move.
"It was definitely not the way I think most people would try to do their first feature, to produce an entire soundtrack before we shot a single frame of the film," he tells Playback Daily. "It was definitely a lesson in collaboration and trusting my instincts musically."
The ultimate decision to first capture the music on Learn to Swim was one-part instinct, one-part circumstance. Original production on the film was scheduled to kick off in Toronto in early 2020. They were 10 days away from going to camera when the pandemic hit, shutting it all down in mid-March. A few weeks later in May, musical supervisor David "Huey" Hayman died suddenly in his home at the age of 42.
Before his death, Hayman had reached out to Chester Hansen and Leland Whitty, half of the Ontario quartet BadBadNotGood, about doing the original score, but they had been scheduled to go on tour. With COVID-19 cancelling plans, they then had time to work on the film, and so the duo got together with Tommy, read the script and saw pictures of the cast. Then they worked with local musicians to make it all come to life.
"A lot of the movie is crafted in the same way that you would craft an album," Tommy says. "The songs are very much about their tone and the feeling that I want to evoke from the audience. It was definitely something I was nervous about, it's definitely an experiment, but I think it worked out for the most part."
Learn to Swim is a musical meditation on grief and guilt, with cinematographer Nick Haight drawing inspiration from classic Blue Note album covers and medium format photography. It's told in dual timelines to capture the tumultuous romance between a talented sax player (Thomas Antony Olajide) and a less experienced singer (Emma Ferreira), along with the ways that grief, memory and heartbreak can define us. Both leads are among this year's Rising Stars at TIFF.
In addition to directing, Tommy co-wrote the film's script with Marni Van Dyk in 2018 after collaborating with her a year earlier while attending the director's program at the Canadian Film Centre. At the time they were strolling through the centre's gardens trying to conceptualize an idea for a short film project, and the idea materialized through a conversation about love and loss. By the time they'd wrapped their short of the same name they felt as though they hadn't quite captured the extent of their idea, and so they further pursued the script under Telefilm's Talent to Watch.
The film is produced by Alona Metzer of Leilani Films with additional support from CBC and Toronto Arts Council, with Mongrel Media heading up Canadian distribution. Following its debut at TIFF, the movie is hitting the festival circuit with stops at the FIN Atlantic International Film Festival, Cinefest Sudbury, the Edmonton International Film Festival and the Vancouver International Film Festival.
"Our goal with these important festivals is to build awareness and word-of-mouth leading up to our theatrical release in early 2022," says Tom Alexander, Mongrel's director of theatrical releasing.
For his part, Tommy doesn't have an ultimate goal for his film other than wanting as many people as possible to experience it. He specifically selected jazz as the musical motif because it is so interpretive and very grounded in feelings, and will hopefully evoke strong sentiments with audiences as well.
"The fluidity that comes from jazz is so beautiful and that's something I wanted to capture in the work because for me it's really about that experience," he says. "You can say a lot with jazz and with its structure. You can play it and improvise on it one way, and a week later do a different improvisation and it changes the mood, changes the texture of the song."
The film itself was certainly in place by the time filming did kick off in December 2020, but the Toronto landscape was quite different than it had been in March. There were conversations about whether it was actually a good time to go back, but in the end the team decided to forge ahead.
"We needed to get this out of our souls," Tommy says. "We had just reached that point where we had the opportunity to shoot it, there was a way to do it. If we wanted to go for it, that was our moment."
Learn to Swim made its world debut at TIFF on Saturday (Sept. 11) in the Discovery programme. The festival continues until Sept. 18.
 Image courtesy of TIFF