The July 16 weekend was circled in red on movie exhibitors' calendars. That's when Ontario and Manitoba joined the other provinces in allowing the reopening of cinemas that had been shut down since as far back as October. It was then a scramble to salvage what remained of the summer box office.
That Friday night was important enough that Ellis Jacob, president and CEO of dominant theatre chain Cineplex, showed up at his Varsity facility in downtown Toronto to watch the flow of patrons and encourage management and staff. Early signs indicated what the industry had hoped: people want to go back to the movies.
Cineplex reported nearly half a million ticket-buyers visiting its theatres across Canada that weekend, its busiest since January 2020 – two months before COVID-19 fears shut its doors for the first time. No doubt that strong performance can be attributed to pent-up demand and Hollywood blockbusters Black Widow, F9: The Fast Saga and Space Jam: A New Legacy.
In mid-August Cineplex said around two million customers had gone through its doors since the nationwide reopening, representing an estimated 55% of 2019 numbers. Historical levels were unreachable given provincial seating restrictions, as in Ontario, where the limit at reopening was 50% capacity per room and up to 1,000 patrons per establishment.
But in practice maximum capacity was even less for Cineplex, which sold reserved groups of seats only, blocking off surrounding seats for safety.
"One thousand and 50% sound good on paper, but if you're physically distancing you're really restricted to about 25%," Jacob tells Playback.
Despite Cineplex's safety precautions that also included enhanced cleaning and staff self-health attestations, there were sure to be bumps along the road, and it announced positive COVID-19 tests for staff members at its Ancaster, ON and Kelowna, B.C locations.
The theatre chain will take good news where it can find it. The pandemic scuttled its $2.8 billion sale to the U.K.'s Cineworld, resulting in lawsuits back and forth and a court date scheduled for later this month (September). It responded to the revenue loss with a $57 million leaseback of its Toronto headquarters and $250 million in second lien secured notes. Jacob says he will look for more ways to monetize real estate similar to his current deal to rent out space to Ryerson University.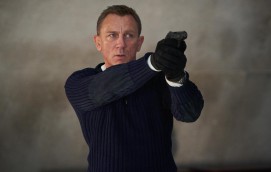 Amidst rising Delta variant concerns, Cineplex looked to entice customers with the August rollout of its CineClub subscription program, which for $10/month provides a monthly movie ticket plus further ticket and concession discounts. Calgary-based Landmark Cinemas, the nation's second-biggest chain, has come out with its similar Extras subscription offering.
Meanwhile, Jacob hoped to hit 80% of 2019 box office returns with his fall slate, believing the 2020 production shutdown hasn't dented supply since there was "a long period of time with no product [in theatres]. Some movies were streamed but a lot of the big ones were kept for the theatrical experience."
Case in point, the James Bond film No Time to Die (pictured, right) had been scheduled for an April 2020 release but is now eyeing this Oct. 8, while Top Gun: Maverick has shifted from June 2020 to this Nov. 19. (Editor's note: The release date for Top Gun: Maverick was changed to May 27, 2022 after this story went to press.)
Studio releases tops, for now
To compensate for seating limits, Cineplex has spread top-performing movies on more screens than usual within the same location. While that sounds like it could squeeze out smaller-scale fare – which describes pretty much all Canadian productions – Jacob insists that as restrictions loosen, he expects Cineplex will broaden the types of movies it runs.
"I'm a believer in playing Canadian movies and Indigenous movies," he says. "We have to play them in theatres in which they're going to perform. We do the same with Bollywood, Filipino and Chinese movies, which our Scene loyalty program allows us to do because we know demographically where these individuals are and how we can attract them. The big challenge is marketing, which [is up to] distributors."
The summer's highest-profile Canadian/Indigenous release – playing on 15 Cineplex screens – was Beans (pictured, left), a drama inspired by director Tracey Deer's childhood experiences during the 1990 Oka Crisis. The Quebec production opened in la belle province on July 2 in 14 locations in its original English version along with French subtitled and dubbed versions.
Quebec theatres reopened Feb. 26 at 50% capacity with a curfew in place and no allowance to sell concessions. As of late June the only restrictions remaining were a 1.5 -metre distance between seated groups and masks mandatory everywhere except in seats.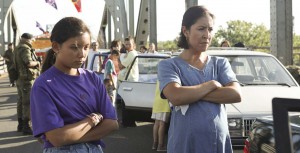 With all of Canada open and awareness created by the Quebec release, distributor Mongrel Media opened Beans July 23 in 10 cities in the rest of Canada and in four more locations the following weekend. As of early August it had amassed $127,000 in box office. Tom Alexander, Mongrel's director of theatrical releasing, is happy with that but feels studio releases are at more of an advantage than usual.
"Moviegoers have more of a 'must-see' attitude for the bigger titles," he says. "They're thinking, 'We're not going to go to the movies that often [right now], so we'll see something big.' It's going to take time for that to normalize."
Indies build momentum
While not the optimal time to release any film in theatres, Mongrel wanted to take advantage of the buzz around Beans. Indigenous issues are central in the national dialogue, and since its TIFF debut last fall, the film has ridden a wave of buzz and award wins, including the Canadian Screen Award for best picture.
"The only way to get people used to going back to the movies is to offer them product they're going to respond to," Alexander says. "We have to keep supporting exhibition. We wanted to get Beans out this year as planned so we could make some kind of impact."
In Quebec, local French-language productions have been major drivers in the return to theatres. When cinemas were allowed to open last year from July to September and Hollywood studios were withholding product, local films including Mafia Inc. and Mon cirque à moi were drawing crowds, to the tune of more than $1.35 million and $700,000 in box office, respectively.
F9 signalled a large-scale return to Quebec cinemas during the recent reopening, but local films continue to pull their weight, with family comedy La guide de la famille parfaite (pictured, right) – which blew past the $1.5 million mark in its first four weeks – Sam, and the documentary La parfaite victime all weekly top-10 performers.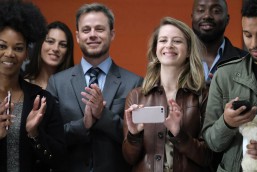 This is cause for cautious optimism, and the provincial government softened the blow of months of lockdown by announcing $4.6 million in funding assistance last December, followed by an additional $3.9 million unveiled in May. Cineplex did not qualify for these funds since it is not incorporated in Quebec.
Industry saw some relief
Telefilm has provided assistance to the national exhibition industry in several phases: first in the form of $968,000 as part of the general Telefilm Relief Fund announced in May 2020, followed two months later by a $1.76 million commitment, and then, unveiled this summer, $16 million more to be distributed over two years along with $9 million earmarked for promotional initiatives to get Canadians back to cinemas.
While the government assistance has been a great help, it doesn't make up for all the lost revenue, says Éric Bouchard, co-president of exhibitor group Association des proprietaires de cinémas du Québec (APCQ). And now there is anxiety about the federal wage subsidy, rent subsidy and Lockdown Support programs coming to a close Oct. 23.
"We're not currently bringing in 100% of our [traditional] revenues and I don't think we will get to that point before the subsidies end," says Bouchard, also co-owner of Cinéma Saint-Eustache and Cinéma Carrefour du nord cinemas in Saint-Jérôme.
Informing the public about the status of reopening remains a challenge. "We've been open since Feb. 26, but we still get people asking, 'Are you open? Do you sell popcorn? Can we take off our mask in our seats?'" Bouchard says. "People have concerns about public places and want to know the rules."
Distributors and exhibitors collaborated on an ad campaign and a couple of websites (On se voit au cinéma and Aime ton cinéma) that outline safety protocols and promote Quebec titles.
Meanwhile, B.C. reopened on June 15 with 50 customers permitted per room, and then in July that opened up to 50% capacity. Vancouver's independent Rio Theatre, which has one screen and 420 seats, returned to its offerings of cinema classics, cult favourites, recent Oscar nominees and documentaries.
Art houses exhibit creativity
In January, when theatres were closed, the facility temporarily rebranded as the Rio Sports Bar – as bars and restaurants were allowed to open – and projected games on its screen. It could not charge admission, but made money selling snacks and alcohol, which it has done since acquiring its liquor licence in 2012.
Although believing movie exhibitors were being discriminated against by the B.C. government, the Rio did what it had to do to keep going.
"It provided our staff with something to do, neighbourhood people got to enjoy sports, and it qualified us for Circuit Breaker funding," says Rachel Fox, the Rio's senior programmer, referring to the provincial relief initiative that awarded grants of $10,000 to small businesses with more than five employees including liquor and food serving premises, for which the Rio was the rare movie theatre that qualified.
Fox says she is less concerned about people coming back to theatres than she is about having to continue competing with Cineplex. The Rio belongs to the Network of Independent Canadian Exhibitors (NICE), which last year submitted a complaint to the Competition Bureau alleging that Cineplex pressures distributors to grant it exclusivity for new releases, shutting out indies.
Competition for films
She says she would have liked to have scheduled Paramount's A Quiet Place Part II, but "is 100% unable to book that title," even though the film had been on Cineplex screens since the latest reopening and is available for free to Amazon Prime Video subscribers.
Nothing has come of NICE's petition and Cineplex has denied the allegation, insisting distributors decide where they open films.
The Rio has succeeded in getting new product from streamers, such as the Disney+ music documentary Summer of Soul, which it screened daily for two weeks – the level of commitment Disney's Searchlight Pictures demanded – in a bid to convince viewers that seeing it in a public venue with a big screen and big sound is optimal.
That could prove a major hurdle, as moviegoers have gotten into the habit of streaming new films at home and renting through premium video-on-demand (PVOD). But while viewers returned to theatres for summer spectacle – even though Disney has made Black Widow and Jungle Cruise simultaneously available on PVOD – some see a place for smaller dramas as well.
Theatrical release still the goal
Distributor Elevation Pictures has certainly enjoyed the upside of PVOD, particularly with Academy Award nominees Minari and The Father (pictured, left), which most cinephiles would have had to rent at home if they wanted to see them before the April 25 Oscars, as theatres in most provinces remained closed.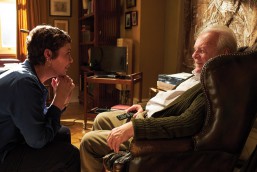 Elevation co-president Noah Segal says the films have performed "extraordinarily well" on PVOD – and that's with a far less expensive marketing campaign than they would have had for a theatrical release. Still, he believes this type of movie will continue to have a place on movie screens.
"The intimacy of those films might connote that you would want to see them on a small screen," Segal says. "But the streamers have discovered that comedy, action and genre fare is what audiences really want to see on Netflix and Disney+."
Bearing that out is Zack Snyder's big-budget zombie flick Army of the Dead, which Netflix says was at least partially watched by 75 million viewers in its first four weeks after debuting in May. Specific to Canada, Zack Snyder's Justice League became Crave's most-streamed title ever after launching in March.
"Streamers would much rather have Justice League than The Father," Segal says. "Sometimes they aren't going to see the value proposition of certain films. So distributors might be looking for a certain number from the streamers, not get it, and have to release another way. That means people who want to see unique, quality movies will have to do so at the arthouse."
That time-tested approach might still be the winning strategy for indie films, he adds, since theatrical "continues to drive value across the entire chain, including transactional, licensing, airlines, hotels and DVDs. A movie that performs better theatrically performs better on ancillaries. It creates interest and fervour. We want as many mediums and windows as possible to show our movies, so even though it's expensive, we want theatrical to come back."
Photos: Header image by Kevin Frayer/Getty Images; No Time to Die courtesy of MGM; Beans courtesy of TIFF; La guide de la famille parfaite courtesy of Les Films Opale; The Father, photo by Sean Gleason, courtesy of Elevation Pictures
This story originally appeared in the Fall 2021 issue of Playback.