It's no surprise that the birthplace of horror auteur David Cronenberg has a long history of producing some of the genre's best. It's a legacy that horror-focused streamer Shudder aims to build on.
The U.S.-based platform, owned by AMC Networks, has acquired a raft of Canadian horror titles since its international launch in Canada and the U.K. in 2016. Its Shudder originals include Madeleine Sims- Fewer and Dusty Mancinelli's Violation (DM Films), Cody Calahan's Vicious Fun (Black Fawn Films), Elza Kephart's Slaxx (EMA Films) and Amelia Moses's Bleed With Me (True Sweetheart Films). Shudder also revived the horror series Slasher (Shaftesbury), with its fourth season Flesh and Blood premiering on the platform in the U.S., Australia and New Zealand on Aug. 12 and on Hollywood Suite in Canada this fall.
Head of programming Sam Zimmerman (pictured, left) spoke with Playback about what the streamer is looking for in its next Canadian picks, from classic horror trope twists to genre-bending visionaries.
Playback: It's been five years since Shudder landed in Canada. How has the streamer's overall programming strategy changed or evolved since then?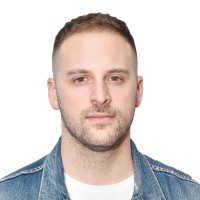 Sam Zimmerman: The idea was always to represent the genre itself, the breadth and the depth of it, and all of the things that horror can be – from very pure, lean and suspenseful to artful and incredibly profound to even shocking and disturbing.
We did that in the form of what you might consider older films or even contemporary indie films. Then, as we grew, our focus has shifted to acquisitions, originals and exclusives. From there [we're] building out our own titles – we're acquiring finished films to then coming in even earlier as a producer – to be a home for original, daring and exciting new horror in all of its forms.
How has Shudder's niche programming strategy within the horror genre helped it stand out in the market?  
SZ: I grew up a horror fan and I understand the broad spectrum of who loves this genre. In some ways the genre is a niche and in some ways it's also one of the broadest forms of entertainment out there and one of the oldest forms of storytelling. The different [types] of people who love the genre is so wide. We are a focused service and we live within the genre, but the genre is a deep place, so I think there is something for everyone. It allows us to play in a really cool, really expansive spectrum.
Some of Shudder's most recent Canadian originals on the film slide are comedy horror films like Slaxx and Vicious Fun and psychological horror Violation. How do those titles speak to the type of content Shudder is looking for when it comes to original films?  
SZ: It comes down to that spectrum and saying, 'what is the best version or the best idea of every type of art?' Slaxx is a great example. You explain it to someone and say, 'Hey, this is a movie about a pair of killer jeans.' Immediately someone might conjure something really outlandish and silly, but it also has really heavy scenes and an amazing point to make. It's a great monster movie because you start off gleefully laughing at a pair of jeans killing people, and then you get to the end and – like any great monster movie – you go, 'oh, no, these jeans had a point. I really believe in what these jeans were doing.'
Then you see something like Violation and you're just devastated in the best way, and you're seeing filmmakers like Madeleine Sims-Fewer and Dusty Mancinelli be absolutely fearless and unrestrained in how they want to express themselves. Then in the spectrum between those wildly disparate movies there is Bleed With Me, our new season of Slasher, [Kurtis David Harder's] Spiral (Digital Interference) or [Steven Kostanski's] Psycho Goreman.
They all are, to me, the best versions of their various sub-genres and represent all of the best ways that horror can be exciting, fresh, new and satisfying. It can be a really cathartic, visceral experience, or it can be a really fun night or it can be a very classically scary, dark and stormy night in – or something like [Jeff Barnaby's] Blood Quantum, which can kind of do it all. It's a gory, splattery zombie movie, and a very aggressive, angry film about Indigenous rights and Indigenous history in Canada.
You've had a major presence at the genre-focused Fantasia International Film Festival in Montreal. How has that helped you develop relationships with local producers here?  
SZ: Fantasia is a great example because it's such a significant genre festival and one of the best out there. Until COVID hit it often had the Frontières market running concurrently, so you were meeting with filmmakers who had films in the festival and you were also meeting producers and filmmakers who were developing projects in the market. Slaxx came directly out of the Frontières market and I met that team there years ago when they pitched.
Are you looking to increase the number of titles you're commissioning out of Canada?  
SZ: I think so. We're looking to acquire and commission titles that are made within all the territories that Shudder is available, whether it's the U.S. and Canada, the U.K., Australia and New Zealand. We know that Canada has a really rich legacy of genre that dates back years, but it's also continuously bringing us new and exciting visions. [We want to] bring those films in and show them to the Canadian audience and our members across the world.
On the TV front, Shudder is about to release the revived Slasher for the U.S., Australia and New Zealand.
How did that come together?  
SZ: We feel really grateful we got to be a part of a new season of Slasher. It came together simply because the series was looking for a new home and in many ways we felt we were perfect. What [creator] Aaron Martin has done with the series is something that honours the slasher sub-genre while also subverting it and making it more stylish, heavy thematically and delicious in a lot of ways. Flesh and Blood is all of the best things about Slasher. It is suspenseful and gory, it has a lot to say about family dynamics, and then we got David Cronenberg to act in it, which is kind of the most incredible aspect of it all. One of the masters of horror and the godfather of Canadian horror, if you will, blessing it with his presence has been a really exciting thing.
Are there any trends within the horror genre at the moment that particularly excite you as a programmer?  
SZ: What's really exciting to me is a lack of trends. Distribution is so wide at the moment because we have streamers like ourselves who represent horror from the micro-budget scale up to a more polished traditional indie budget spectrum to studios releasing films on VOD. I don't think there's one type of horror that's dominating.
What else can you share about what you're currently looking for when it comes to pitches?  
SZ: It sounds very general to say, but what we're looking for is new visions on traditional horror. How are you honouring that while taking us someplace new? Is it perspective, is it a filmmaker from an underrepresented group? Is it just a completely new subversion or satire? We want things that are satisfying and identifiable within the genre, but take us somewhere we've never been before.
This story first appeared in the Fall 2021 issue of Playback magazine. Photo Theo Wargo/Getty Images.