Panel tackles actionable solutions to Asian racism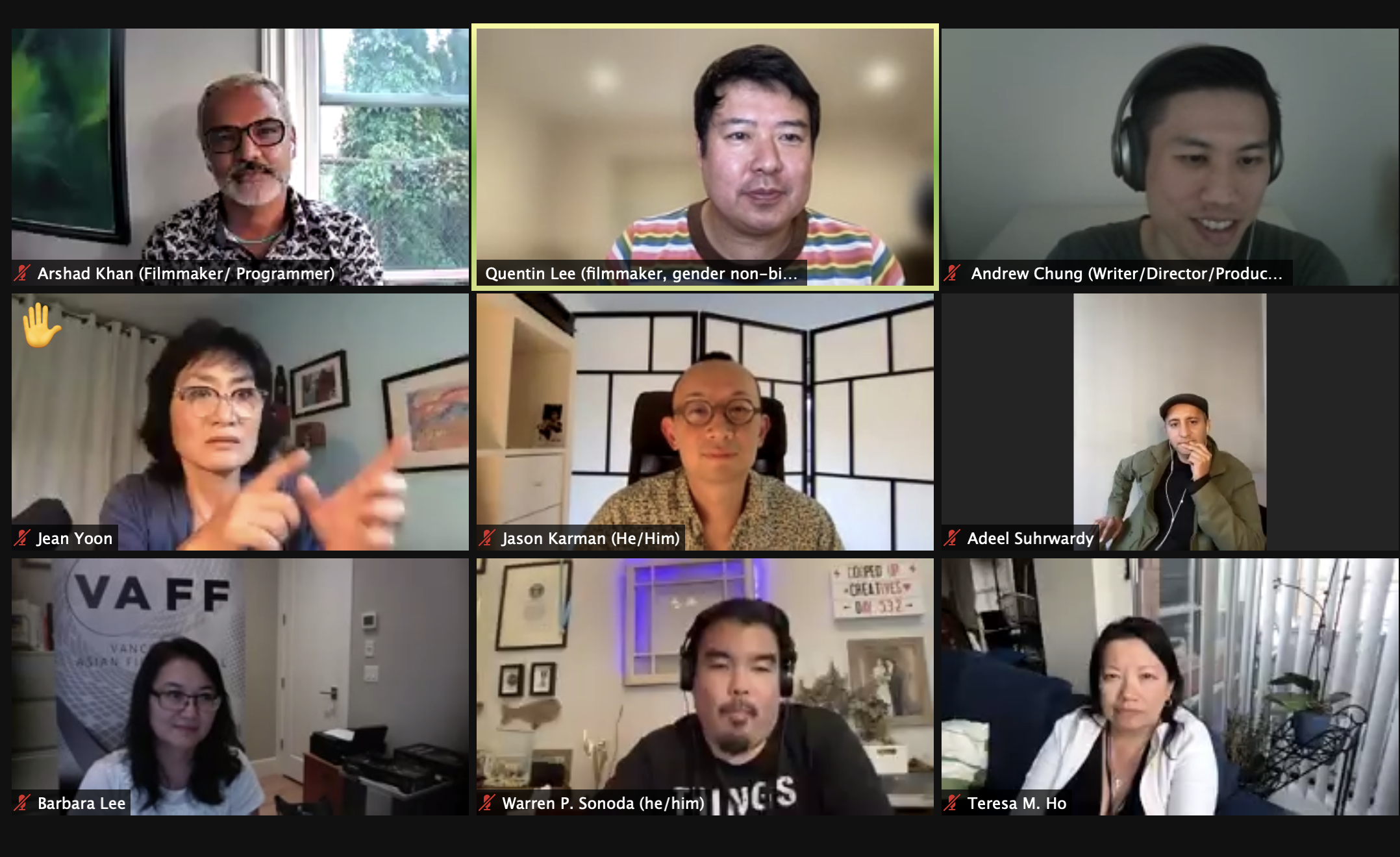 Creators lament inaccurate depictions of cultural norms, lack of opportunities to work on creating authentic Asian stories and how internalizing racism impacted their careers.
From CBC's comedy Kim Convenience to Omni's Mangoes: A Slice of Life, Asian-focused screen projects have made strides in expanding representation, but more needs to be done to address racial inequalities and improve authenticity for creators within the Canadian film and TV space, according to a panel addressing sovereignty and equity within the screen industry.
"I tried numerous times and projects in Canada, trying to work getting hired but I've never been hired. I've never made a film in Canada," said Quentin Lee, a Chinese-Canadian director and producer, originally from Hong Kong.
Lee recalled one instance when he was considered to direct a TV series centred on Chinese-Canadians in Vancouver, but the role went to a French-Canadian, leaving Lee mystified as to why a project that focused on Chinese characters and their stories, did not need a Chinese-Canadian director.
Although opportunities in both the domestic and international marketplace are slowly growing, it's clear from the discussion of nine creators and producers at the "Achieving Equity for Asian Canadians in Media" panel held this week, that the challenges that have historically impeded Asian storytellers still remain in place, including those internalized by creators.
The event was presented by the Asian Canadian Film Alliance (ACFA) and supported by a number of organization including the Canadian Media Producers Association, Mosaic International South Asian Film Festival, Reel Asian Film Festival, Vancouver Asian Film Festival, Racial Equity Media Collective, BIPOC Film & TV, FascinAsian Film Festival, and Canada Media Fund.
Pakistani-Canadian director and producer Adeel Suhrwardy (Mangoes: A Slice of Life) echoed Lee's assertion, lamenting that during his journey of producing a television series he was continually asked to prove himself, and his projects, in order to get an opportunity.
Rejection came on three fronts: "you are not good enough, your size is not big enough, you are not commercially viable, or we are not sure if there's an audience for it," said Suhrwardy.
It's these decisions that lead to inauthenticity in representation and storytelling, explained actor and writer Jean Yoon, of Korean-American descent, most recognized for her role as Umma in Kim's Convenience.
"The balance of power always ended up being that they were more men than women. And there's always more white people than people of colour. So the point of view increasingly became that of the white male point of view," said Yoon.
Even though much of the cast, and producers on Kim's Convenience – based on a play by Ins Choi, about a family-run Korean-owned convenience store in Toronto's Regent Park neighbourhood – were Asian, Yoon said the stories did not always accurately reflect Korean culture. And, at times, Yoon said she felt uncomfortable with decisions made more for laughs than authenticity and pointed to a specific character.
"Janet was moved out of the house," she explained, which doesn't accurately depict Korean cultural norms for a single 30 year old. "Korean girls don't leave home, unless they're married, their parents won't let them."
Emmy-nominated Japanese-Canadian director Warren Sonoda (Things I Do For Money) explained that, unknowingly, most of his career decisions were influenced by his Japanese history and past in Canada.
For Japanese-Canadians there is an intense pressure to conform and fit in, explains the DGC National president, because of the events during the Second World War, when many Japanese families were separated. Parents had the fear that "the RCMP would come and take their children away again," if they did not appear "Canadian" enough.
Sonoda said being trapped in this mindset might be the reason few of his feature films casted a lead with his own ethnicity.
"When talking about systemic racism, I want to talk about something that's more inward because for a large part of my career. I feel that I kind of fit into the machine. The machinery that created this thing that we're in, in that I'm a Japanese-Canadian director, I had made 10 feature films and I had never cast a Japanese-Canadian in the lead."
Yoon finished by driving in the point that Asian and South Asian creators and storytellers cannot look at each other as competition, "but need to be there and support each other."
Other speakers included producer Teresa M. Ho (Frankie Drake Mysteries); producer/director Andrew Chung (White Elephant), co-founder of ACFA; Arshad Khan (Abu), producer, director and Mosaic International South Asian Film Festival director; Vancouver Asian Film Festival founder Barbara Lee; and director and producer Jason Karman (Golden Delicious).