Slo Pitch batters up for season two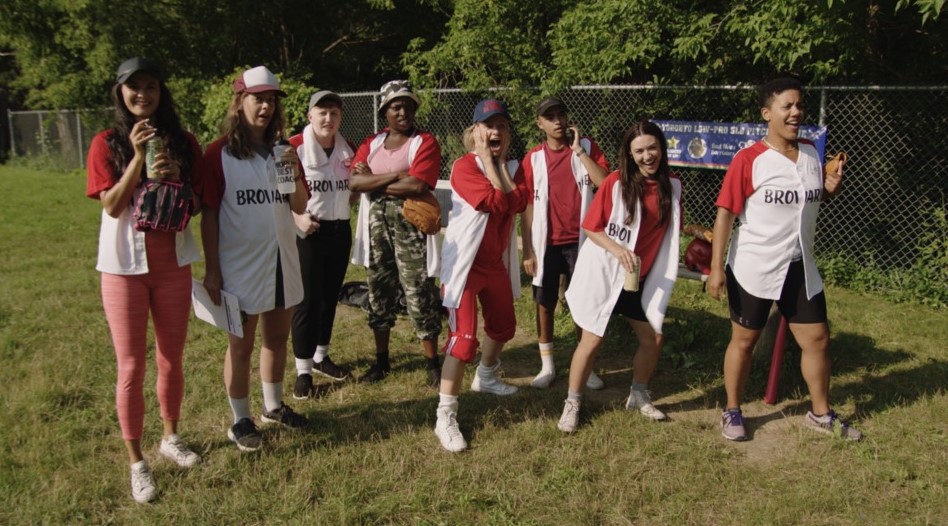 The short-form series is in production in Toronto for OUTtv in Canada and IFC in the U.S.
Toronto's worst slo-pitch baseball team is back.
Shaftesbury and Boss & Co. are in production in Toronto on season two of Slo Pitch for IFC in the U.S. and OUTtv in Canada.
Created by Gwenlyn Cumyn, Karen Knox (BARBELLE) and J Stevens (Cons & Pros), this mockumentary series follows the comedic misadventures of the queer softball team The Brovaries.
The 10 x 10-minute season two, which was first greenlit by OUTtv this spring, focuses on the team's quest for their beer league championship title, and overly-invested Coach Joanne and Sasha's wedding plans. Stevens serves as director on the season, which written by Knox, Cumyn and Mandeq Hassan.
Executive producers include Christina Jennings, Scott Garvie, Knox, Cumyn and Michael Shram, with Paige Haight serving as producer.
Slo Pitch's 10 x 8-minute first season, which chronicled the start of their playoff run, is set to premiere on IFC digital platforms as an IFC Original – including on IFC.com – later in 2021.
The AMC-owned IFC acquired 20 episodes of the short-form comedy series earlier this summer. It stars Cumyn, Knox, Kirsten Rasmussen (Band Ladies), Lane Webber (Gay Mean Girls), Kaitlyn Alexander (Carmilla), Khadijah Roberts-Abdullah (Sugar Daddy), Amanda Cordner (Baroness Von Sketch Show) and Chelsea Muirhead (From The Vaults).
In Canada, Slo Pitch debuted on OUTtvGo and made its linear debut on OUTtv.