Insight Productions retells iconic Terry Fox story for new generation of Canadians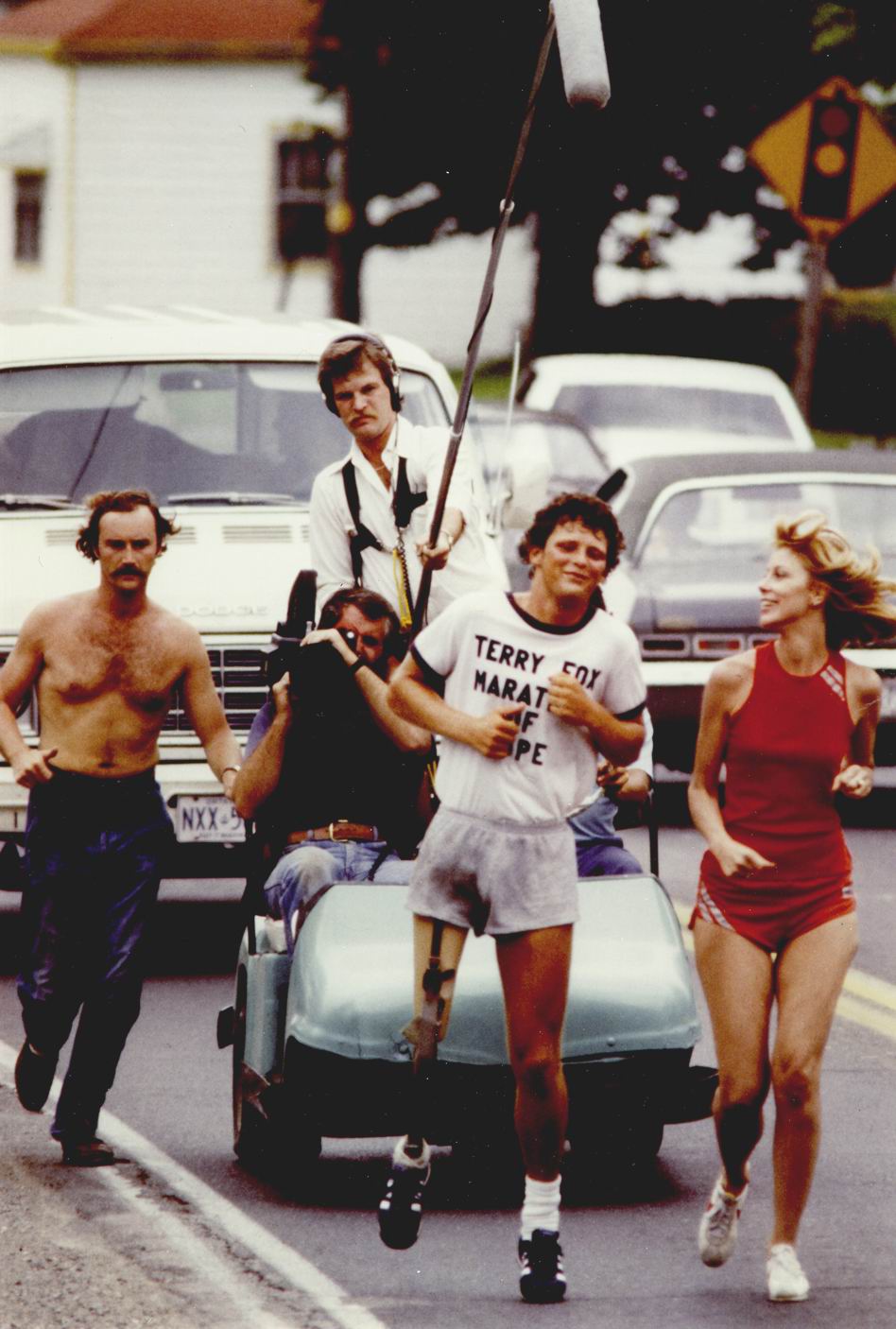 Four decades after John Brunton ran alongside Fox during the Marathon of Hope, Insight Productions is revisiting the seminal event and its enduring legacy.
Forty one years ago, John Brunton ran alongside Terry Fox during an event that has become part of Canada's cultural fabric.
The Insight Productions chairman, CEO and executive producer (pictured left, with Fox in the centre) was producing and directing a U.S. television show called Real People, a series often labeled as a precursor to the eventual arrival of reality TV in the late 90s and early 2000s. At the time, it was one of the most popular shows in the U.S., often garnering audiences in excess of 30 million viewers.
The special episode charted Fox's attempt to run 26 miles each day in his Marathon of Hope, which was cut short when he received the news that the cancer has spread to his lungs while on route to Thunder Bay. Over the course of 143 days between May and August of 1980, Fox ran more than 5,300 kilometres before he was forced to stop. He passed away in June of 1981 at the age of 22.
"I had the good fortune of spending time with Terry when he started his run across the country. I was a young kid when all that started, and to be able to revisit that and contribute again is just an incredible honour," Brunton told Playback Daily. "There's a generation who don't and won't know the story in quite the way we're going to tell it on August 9."
Down the years, Brunton has been involved in various screen-based retellings of Fox's story. The latest, Terry Fox: The Power of One, set to air tonight on CBC and CBC Gem, sees the pubcaster partnering with the Terry Fox Foundation and Boat Rocker Media-owned Insight.
It will feature musical performances by Alessia Cara, Tom Cochrane and William Prince along with several special appearances by celebrities and public figures including Prime Minister Justin Trudeau, Catherine O'Hara, Rick Mercer, Lloyd Robertson and hockey players Hayley Wickenheiser and Sidney Crosby.
Insight Productions SVP, showrunner and exec producer Lindsay Cox said that CBC were immediately interested in the project during an early meeting with Barb Williams, Sally Catto and Jennifer Dettman. The one-hour special was initially planned to coincide with the 40th anniversary of Fox dipping his artificial leg into the Atlantic Ocean in St John's, Newfoundland, as his Marathon of Hope got underway. However the onset of the pandemic meant production wasn't possible last summer.
Like so many Canadian production outfits, Insight has become a well-oiled machine when it comes to filming under COVID guidelines. There were certainly pivots made along the way though, says Brunton.
"When we recognized we weren't going to be able to have a live audience, we embraced doing something much more intimate, and perhaps something a little more heartfelt and emotional."
The goal of the special is to raise $38 million – $1 for every Canadian. For nearly two decades, Insight Productions has worked pro-bono on projects and live events close to the company's heart. Terry Fox: The Power of One is one of those projects. Others include 9/11 benefit show Music Without Borders, Young Artists for Haiti, One World: The Concert for Tsunami Relief, Stronger Together, Tous Ensemble and the Concert for SARS Relief.
"It's a nice balance to some of the more commercial projects that we're also very famous for doing," said Brunton.
While the number of COVID cases has been relatively low for the past two months, Cox and Brunton say they are continuing to create contingency plans in the event that social-distancing measures increase once again in the fall.
"In our look-ahead, we do have some live events in the fall, so we are looking at how we create those events to embrace what's happening at the time. We've been creating two shows so that we don't lose the opportunity for these shows to happen," said Cox.
On the responsibility of telling the Terry Fox story to a new generation of Canadians, Brunton said "there is a lot of pressure, in a sense, because he is held in people's imagination. He was a very determined, shy and polite young man and his legend has only continued to grow."
Brunton recalls the image of Fox when he would take breaks from running to get hydrated and use the bathroom before going back out on the road. "He was sat there and he took off his artificial leg. There was a pool of blood in the bottom of it. I couldn't believe that he had another 12 miles to run that day and a leg that was bleeding into his false leg," said Brunton.
"He strapped it back on to continue running. I was on the verge of tears – he just blew me away. I couldn't believe his determination and bravery. And I couldn't believe that as he was waving to people and smiling, considering the pain he was going through. But I would've bet my house, everything I had that he would make it to Vancouver. As it turned out, luck wouldn't have it and it stopped. It's a tremendous honour to have the chance to do this."