Virtual stage for short-term projects set to open in Toronto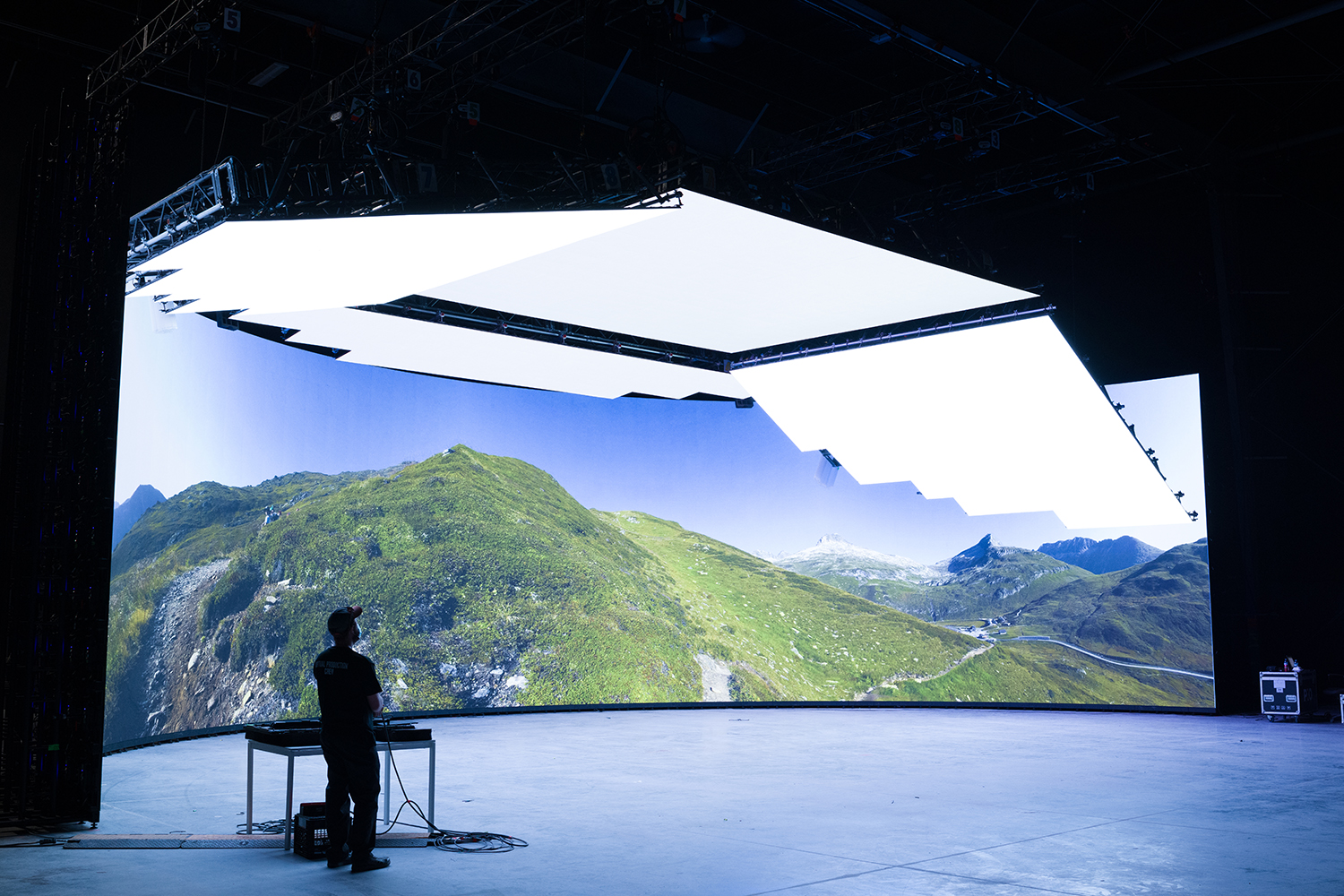 The location, built "for productions of all sizes," is the first of two stages to open in 2021 as part of the $30 million partnership between William F. White International and Pixomondo.
William F. White International (WFW) and Pixomondo (PXO)'s virtual production stage in Toronto will officially open its doors next month.
The new installation (pictured), set to open on Aug. 3, is known as Stage 6 and located at Toronto's Port Lands district. The stage measures at 16,100 square feet, with the semi-circle LED volume measuring 62 feet across.
Stage 6′s ceiling consists of four dynamic modular sections which have the ability to move independently or as a single unit to offer more flexibility for lighting, and is "one of the only stages in the world" equipped with the feature, according to a WFW and PXO.
The volume is designed for short-term film and TV shoots, as well as commercials, as opposed to multi-month bookings for large-scale productions. It will also create "ample training opportunities for content creators wishing to enter this emerging space."
The location is close to PXO's Toronto office at Revival Studios, WFW owner Sunbelt Rentals and WFW's Toronto head office.
WFW and PXO struck a $30 million partnership earlier this year for a multi-year commitment to build virtual production volumes across Canada, beginning with facilities in Ontario and B.C. Construction on a virtual stage in Vancouver, expected to be among the largest in the world, is expected to complete in September. The companies plan to build additional facilities across Canada starting in 2022.
Pixomondo opened its first virtual production stage in Toronto earlier this year, backed by Mayfair Equity Partners, alongside Epic Games' Unreal Engine, LED manufacturer ROE Visual and Nvidia.
WFW Studios manages over one million square feet of production studio space, according to its website, which includes more than "30 sound stages and mixed use high-ceiling warehouse space across 12 facilities."
"We are dedicated to virtual production and see it as an integral part of the future of filmmaking," says Garin Josey, EVP and COO, WFW, in a statement. "This new volume, located in the heart of Toronto, will continue to fuel growth in content creation and provide opportunities for productions of all sizes to utilize this emerging technology. By making this level of investment in virtual production, we are strategically positioning ourselves for the future, while clearly demonstrating our ongoing commitment to the industry through the creation of new jobs and opportunities in this space."
"Our government is committed to the success of Ontario's film and TV industry, with a focus on increasing production capacity and creating even more jobs in the creative industries as we emerge from the COVID-19 pandemic," says Lisa MacLeod, Minister of Heritage, Sport, Tourism and Culture Industries. "Developments like this will showcase our cutting-edge innovation, attract world-class talent, and boost Ontario's competitive status on the global stage."