Reel One Entertainment's production SVP steps down to launch new shingle
Gilles Laplante, who spent 12 years overseeing a massive slate of Canadian-content TV movies, will focus on independent features, TV series and MOW-style projects through Kabinet Productions.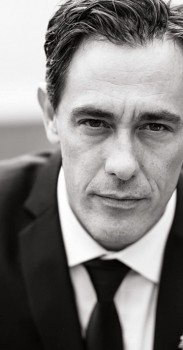 After 12 years heading up Reel One Entertainment's vast production operations, Gilles Laplante is stepping down to launch his own production company.
B.C.-based Kabinet Productions will focus on independent features, TV series and MOW-style projects, the latter of which Laplante produced in abundance while at Reel One.
During his 12-year tenure as the company's SVP of production, Laplante oversaw a mammoth production slate of around 30 Canadian-content television movies. Over the past year, he oversaw production on 27 MOWs in B.C. alone.
He was also central to expanding Reel One's production operations into other markets beyond B.C., including Toronto, L.A., New Mexico and Atlanta. His final day with Reel One was June 30.
The veteran production executive tells Playback Daily the decision came from wanting to branch into series and independent feature films. And, like many producers who strike out on their own for the first time, he realizes the challenge will be a significant one.
"The international marketplace right now is impressive in terms of opportunities, with the various streamers and broadcasters expanding the genre of movies they're looking at. It's a really exciting time to be an independent producer," he said. "It's also a risky and life-altering step but I hope it's the right one."
Among the projects on the docket for Kabinet Productions is 85 Grams, based on Daryl Ashby's book 85 Grams: The Story of Art Williams – Drug Czar. The series, which is based on a true story, explores one of the largest drug investigations ever undertaken by the Canadian government.
Laplante is working to break story with several writers and will begin pitching the project over the summer. The ideal budget for the project is around $20 million, he said.
In addition, Kabinet Productions is producing Christmas Alone Together for Hallmark, with the holiday MOW scheduled to begin filming next month. The newly launched production company has several other projects in development, according to Laplante.
His departure from Reel One comes as the Montreal-based company continues to experience significant growth and international investment. Two years ago, Paris-based production company Newen acquired a majority stake in the company. Last month, A+E Networks revealed it had purchased a 35% stake in Reel One.
Laplante says he is excited to go back into start-up mode with the launch of his new shingle. "If we look back on the beginning days of Reel One, it was a smaller company, producing around six movies a year. I really enjoyed that level of production, and while I wouldn't shy away from building out [Kabinet Productions] to occupy multiple markets, I enjoy that small-team feeling, very centralized leadership, and a lot less managerial overlap. It's harder work but there's a craft to it that's really special to me."