QFTC names veteran Quebecor exec as new president and CEO
International acquisitions VP Christine Maestracci will take over from outgoing CEO Pierre Moreau, who departs the post on Sept. 1.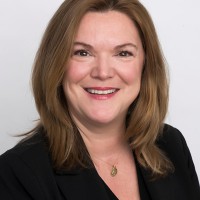 Christine Maestracci has been appointed as president and CEO of the Quebec Film and Television Council (QFTC), which promotes the province's audiovisual industry worldwide.
Effective Aug. 23, the former Quebecor Content exec will assume leadership of the non-profit, taking over from outgoing CEO Pierre Moreau, who announced his decision to leave the role last month. Moreau will oversee Maestracci's transition before departing on Sept. 1.
Maestracci most recently served as VP, acquisitions and international distribution at Quebec Content, a role she held since early 2020, leading a team scouting for content across all major genres. Her responsibilities have included international acquisitions for French-language broadcaster TVA Group and SVoD service Club Illico as well as global distribution of the company's original content and formats. Before then Maestracci was senior director of acquisitions. She also served as director of legal affairs at Quebecor Media.
Maestracci is currently the head of the board of directors of Femmes du cinéma de la télévision et des médias numériques – the Quebec affiliate of Women in Film & Television International (WIFTI) – which advances achievement and professional development for women working in all areas of film, television and digital media
Moreau has served as CEO of the QFTC since 2016 and was previously managing director and national commissioner, after boarding the organization in 2014.
"I am leaving with a sense of accomplishment, having headed the Council with sensitivity and passion by helping, with the members of the QFTC's governance committee and the entire QFTC team, to establish an ambitious development agenda and by initiating fundamental discussions on future-focused topics," said Moreau in a statement. "I would like to thank our political and institutional partners for their invaluable trust, members of the business community for their support and their involvement on our committees, our board of directors for its dynamism and sound advice, as well as the fantastic team at the QFTC."
The QFTC promotes Quebec as a a competitive production hub on the international stage and works to develop the province's growth in the screen sector.
Last month, the organization revealed that the province was rebounding after it saw close to a 50% decline in foreign productions in 2020 compared to 2019 ($189 million compared to $360 million in economic benefits). The visual effects fell to $390 million last year compared to $622 million the year prior. The animation sector saw a 22% increase in the number of FTE jobs during the pandemic and border shutdown.