In brief: Encore+ hits a viewership milestone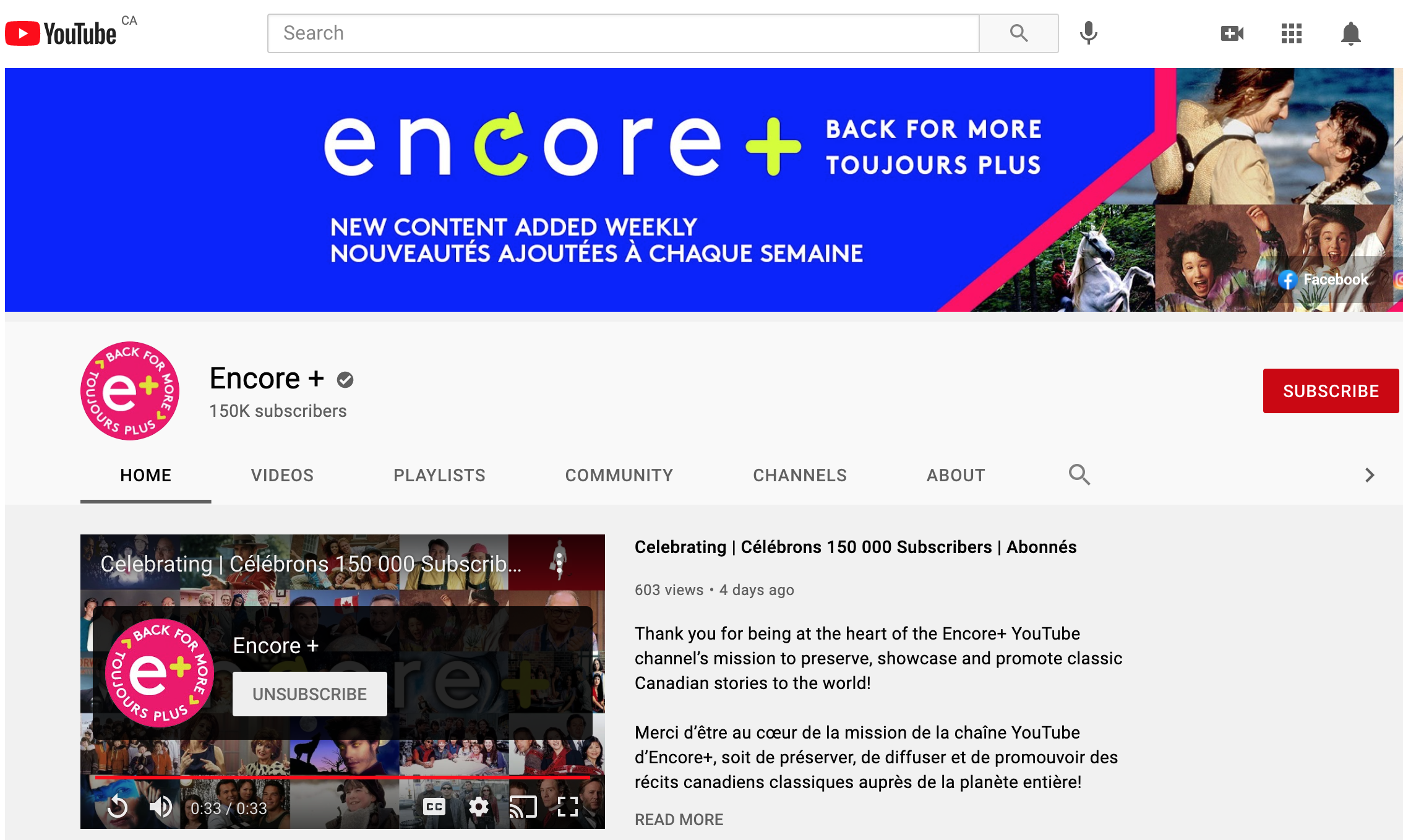 Plus: The Future of Film Showcase announces its 2021 lineup on CBC Gem, AMI produces parasports series in the lead up to the Tokyo Paralympics and Cream Productions premieres latest VR project.
Encore+ hits a milestone
Cancon-focused YouTube channel Encore+ has now racked up more than 40 million views and 150,000 subscribers. The channel, launched in 2017, showcases feature films, docs and TV series from the past and makes them free to audiences internationally. According to the Canada Media Fund (CMF), which launched the platform in partnership with YouTube Canada as well as producers, distributors, broadcasters, unions, guilds and industry associations, about 50% of the channel's viewership comes from outside Canada currently.
"Resulting from the channel's increasing popularity, rights holders are monetizing, preserving and relicensing their legacy titles to new streaming platforms. New generations of Canadians, and audiences worldwide are rediscovering and connecting with important Canadian stories, comedies and childhood classics," said CMF president and CEO Valerie Creighton in a statement.
TV projects resold or relicensed as a result of promotion, digitization and distribution through Encore+ include season one of WildBrain's Are You Afraid of the Dark (relicensed by Crave) and Rhombus Media's Slings & Arrows (relicensed by CBC Gem). Gem has also relicensed Mind's Eye Entertainment's The Englishman's Boy, eOne's Due South and Omnifilm's Edgemont. Films relicensed or resold include VOS Productions' I've Heard the Mermaids Singing (licensed by Film Associates International) and Rhombus Media's Thirty Two Short Films About Glenn Gould (licensed by Criterion Collection).
The Future of Film Showcase announces 11 titles for lineup
The Future of Film Showcase has unveiled the lineup for its 8th annual edition, running July 9 to 22. All 11 short films selected will have their broadcast premiere on CBC Gem thanks to the festival's continued partnership with the pubcaster's streaming platform, now in its second year. The festival will also launch an industry program throughout, beginning with a keynote with Superbad screenwriter Evan Goldberg.
Among the selections for 2021 is Anya Chirkova's Flower Boy, serving as its Canadian premiere, Max Shoham's Sophie and Jacob, which will be its first festival screening, and Elian Mikkola's Aries, which will mark its first run outside of Quebec. The Ontario premieres are Nisha Platzer​'s Tulips are my father's favourite flower; Qiuli Wu's Sunken Cave and a Migrating Bird; Ella Morton's Kajanaqtuq; and Aziz Zoromba's Faraway. Additionally, Bruna Arbex​'s This is a Period Piece will have its Toronto premiere. Rounding out the selections is ​Kourtney Jackson's Wash Day, Callahan Bracken's My Head Aches When I Look too Long and Rebeccah Love's Parlour Palm.
AMI-tv to premiere new original series ahead of Paralympics
Accessible Media Inc. (AMI) has produced new original series Beyond the Field on the world of parasports ahead of the Paralympic Games in Tokyo. Premiering on July 12 on AMI-tv, the series will see hosts and Paralympians Greg Westlake and Travis Murao discuss core topics with new guests each week, including diversity, mental health and recruitment. The series comes with a companion podcast Beyond the Field: Uncut, which features extended conversations. All episodes are available with Integrated Described Video (IDV) for audience members who are blind or partially sighted.
Cream Productions weaves Dark Threads
Toronto's Cream Productions has produced a new virtual reality (VR) drama Dark Threads for Oculus Rift and HTC Vive, set to release on Steam on July 22. The interactive drama – which includes multiple endings – is set in a futuristic world where humans can upload their consciousness into an AI; playing as the game's avatar, portrayed by actor and executive producer Dominic Monaghan, users will need to piece together their lost memories after an upload goes wrong. Other executive producers on Dark Threads include Cream Productions CEO David Brady, president Kate Harrison Karman, and head of digital Johnny Kalangis, as well as Andrew MacDonald, Dan Magnus and Tristan Cezair. Cream Productions is currently in development and production on projects with filmmaker Eli Roth and survival expert Les Stroud.