Can the exhibition business survive in a day-and-date world?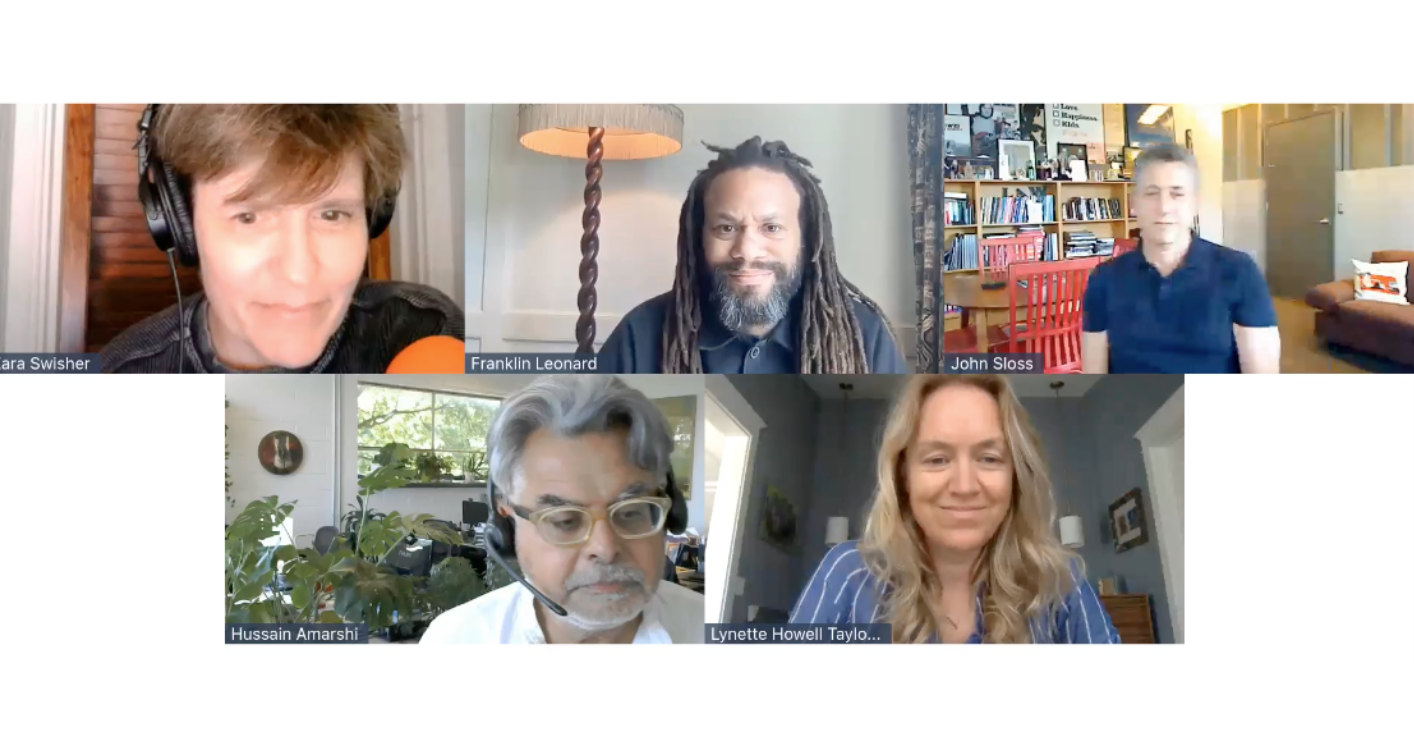 BANFF '21: Film experts debated how exhibitors should evolve the theatrical experience to retain cinema-going audiences in a collapsed-window world.
The exhibition industry will need to adapt significantly if it is to survive in a world where feature films are released simultaneously in theatres and on streaming services. That's according to film experts who gathered this week at the Banff World Media Festival (BANFF) to discuss the global film industry's future.
The panel, titled "Window into the 'Feature': the new strategies for releasing films," saw panelists unpack the impact of the shift to streaming – and the major impact that is having on the economic models that have historically sustained the film sector. Namely, bums in theatre seats.
The panel featured Mongrel Media president and founder Hussain Amarshi, 51 Entertainment founder Lynette Howell Taylor, Black List founder and CEO Franklin Leonard and Cinetic Media founder John Sloss. New York Times opinion writer, and Sway podcaster, Kara Swisher – "Silicon Valley's most feared and well liked journalist" – moderated the discussion.
"How theatres survive in a day-and-date universe… we will see," said Cinetic's Sloss, a lawyer who has produced or executive produced over 50 films including the Academy Award-winning The Fog of War, Boys Don't Cry and Boyhood. 
While day-and-date releasing strategies have been employed for around 15 years, Sloss argues that Warner Bros.' decision to release its entire 2021 film slate simultaneously in theatres and on streamer HBO Max has "ripped the Band-Aid off" when it comes to long-held norms around movie releases. (It should be noted that this was a U.S.-specific strategy, and does not apply to the Canadian market, where Warner Bros. films still adhere to a specified theatrical window before moving to Bell Media's Crave.)
The theatrical exhibition industry will need to evolve to survive, said Sloss. And one crucial aspect of that will be to offer better viewing experience for cinema-goers.
"I've always felt that rather than enforcing a 90-day window, theatres should focus on the theatrical viewing experience. Make it attractive enough to get people to leave home, rather than forcing them to try and leave home to see something they can't see [elsewhere].
Mongrel's Amarshi agreed, adding that it's not a given that all the exhibition companies will survive the next year.
Canadian independent film distributor Mongrel Media, founded in 1994, and exclusive distributor of Sony Pictures Classics films in Canada, recently launched its own subscription streaming service. Mongrel Home Cinema was launched partnership with New York-based Magnolia Pictures and is available solely to Canadian audiences.
"The whole cinema experience will have to be reimagined, really. Whoever survives… that's another question… how many of the cinemas will survive? We'll know in six months. I don't think we'll know right away," he said. "But the reality is that they will have to change the experience for the consumer."
Howell Taylor – producer of A Star is Born directed by Bradley Cooper and The Place Beyond the Pines and Blue Valentine with Ryan Gosling – cautioned that if the theatrical experience does evolve, it needs to advance in a way that doesn't become cost prohibitive for certain sections of society. "Who are you pricing out of being able to go and experience movies?" she said.
While the in-cinema experience may be in need of an overhaul, that doesn't change the crucial importance of theatrical releases to distributors, added Amarshi, in building audience, buzz and downstream revenue opportunities for a film.
"For us, the windowing allows for certain films to really take off and you can monetize it at several levels," he said, citing South Korean hit Parasite as an example of a movie that generated impressive revenue on the back of its theatrical release – far greater than it could have achieved if it had been released day-and-date.
"There is absolutely a significant role for cinemas to build cultural capital for certain films. The economics of it, in a collapsed-window world, will be something hard to figure out."
Black List's Leonard pushed back on Amarshi's point, arguing that there may be other ways the film industry can monetize its releases, without being so averse to the day-and-date model.
"When we do have day-and-date release, are we able to monetize in a different way to create a cultural conversation in a different way and extend that cultural conversation over time?" asked Leonard, arguing that the film sector needs to "unwind everything we've done" in order to create business models that reflect the realities of today's viewing landscape.
One of the roadblocks to finding new and innovative releasing strategies is the closeness with which streaming services guard their viewing data, said Leonard.
"It's important that we're honest about the fact the companies that are making and now distributing films via streaming, in a hybrid model, are able to keep certain information private in a way that they weren't about box office numbers," he said. "That makes it impossible to have an honest conversation about whether they are optimizing for film culture, for profit or optimizing for something else."
Exactly what this all means for the future of independent features is undecipherable, says Amarshi. But what is crystal clear is that the business climate for distributors and the broader indie-film ecosystem is challenged right now.
Given that Netflix is producing between 70 and 80 films a year, and competing – and outbidding – traditional distributors in markets like Cannes or Sundance, Amarshi says "they're basically cutting out the middle players. There's not that much room for us in that universe."
In a final, rapid-fire round, Swisher asked the panelists to identify winners for the future – and those who are in trouble.
"The independent film business is in trouble, and we'll see in the next year or so how things evolve. But I think we are definitely in trouble," said Amarshi.
Sloss said he believes the "most valuable person is the infinitely scalable storytellers. The digital world has empowered and given all the tools for control to people to own their own stories and to disintermediate the middle man and go directly to their audience. And I think the next few years will see that developing to an even greater extent," he said.
Leonard meanwhile said those facing the biggest challenges in the years ahead are "the very large percentage of senior leadership in the industry who has their job not through merit but through the legacy of a structure that they created, as self-preservation."
"If you benefit from a sub-optimal structure as the structure moves to optimize, you are going to lose. And you won't be able to protect yourself because you're not fit for the job that you already have," he said.