Canada's screen leaders look to content-focused future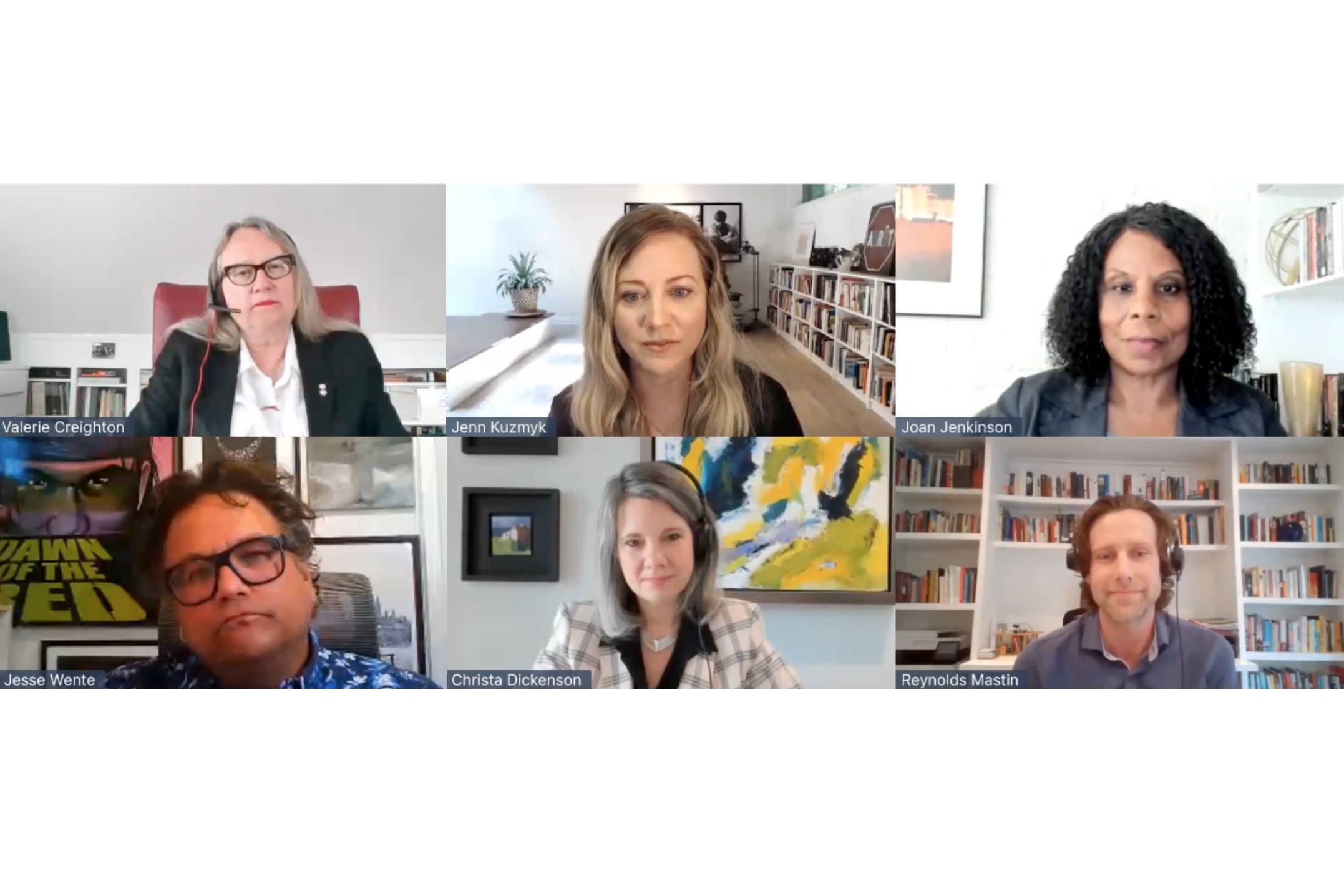 BANFF '21: The heads of CMF, Telefilm, BSO, ISO and the CMPA share their view of a platform-agnostic and creator-first future for Canada's media industry.
Canada's screen-based industry is on the brink of reformation with the potential passing of Bill C-10 and the push for racial equity, with leaders viewing a platform-agnostic and content-focused media ecosystem that puts creators first as the way forward.
"There is no going back to how things worked pre-pandemic," said Val Creighton, president and CEO of the Canada Media Fund (CMF), at the Banff World Media Festival on Friday (June 18), as part of her remarks on the crown corporation's What We Heard report.
Creighton was joined by high-ranking industry leaders in a session titled "State of the Nation: Canadian industry at a crossroads," moderated by Jenn Kuzmyk, executive director of BANFF and publisher of Playback. Other panelists included Telefilm executive director Christina Dickenson; Black Screen Office (BSO) executive director Joan Jenkinson; Reynolds Mastin, president and CEO of the Canadian Media Producers Association (CMPA); and Jesse Wente, executive director of the Indigenous Screen Office (ISO) and chairperson of the Canada Council for the Arts.
The What We Heard report – released on Thursday (June 17) – outlines the core recommendations for the CMF following its national consultation, and reflected a cross-industry call for broader funding triggers and increased support for Canadian-owned IP.
The call to support creatives was the focus of the panel, which considered how Canada can best position itself to thrive in the fast-changing global media landscape. According to Jenkinson, creating an equitable system is a core component and could position Canada as a global leader on the "advancement of racial equity."
The optimism came with a warning from Jenkinson that the industry has yet to see "the full picture" of the roots of systemic discrimination, and the possibility of "diversity fatigue" could slow progress.
Wente said the work needs to come from the very top – at the level of government – to truly push lasting change. He noted that while the government did provide $40.1 million in funding to the ISO over the next three years, that amount was half of what was asked for.
"[The government and its institutions] need to invest in the futures of First Nations, Inuit and Métis with the same vigour, abundance and precision in which the investment was made to take our futures from us," he said. "If we were to add it all up, that's a multi-billion dollar generational effort that needs to occur."
Both the ISO and the CMF have an eye to use platform-agnostic practices to support Canadian creators. Creighton said the commission crunch in Canada has created a bottleneck in the funding system where they're oversubscribed and unable to support the level of domestic talent. For example, while documentary producers are often able to line up support from international broadcasters, a lack of a Canadian co-commissioner limits their access to CMF funding.
On the film side, Dickenson says Telefilm plans to modernize its framework to become "naturally inclusive," with a focus on collecting needed data on diversity. They've started with a complete overhaul of what key performance indicators are – which was previously reflected in the Success Index – and put more focus on discoverability.
The CMPA's Mastin noted that he was encouraged by discussion around "codes of practice" by both the CRTC and the CMF, and the interest in protecting Canadian-owned content. "IP is the currency of the 21st century and we need to make sure our Canadian currency is meaningfully maintained here because that's what builds companies and builds industries," he said.
Mastin added that the conversation around Bill C-10, particularly around bringing digital media giants into the regulatory system, has shown that Canada's screen-based industry has plenty of leverage in the debate. More specifically, he pointed to both the way industry players have found common ground in the push to get the bill passed and the decision from streamers such as Netflix and Amazon to appoint domestic content executives.
"That we have these openings happening at the exact same time that we have a bill being debated in Parliament that would bring those players into our system should tell us something," he said. "The mere possibility of regulation suddenly leads up to receiving a little more TLC from Silicon Valley and Hollywood, and we shouldn't underestimate that."
Both Jenkinson and Wente pointed out that the media giants have been a welcome addition for many creators in the industry, especially as the global market continues to recognize the good economics of supporting diverse perspectives.
"I think it's a wake-up call for our domestic industry to realize that historically marginalized communities might be attracted to new players because they haven't been saying no to us for generations," said Wente. "If you want our storytellers to be as attracted to your destination, then it's time to start doing business with us so that we don't seek foreign players who are actually coming to us."
BANFF continues until July 16.
Pictured (L-R): Valerie Creighton, Jenn Kuzmyk,  Joan Jenkinson (top), Jesse Wente, Christa Dickenson and Reynolds Mastin (bottom).