Stories First options Canada Reads champion Jonny Appleseed
The Vancouver-based production company will adapt Joshua Whitehead's award-winning Indigiqueer novel into a four-part miniseries.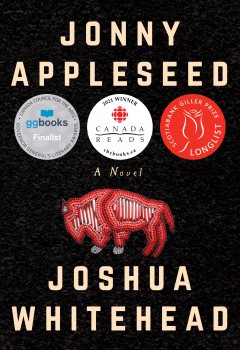 Vancouver-based prodco Stories First has optioned the rights to author Joshua Whitehead's bestselling novel Jonny Appleseed, the winner of CBC's 2021 Canada Reads competition.
The award-winning Indigiqueer novel will be adapted for a 4 x 46-minute miniseries under Stories First CEO and producer Leena Minifie.
Jonny Appleseed, published by Vancouver's Arsenal Pulp Press, is a coming of age novel about a two-spirit and queer Indigenous youth who leaves his reservation with his two closest friends to explore life in a bustling city. It is the debut novel from Whitehead, an Oji-Cree/nehiyaw, two-spirit and Indigiqueer member of Peguis First Nation.
The novel was shortlisted for the Governor General's Literary Award, longlisted for the Scotiabank Giller Prize, and won a Lambda Literary Award.
Mohawk actor and filmmaker Kawennáhere Devery Jacobs championed the novel at the Canada Reads debate, where it competed against Two Trees Make a Forest by Jessica J. Lee, The Midnight Bargain by C.L. Polk, Hench by Natalie Zina Walschots, and Butter Honey Pig Bread by Francesca Ekwuyasi.
"We are thrilled to be partnering with Joshua and Arsenal Pulp Press to bring Jonny to the screen," said Minifie in a statement. "This story has already resonated with people across the country and is one we are honoured to bring to an even wider audience. As an Indigenous-owned and operated production company we aim to honour the reimagining of Jonny."
The deal was negotiated by Arsenal Pulp Press president Brian Lam, the CookeMcDermid Agency's Paige Sisley and Stephanie Sinclair and Minifie for Stories First.