CMF's What We Heard report underscores industry calls for overhauled funding model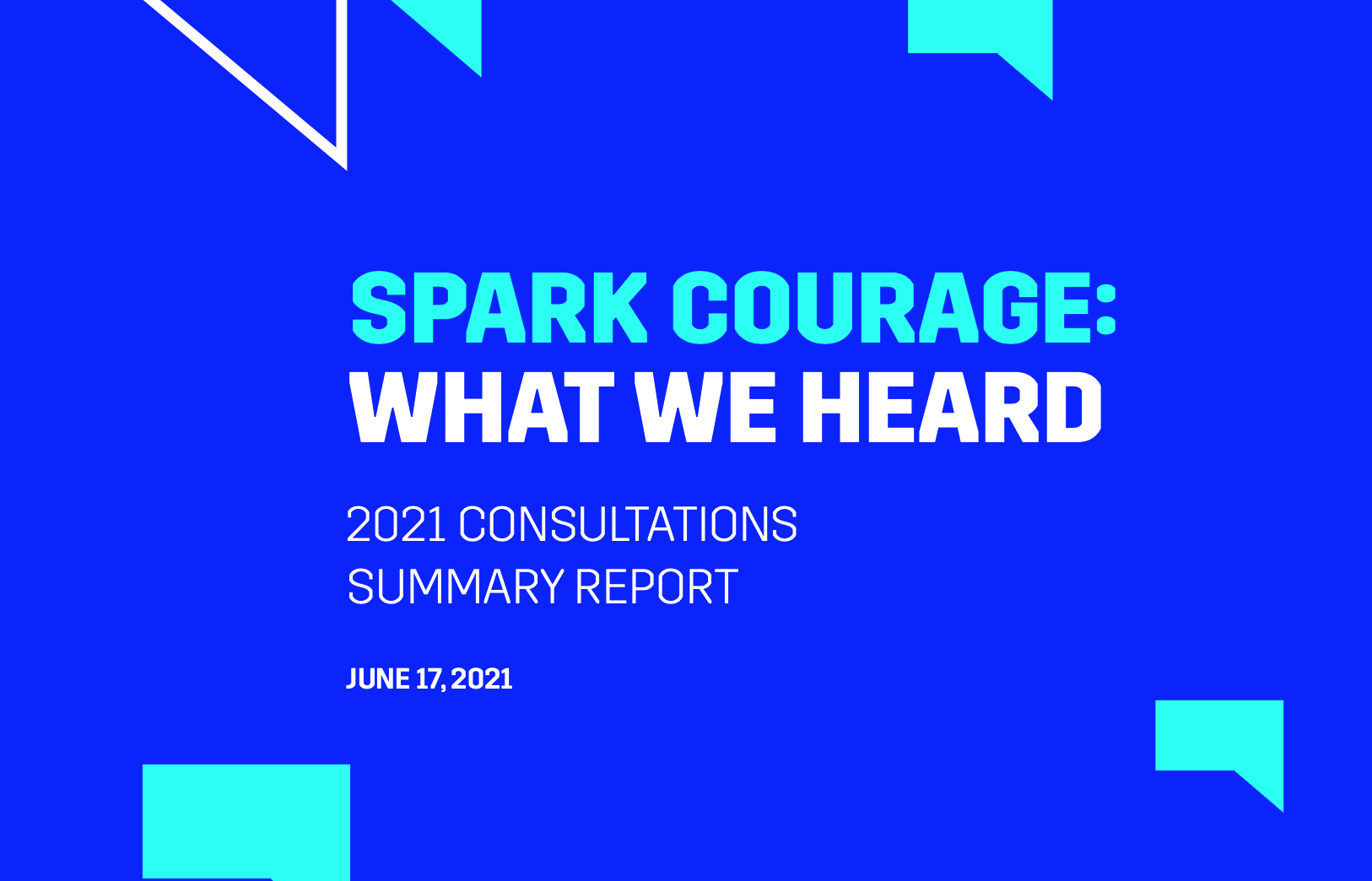 Feedback received included the need for expanding funding triggers, a broadening of CMF's funding remit to include genres such as reality, lifestyle and game shows, and better support for the retention and monetization of Canadian IP.
The findings are in. The CMF released the Spark Courage: What We Heard report on Thursday (June 17), a 27-page document that summarizes the results and recommendations of its 2021 consultations.
Feedback received by the CMF included: the need for expanding funding triggers that aren't so reliant on broadcaster commitments; a broadening of CMF's funding remit to include successful genres such as reality, lifestyle and game shows; and better support for the retention and monetization of Canadian IP.
Each year the CMF consults with industry insiders on its ongoing programs. However this year with the introduction of Bill C-10 and the ongoing pandemic (which has fast-tracked digital and streaming viewership habits), the CMF held its most ambitious consultations yet. Through virtual townhalls, roundtables and written submissions, the fund heard from nearly 1,000 participants representing a variety of stakeholders including those from Indigenous, Black and racialized communities across the country.
"The realities facing the industry today were front and centre on everyone's minds. What we heard is deeply encouraging. The CMF and the industry are well aligned in key areas, on the need for greater flexibility and the urgency for change to our program model," said Valerie Creighton, CMF president and CEO in a release.
Creighton will speak further on the report at the Banff World Media Festival's State of the Nation: Canadian industry at a crossroads session on Friday (June 18) at 3 p.m. EDT.
Through the feedback it received, the CMF is working on a new program model in conjunction with the government and key industry partners. Changes are expected to begin as early as next year, with full implementation on the new model occurring in the next two years, minimum.
"The ideas and diversity of perspectives of so many creative and determined professionals and companies will serve the industry well, as we chart a path forward to support the sector," Creighton continued. "We're most appreciative to all who participated. The vote of confidence you have given us will strengthen our work and we are on solid ground as we move forward."
As it works on program changes, the CMF revealed 15 main takeaways from the consultations that it plans on analyzing and pursuing in the coming months. In addition to broadening market factors and increasing funding in the IDM sector, streamlining application processes, reconsidering recoupment and using partnerships to collect/share more data and grow the industry, here are some more details of key recommendations:
Broaden market triggers and factors: linear sector
Many participants agreed the current single-trigger model, which is centred on Canadian broadcasters, no longer works in a digitalized and global market. Furthermore, Indigenous, Black and racialized communities agreed the current single-broadcast trigger is a systemic barrier to accessing funding.
As the industry explores new potential triggers (including Canadian distributors, Canadian streamers not affiliated with a broadcaster and the education sector), it will also explore safeguards to maximize benefits to Canadian stakeholders (including IP retention and monetization, and revenue sharing). During the early stages of funding and development, "many participants were in favour of a 'no-trigger' approach with direct access to funding for writers, directors or producers," reveals the report.
Increase funding to early-stage IP development and prototyping
In order to grow and sustain Canadian IP in linear and IDM sectors, participants revealed the importance of early-stage funding during conceptualization, predevelopment, development and prototyping. According to the report, the lack of funding at this stage was consistently identified as a challenge by participants at all 17 of the virtual consultation sessions held in March and April. "Contributors noted that development is a high-risk process, with many projects never moving into production," notes the report.
Consider expanding support to more genres
Under current guidelines, CMF supports linear content across drama, documentary, children's and youth, variety and performing arts. In addition to continuing support to those ventures, the report recognizes the need to expand upon those genres in the coming years. As such it will consider supporting original Canadian IP in other successful genres like reality, lifestyle and game show.
The report also outlines the need to expand the amount of funding for current genres. Indigenous creators and member associations in Quebec reported underfunding, and cautioned that further genre expansion without a financial boost could result in the "potential dilution of support to the current genres."
Keep, or change, CAVCO scale (10/10): linear sector
The general consensus from the consultations was that the CMF should maintain its focus on Canadian-created content. However there were varying opinions when it came to the Canadian Audio-Visual Certification Office (CAVCO) scale.
Some argued for the retention of the 10/10 requirement in order to ensure the health of the industry. Others argued for more flexibility or exceptions in order to broaden partnership and co-financing opportunities. Some suggested the current U.K. plan for British content as a potential model. Those from racialized communities also suggested greater flexibility in the scale, particularly when it comes to cast, in order to work with other racialized creators in the U.S. and "countries in the Global South with which there are no coproduction treaties or for projects with budgets that are too low to trigger a coproduction."
Invest more in production projects and marketing
Many argued for an increase in production project funding in order to remain competitive and boost production values while supporting Canadian IPs. Injecting more funding into such projects will also allow the money to be used for its intended purposes (like producer fees and tax credits) rather than being reinvested into production.
In Quebec, the AQPM also proposed that 40% of funds should be dedicated to expensive genres such as drama series rather than the current one-third/two-thirds funding split between French and English markets.
Better support the retention and monetization of Canadian IP, and the fair distribution of its value
Many participants felt as though the CMF should play a larger role in the safeguarding and support of Canadian IP retention given how the globalization of media is impacting linear and IDM sectors (streamers acquiring all rights, for example). Doing so would allow Canadian companies to build up IP and generate new revenue streams, ensuring the benefits flow back into the country's industry.
"Contributors noted that IP value retention, beyond copyright retention, was a key dimension to consider in measures to safeguard Canadian control of IP," adds the report. Adding criteria and requirements in program guidelines, dedicating initiatives to groups facing systemic barriers, and including distributors as a trigger for CMF funding were all cited as examples on how the CMF could play a larger role.
Explore support options beyond project-by-project funding
Many expressed interest in expanding on the current COVID relief fund as an example of a model that the CMF can build upon in order to create additional avenues of support. Rather than continue to focus on a project-by-project mandate, participants were interested in exploring more opportunities for both IP-focused funding and company-focused funding in the future.
"Early-stage slate funding for IP (in conceptualization/ideation, predevelopment, development, prototyping) was the most widely recommended measure across all sessions and submissions by creators, producers and developers, industry associations, funders and distributors," notes the report.
Foster greater alignment of the funders that support the industry
Participants revealed that a better alignment between the various funding arms in the Canadian infrastructure, including the CMF, would help to streamline the application and reporting processes for applicants while ensuring efficient and complementary funding.
Some suggestions included standardized budget templates, regular check-ins between funders, closer concentration on program design and data/metrics, and funder partnerships on international and equity focused programs.
"A large number of contributors noted that two key elements of Canada's funding infrastructure—tax credits and interim financing— are particularly problematic," reveals the report. "While recognizing that neither are within the CMF's control, they urged funders and industry organizations to work together to expedite tax credit disbursement."
Achieve permanent structural change by using a holistic equity and inclusion lens
In order to ensure that the new program model will remove existing barriers to Black, Indigenous and racialized communities, participants vocalized the need for continued access to the programs their communities need and called for a bridge to other CMF programs. It is important for these communities to retain ownership and control of their IP, but they also need more investment (as noted elsewhere in the report).
"Organizations that support equity-seeking groups continue to be underfunded and need ongoing support to continue to work on development and capacity building within their communities," says the report. "The CMF has funded some organizations representing racialized stakeholders recently, but their future is precarious without core support to bring them through the first years of operations. The CMF should undertake partnerships with these and other stakeholder organizations to support long-lasting change.
"Finally, the CMF must continue collecting data to monitor funding disbursement and explore ways to incentivize other stakeholders (especially broadcasters and other funders) to continue making space for content from these communities."