In brief: New podcast series goes behind the scenes of Canadian film
Plus, Sherry Media Group is gearing up for the second instalment of The Impact Series, and the Governor General's Performing Arts Awards 2021 set for one-hour broadcast on CBC.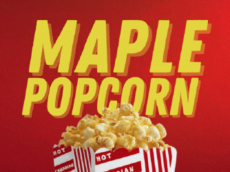 Telefilm partners to launch Canadian film-focused podcast
Maple Popcorn, a six-episode podcast that gives a behind-the-scenes look at the Canadian film industry, launched earlier this week. Produced by The Brand is Female with Telefilm as a partner, the weekly podcast is hosted by entertainment reporter Marriska Fernandes. Guests include Kim Coates, Mary Galloway, Thyrone Tommy and Clement Virgo, as well as Adam MacDonald, Colm Feore, Gloria Kim and Tracey Deer. Of the series, which is available on Apple Podcasts, Spotify and other major podcast platforms, Christa Dickenson said it "further elevates our support of Canadian storytellers while providing a deeper connection for audiences to our incredible talent."
Sherry Media's Impact Series returns for second instalment
The Sherry Media Group is gearing up for the second instalment of its speaker series, The Impact Series. The initiative, developed by media exec Jim Sherry's company, is geared toward educating and connecting consumers with a view to raising awareness around social issues. The second season of the series is set to launch in select Canadian series on June 18 with the North American theatrical premiere of the award-winning documentary Entangled, directed by Pulitzer Prize-winning Boston Globe reporter David Abel. The doc explores how climate change has accelerated a collision between the endangered North Atlantic right whale, the lobster industry and the federal agencies in the United States and Canada that are mandated to protect both.
Governor General's Performing Arts Awards to air on CBC
While the Governor General's Performing Arts Awards is typically a non-televised event, this year the event will air on CBC Television, ICI TÉLÉ, CBC Gem and ICI TOU.TV as a one-hour special. Produced by the National Arts Centre with Vérité Films, the show will be directed by Joel Ivany and executive produced by Vérité's Virginia Thompson (Corner Gas franchise). Set to take place on Friday, Nov. 26 at 7 p.m., recipients of this year's Lifetime Artistic Achievement Awards are Catherine O'Hara and Tantoo Cardinal.