Canadian actor Paul Soles dies at 90
During a nearly 70-year career, Toronto-born Soles became one of the country's most-established voice actors and a beloved figure to audiences and industry.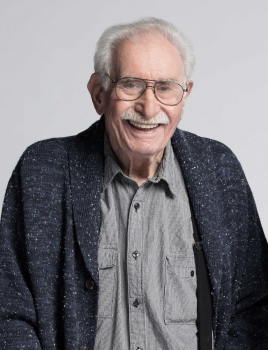 Canadian actor and voice actor Paul Soles, who was the original voice of Spider-Man, has died at the age of 90.
Toronto-born Soles got his start in the industry in the 1950s, first in radio and shortly after in television. One of his first big breaks came in 1962 when he became one of the original hosts of the daytime CBC show Take 30.
During a nearly 70-year career, Soles also became one of the country's most-established voice actors, with roles including leading the cast in The Marvel Super Heroes (1966) and voicing the title character in the first-ever animated TV version of Spider-Man (1967).
His other voice acting credits include Rudolph the Red-Nosed Reindeer, Rocket Robin Hood, The Smokey Bear Show, The Little Brown Burro, King of the Beasts and Iron Man: The Animated Series.
In addition to his on-screen career, Soles also worked on the stage, with credits including playing Shylock in the Stratford Festival of Canada production of The Merchant of Venice.
Soles continued to work frequently in the latter stages of his career, including a leading role in the CBC digital original, My 90-Year-Old Roommate, produced by Loco Motion Pictures. The show – a buddy comedy about a 90-year-old widower who lives alone, until his misguided adult grandson moves in – earned Soles a Canadian Screen Award in 2017. Soles, who was 86 at the time, won the Best Performance by an Actor in a Program or Series Produced for Digital Media.
LoCo Motion Pictures president Lauren Corber, who worked closely with Soles on the series, told Playback Daily she feels extremely lucky to have been able to know and work with the legendary Canadian actor.
"A true gentleman and mensch, Paul's wit and sense of humour could light up any room. He was a legend who always had the best stories about anything from his days as a pilot to attending Comic-Con as Spider-Man," said Corber.
From the moment she met him, Corber said she knew he would be perfect for the role in My 90-Year-Old Roommate. "He brought so much to the character and was absolutely genius at improvising the dialogue. I will miss him and our talks very much. The entire My 90-Year-Old Roommate team is heartbroken but takes comfort in knowing we shared so many special memories with him."