APTN's first lumi original is a milestone for Indigiqueer representation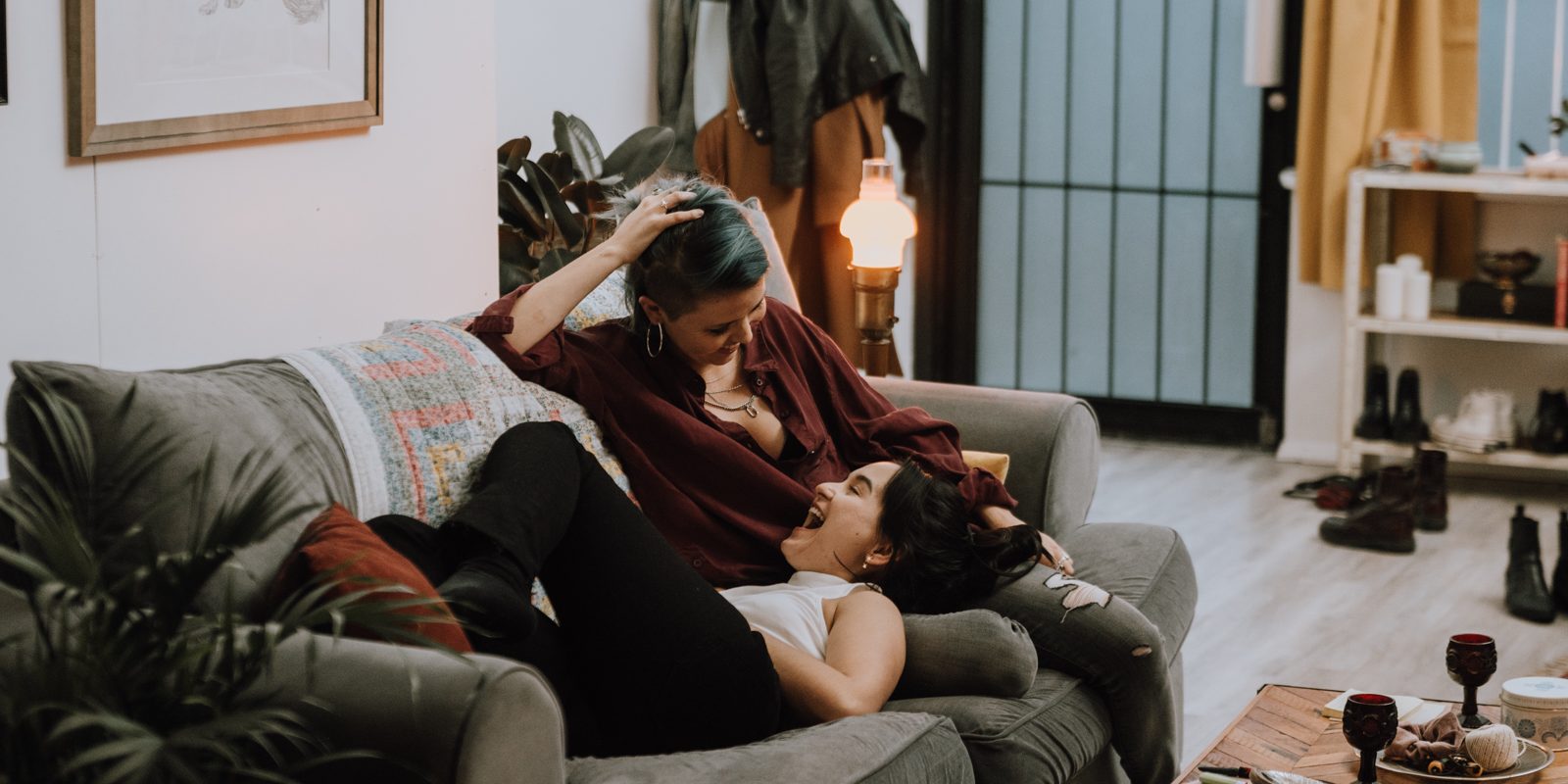 Querencia writer/director Mary Galloway and producer Jessie Anthony share their journey taking the series from imagineNATIVE's pitch contest to making Canadian streaming history.
It's been a whirlwind two years for Mary Galloway, a multi-hyphenate talent whose series Querencia is poised to make Canadian TV history as the first original series on APTN's streaming service lumi.
Written and directed by Galloway and produced by Pass Through Productions' Jessie Anthony, Querencia follows the love story between two Indigenous women – played by Galloway and Kaitlyn Yott – whose paths intersect in Vancouver as they explore their sexual and cultural identities. The series premieres on lumi today (June 1) and the first two episodes will screen as part of the Inside Out film festival tomorrow (June 2).
The idea for the series initially sparked for Galloway in 2019 following a move to Winnipeg, where she wanted to write something that represented her identity growing up. "What I really felt was needed was a sapphic and femme-centred Indigiqueer story, because I've never seen that," Galloway tells Playback Daily.
That September, Galloway decided to apply for the APTN and imagineNATIVE Web Series Live Pitch Event, which offered more than $50,000 in production funding. When she needed an Indigenous producer to support the pitch she put out a call on Instagram. "I wanted someone who would be collaborative with me, who I could trust, who would also make me feel like I still matter," says Galloway.
Anthony, a producer and director behind the film Brother, I Cry, quickly responded and came on board after hearing the pitch. "I said, 'absolutely – my soul speaks to this,'" says Anthony.
The two collaborated on the pitch right down to the wire, perfecting it up to the night before the competition in October – which paid off, in the end. "It was an incredible moment when they called our names," says Anthony. "Then COVID hit."
With the prospect of going into production at a standstill, the duo pivoted to find more financing for the series, applying for Telefilm's Talent to Watch program. The only problem? Their 4 x 5-minute series would need to be completely rewritten into an 8 x 10 season. They got to work completely overhauling the series and, with the help of the Canadian Academy as a partner, was among 10 projects selected in the Indigenous stream.
The series was filmed over a whirlwind 12 days in Vancouver in the fall of 2020 with a fully BIPOC and LGBTQ2S+ crew. When indoor gathering restrictions were implemented in the last few days of shooting, the team was able to tap into the relief funds from the Indigenous Screen Office to support the crew.
All in all the series was produced with a $200,000 budget, thanks to the support from film industry supports such as Tug Phipps, who Anthony says was a key support at William F. White International, and Jennifer Podemski and Julie Puckrin, who mentored Galloway during the process. Both Galloway and Anthony were able to pay the support forward by bringing in Tanis Redcrow to mentor during the production process as part of the Netflix Apprenticeship and Cultural Mentorship Program.
Galloway says the two knew going into production that the series would eventually land on lumi, but it wasn't until the broadcaster saw the rough cuts during the four-month post-production process that they realized it would be the streaming service's first original series. "They've championed it hard," says Galloway, adding that getting the series out in time for Pride month in June played a critical factor as well.
"Querencia is perfect for APTN lumi — it's a contemporary Indigiqueer love story, told in an innovative format," said Lisa Ducharme, director of online content at APTN. "The Querencia team brought this show to life during an incredibly challenging time, and we've been able to honour their efforts by making Querencia APTN lumi's first original production."
As part of the June 1 launch, imagineNATIVE will host a virtual premiere event with live performances and special appearances from Galloway, Anthony, Ducharme and Yott, with episodes going live at 11 p.m. ET.
The duo is currently in talks with the broadcaster on a potential second season. "From a creative standpoint, I have so many stories that these two [characters] can go on," says Galloway. "In my mind, there is a season two, three, four and five."
For Galloway, creating the series was a way to offer authentic and positive representation for members of the Indigenous and LGBTQ2S+ community, made by members of the community. In doing so she discovered the power in creating a diverse and inclusive set for above and below-the-line industry members.
"[It] was the most beautiful, safe environment I've ever witnessed on a film set in my entire life, and I've been doing this for 11 years now," says Galloway, adding that nearly every single crew member thanked her for creating such an inclusive environment at the end of the shoot. "The majority of film sets don't feel safe for BIPOC and LGBTQ people, but we're paving that path for ourselves and for our community. I don't think it's optional, it's mandatory."
Image courtesy of APTN