Inside Out ED Lauren Howes on leading the festival into a new era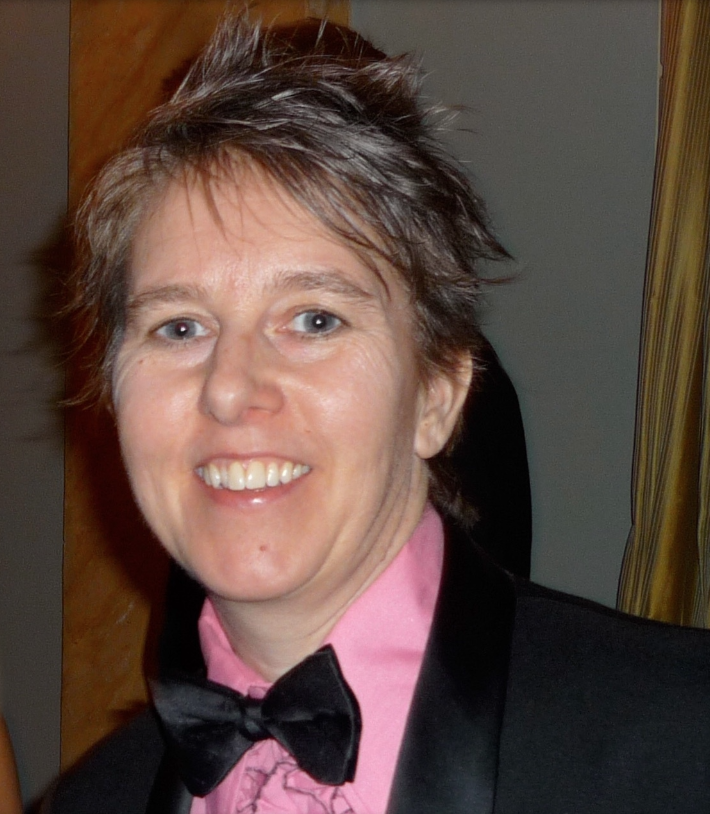 As the festival kicks off its 31st edition, the incoming executive director discusses plans to build on the work done by Andria Wilson and Andrew Murphy.
Inside Out's newly minted executive director Lauren Howes is more than a little excited about the start of the organization's 31st film festival, kicking off today (May 27).
Howes took the reins in March following the departure of Andria Wilson, who helped grow the organization into one of North America's preeminent LGBTQ festivals during her four-and-a-half-year tenure.
For Howes, who identifies as non-binary, the appointment is a perfect combination of 20 years of film industry experience and a 15-year love affair with the festival.
"Inside Out is the one festival that I've always felt a personal alliance and allegiance to since the day I moved to Toronto. It's like landing my dream job, literally," Howes tells Playback Daily.
While this is the first time Howes has led a film festival, the veteran industry executive is well versed in the intricacies of film distribution and the challenges of bringing indie films from script to screen. They are also acutely aware of the crucial role film festivals serve in creating buzz and revenue opportunities for independent features, building the careers of filmmakers, and creating a community that supports creatives and producers looking to tell stories from underrepresented perspectives.
Howes most recently served as executive director at the Canadian Filmmakers Distribution Centre, a not-for-profit, non-commercial media arts distributor specializing in artist-made film and TV work, including projects from historically underrepresented communities.
"I've been working as a distributor and traveling literally 50,000 kilometres in the air per year to different festivals around the world and really seeing all sides, from small community-based festivals to the really big ones," they said.
When Howes assumed the executive director position in March, the wheels were already in motion to return the festival to its usual May/June spot in the calendar, following a 2020 in which the festival was pushed back to October.
In March, the festival organizers had conceded that indoor, in-person screenings were unlikely to take place, but were still holding out hope that some drive-through screenings might be possible. However, a month into Howes' tenure, Ontario moved back into lockdown, pouring cold water on any plans for physical events.
That, says Howes, allowed the organization to focus fully on its digital offerings, with the festival announcing a 10-day, 143-film lineup (33 of which are features, plus five episodic series) earlier this month.
This year's festival opens with Natalie Morales' Language Lessons and closes with the Charli XCX documentary Alone Together. There's also a world premiere for Shelley Thompson's transgender family drama Dawn, Her Dad & The Tractor.
And while drive-through screenings won't be possible as part of this year's festival, Howes says the plan is to schedule some drive-through screenings over the summer, when Ontario has hopefully emerged from its final lockdown.
"There are still lots of variables and we haven't locked anything completely, but we've got some dates pinned in the calendar," said Howes.
With the leadership change, this year's festival marks the beginning of a new era for Inside Out. "I think the groundwork that Andria Wilson and [director of programming] Andrew Murphy have laid over the past five years in building up Inside Out's industry offerings – such as the finance forum and the RE:Focus Fund and the Pitch, Please! forum program – play really well into some of the ambitions I have for the festival moving forward," says Howes.
Exactly what those ambitions will look like is still to be determined, with the Inside Out team set to convene for a "comprehensive strategic planning process" following this year's festival. The goal of the review is to give the Inside Out team and its stakeholders "an opportunity to imagine what those next steps will look like," says Howes.
Until then, Howes can't wait to get the festival's 2021 edition underway, and to bring together the community that Inside Out has cultivated for more than 30 years.
"I can barely sleep at night I'm so excited. There's just so much great content. I'm so proud of what the programming team have pulled together."
The 2021 edition of Inside Out LGBT Film Festival runs from May 27 to June 6