Creating lasting change in Canada's screen-based industry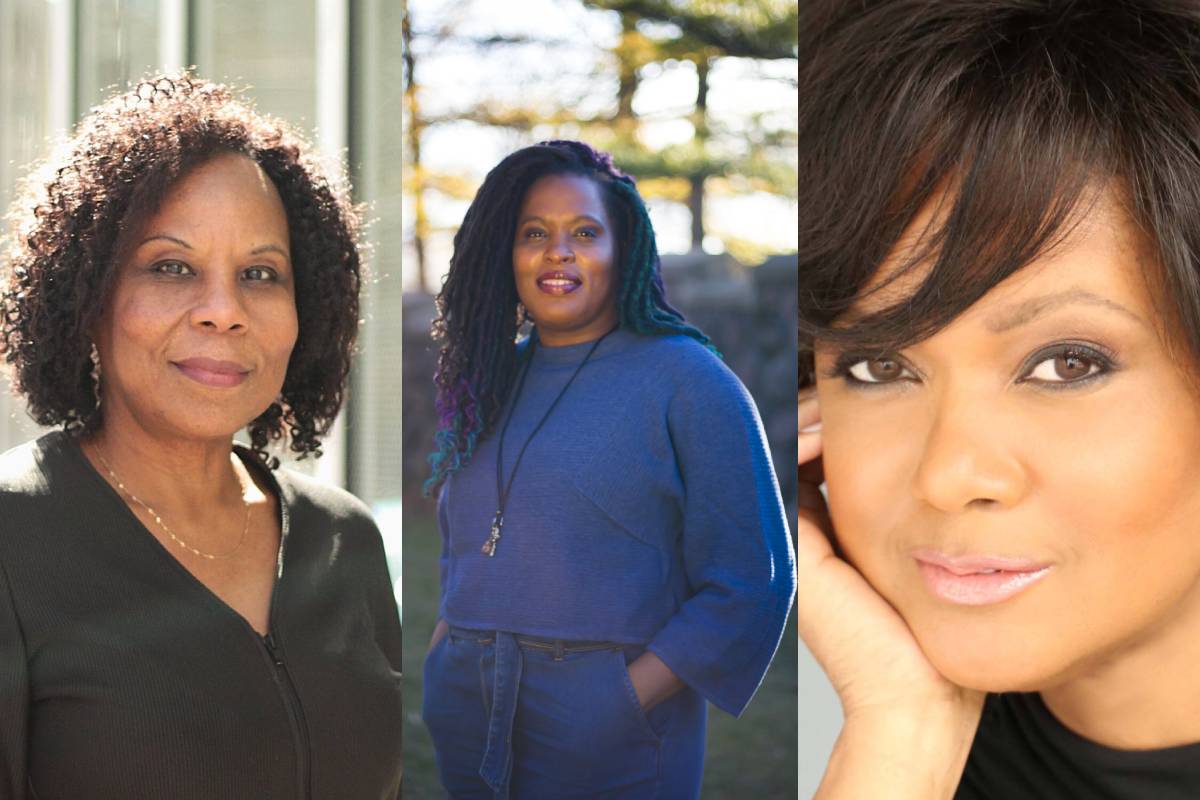 Part two of Playback's Q&A with Black screen leaders addresses and imagines the path forward for inclusivity in the industry.
Playback's conversation with Black screen leaders continues, looking at what an inclusive Canadian screen industry could look like.
Joan Jenkinson, executive director of the recently formed Black Screen Offce; Kadon Douglas, BIPOC TV & Film's first executive director; and Tonya Williams, Reelworld Film Festival and Reelworld Screen Institute executive director and founder, reflected on a year of reactive action in the wake of George Floyd's murder. Read part one here.
Playback: Where do you think the next generation most needs to see change to make a meaningful impact within the Canadian screen industry?
Joan Jenkinson: I think the whole ecosystem has to change. The way we create content, the way broadcasters commission, the way programs are marketed… Yes, people do want to see themselves. And even if the numbers were just marginal, we should make an effort… It affects whether they feel invisible, whether they feel empowered.
Tonya Williams: We also need to see ourselves represented in other areas of the industry such as casting directors, agents [and] managers… there's a lot of the infrastructure of our industry that's not been diversified yet. And we're all still advocating for that to happen.
It really is amazing for someone who has been in the industry for as long as I have to be sitting here with two other Black women for this interview; when I started in the industry I didn't even see any Black people anywhere on set. It's been a joy over the last few years to sit on panels and to pitch something at an organization and see people that look like me. It doesn't even mean to say that their experience has been my experience, but I know we share the same struggle. It's a different struggle than mine, but I know they've had a struggle, which I find helpful.
"We have to find a way of building a new system…" – Joan Jenkinson
Kadon Douglas: We need to see the change in terms of decision-makers… Look at their board of directors as well, because all of that informs what they do. We need to see that because that also influences what we see on screen. We need more representation in that realm around agents, like for this year, this is the first time we've had a Black woman [Jennifer Irons] leading a literary agency here in Canada, you know? That was really celebrated, but at the same time, it's kind of sad too. This is the year 2021 and we're [only now] seeing that happen, you know? She sacrificed…
TW: Her own writing career to make that happen.
KD: She sacrificed her own writing career to benefit her community and this is something and this is something that we continuously have to do. I stopped a career in producing to do this very important work. I'm not saying that I regret it. I love what I do and what I'm able to do through it, but seeing that those of us who are more visible… what we've had to let go of to make that happen at the same time. And I think it's very important, I do use that a lot in terms of you can't be what you can see. And that's very true. Like I grew up being pulled to film festivals. I grew up in a filmmaking, a media and a social justice family. So for me, all those things were really attainable. And thinking about it now, I think my family also skewed what I watched on TV, cause I'm like they're always been Black people on TV, what are you talking about? 'Cause that was my reality as a kid.
And seeing that whoa, that's not really what it was, my family protected me, shielded me in that way. But I think in terms of what you see when you go into a certain space and you're like, whoa, there's a Black woman leading in this way and what that means for us. And I remember when I started working out of WIFT-T, which I tell people all the time, I really just took it because I wanted stability for me and my son.
But within a week I started getting messages from young Black women, young women of colour saying what it meant to see me in that very white space, you know? So we need to see it in positions of power, in terms of leadership… even into the creative leadership, like who's the showrunner, like seeing Shonda Rhimes as a showrunner. Seeing what Issa Rae has done, starting from a web series with a $500 budget will lead all the way to her having overall deals as well in Hollywood. When we see that we're realizing 'I can occupy that space.' That's what we need to empower. That's the kind of empowerment work that needs to take place.
PB: Joan and Kadon, thinking about your organizations 10 years from now, what are the particular goals that you'd like to achieve?
KD: I want our mandate to no longer be relevant. And in terms of what we're doing over the next few years, a major focus for us is advocacy and policy change. We [also] want decent work practices and the necessary training, mentorship and career development so that BIPOC remain competitive, not just in Canada but internationally. My last thing would be around community engagement, that empowerment and doing that from a solidarity framework.
JJ: I wish I could say that we will no longer have to have this conversation, but we know that we will.
KD: [laughing] I'm being optimistic! Sorry!
JJ: We need to keep fighting the fight as Tonya's been saying and hold people accountable as much as we can because unfortunately it's our nature to oscillate when there's attention put to something, everything moves that way. When the attention goes away, then we swing back. So we have to find a way of building a new system, something that's built on the principles of equity and inclusion and diversity and something that's strategic, so that we're not subject to the ebb and flow of trends and people's level of guilt or not guilt, and privilege or not privilege.
For us, we're starting with data. We want to have some benchmarks… so that when we're creating our programs, we know who and why we're creating them. When we are speaking our truth and making our case in the industry, that we can back it up with data. I think we're all doing career development work, and what we want to focus on is, like Tonya, opening the borders… I want to open the borders and build international connections, which we've started doing with… people who do a lot of work here and create work for below the line, which is fantastic, but we also want them to work with us above the line so that we can be making our own stories and making our own content as well.
I want to know what everybody's doing, 'cause we don't need to replicate it. It would be great if we could point people in that direction to say, if you want to go here in your career, then you should be a part of the E20… Go to HireBIPOC, go to the CFC [Canadian Film Centre], whatever they might need without taking a full advantage of what's available in the system to build people's careers.
PB: Do you feel like the pandemic has presented maybe a positive environment, in order to kind of break the past? Do you think that it really has kind of created a springboard kind of create or at least hopefully, or perhaps even lead to real change?
JJ: I've been invited on panels from Vancouver to St John's, Newfoundland, that would never have happened before. I've been in this industry a long time, but now I'm the keynote speaker of this and that. And I was always here, why didn't you ask me? But the other thing is to have panels like we're doing now where the whole screen is like a screen of Black people. And seeing that was just unbelievably empowering and gives such a sense of community and solidarity. And we wouldn't have had that without the pandemic, without Zoom. We wouldn't be able to see each other and connect with each other in a way that would have been literally impossible financially.
I was on one panel for Access Manitoba and beforehand I asked the organizers, so are there any actually Black people who are going to be listening to this? And I didn't get the information beforehand, so I did what I did. And then afterwards about five or six Black people from Winnipeg reached out and said, Oh my God, it was just so great to see you here. We're over here. So the opportunity for them to join a national organization and then to be able to feel that they can connect is something that is like such a blessing in a huge way. I mean, it's so unfortunate that it had to come about this way… I've certainly found a lot of benefit from it.
TW: Well, for us, it's been really fantastic. And I mean, it's just no other way to say it because, first of all, Zoom has been around for a little while and I live in Los Angeles and I'm asked a lot to be at these different places and speak. And I would always say, can't I just Zoom in? But they would always insist I needed to be there in person.  But this last year has shown that you can be just as present online as you can in person.  I love that this is now the norm whereas just a year also it was considered too difficult.
It also then shifted our film festival. I had always wanted to try and put the festival up online more, but it seemed like it would be this huge undertaking. And then last year, everybody managed to do it in a short period of time. Everybody had to wrangle their webinars and their networking events and their screenings all online. And now it's become norm. Something that I've been talking about for 10 years now, people were like, oh yeah, like it's always been. It's just so much easier.
KD: For us it's been kind of similar in terms of how it has opened us up to a wider audience nationally.
Like all of our programs before, it took place right here in Toronto. But now we're able to have participants from coast to coast to coast participating in our programming. That's been amazing so far. But it's also made us think about how we are expanding our ideas of inclusion, in terms of if people need any kind of ESL interpretation, if we need French-language services for it, and to ensure people could fully participate and us thinking about timing as well. So it's opened us up to more considerations.
"I held my baton. I took the baton from others and I carried it a little further…" – Tonya Williams
I would also say what this pandemic year has done is shift a lot of the ideas that we have about work and the workplace. I'm seeing now a greater focus on employee well-being and seeing talking about more equitable hiring practices and workplace inclusion, workplace belonging as well and what that means. As I'm building this organization, I'm considering all of these things. Like is it actually very necessary for us to have people five days a week, nine to five in front of their computer staring at a screen? Should the focus be on what we are doing to achieve our goals as an organization? And how are we checking in with each other too? And I also think working in this online space, it also shifts communication. I was on a panel recently and all I wanted to do was the person who was sharing it, I just wanted to put my hand on their shoulder. Like it was so deep and so beautiful with what they shared and couldn't do that.
So it's just like, how do you communicate that in this online space then? I asked my team this morning, I was like, now that I'm the boss, how do I ensure that there's a sense of belonging in this space? What can we do collectively to ensure like we all feel like we're part of something? So I think that's what the pandemic has really affected as well.
TW: I love what Kadon just said. That's very generational, by the way… I'm 62, and from a generation that hasn't necessarily considered that well being and belonging in a space at ones work is a priority. I think it's wonderful, but it's certainly not the way… I'm not programmed that way because the generation I'm from does not consider these things in the same way, but I think it's wonderful. I'm glad I'll be retired by the time this generation needs this fully explored.
TW: Let's wait 'til they have to start paying their country's deficits.
KD: Listen. Okay. Last fall, when I was at Ryerson, I had to interview students for work placements. And when I interviewed, all them told me they don't want to be tied to a desk. They're also approaching work and finding work from a very values-based perspective, in terms of how does that workplace align with their values. So this is what this generation is thinking about in terms of, 'what are we doing in terms of anti-racism in equity, in terms of inclusion' and so on, they're all bringing that to the table, but all of them said that they have no interest in a nine to five job.
PB: Tonya, you have been a true advocate for numerous years. What do you hope has been your legacy in terms of Reelworld?
TW: That it still survives. I think when you're a person of colour, especially when you're a Black person, there have not been very many institutions, organizations started by Black people that have survived after they're no longer with us. And so to me, the legacy would be that Reelworld is still standing strong with or without me. We don't have a film library of the great works that Black, Indigenous, people of colour have done since the inception of film. We don't have a museum currently in the way that the Academy [does] down here, so that our stars [that] have passed away can donate scripts or things… where generations from now can go and see the impact the three of us have done and made to this industry. There's nothing like that.
And I would say a big part of what we need to have in our industry too is financial intelligence. We haven't had a lot of non-profit arts organizations, especially founded and run by Black people run at high levels of understanding how to structure… a financial plan, but in a really large way, in millions of dollars is what I'm talking [about]. And some of our production companies have not had that opportunity also to put [together] a slate of films and television series in the way that a Shaftesbury could. I would like to see someone Black build an actual studio. Reelworld is really trying to connect a lot with our Francophone Black, Indigenous, people of colour they have their own unique struggles and we need to help them more.
The legacy is I came, I was, and then I went. And in some way I contributed to that journey… My part was I held my baton. I took the baton from others and I carried it a little further and I passed that on. I mean, that's all we can really hope for in the legacy that we leave behind.
KD: Tonya, can we give you a Crystal Award again?
TW: [laughing] I'm actually looking for my Governor General and Walk of Fame now.
KD: Well, yes…
TW: As I just said that, even in our joke, there's a lot of amazing racially diverse people who have never been recognized. And I hope that we don't just think about recognizing the new people.
KD: I love the future of the industry that you just described, Tonya. I want Canada to be first in mind.
This story originally appeared in Playback's Spring/Summer 2021 issue